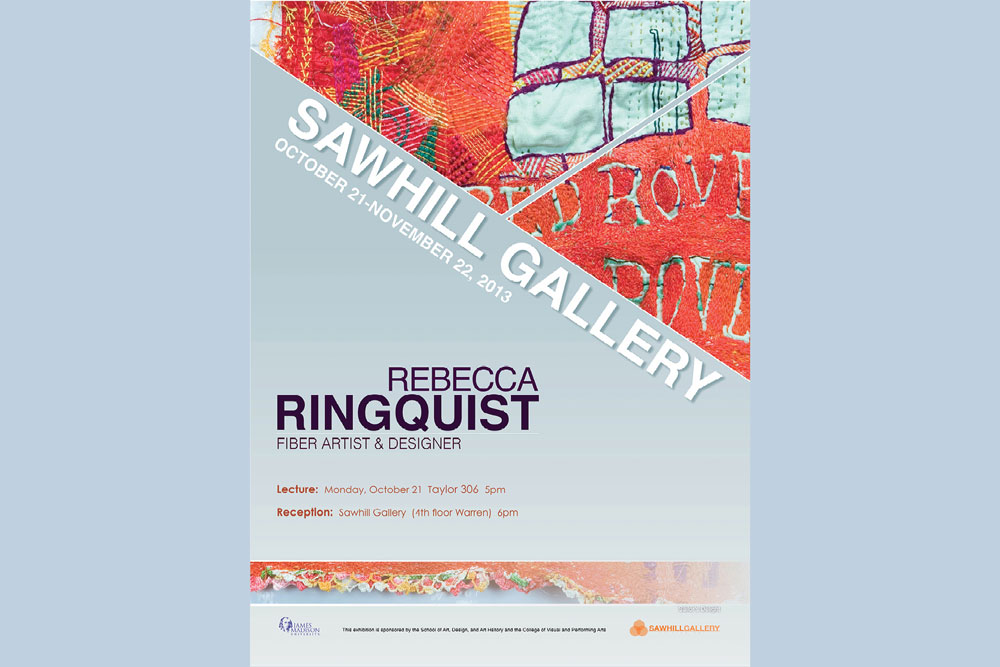 Fiber Artist and Designer
Rebecca Ringquist
October 21 - December 02, 2013
Rebecca Ringquist is a Brooklyn-based visual artist and designer. Her stitched drawings on fabric explore issues of identity though thinly veiled metaphors utilizing old-fashioned imagery and double entendre. She learned how to embroider in college in a feminist art history class, and has been inspired by the history of American needlework ever since. Approaching the technique of embroidery as a way of drawing, Ringquist has taught hundreds of people new ways of making marks on fabric through classes and workshops around the country. Her design company, Dropcloth, sells her hand drawn designs that are printed as embroidery patterns; all ready to hoop and sew. In 2005, Rebecca was awarded an Illinois Arts Council Fellowship. Her work has since been exhibited in several galleries, universities, and art centers. Ringquist earned her MFA from the School of the Art Institute of Chicago in the Fiber and Material Studies department where she subsequently taught for seven years before moving to Brooklyn in 2011. She teaches, lectures, exhibits nationally, and is currently writing an embroider book, due out in 2015, with STC Craft/Melanie Falick Books.
ARTIST STATEMENT
I tell love stories and create veiled fractured narratives full of double entendre. My work has been inspired of late by the fictional relocation story of the Swiss Family Robinson and my own cross-country move to Brooklyn. I alternate between hand embroidery and machine stitching. The harsh difference between the rates of speed with which I work conveys a complicated message. Although the machine stitching is very labor intensive, it also carries with it a sense of violence and aggression, reflecting the tangled messy nature of relationships. My work is at times careful, contrasted with moments of fast machine-stitched frenzy, expressing implicit and explicit intensities, and alternating between innocence and recklessness.
EVENTS
October 21, 2013: Artist Lecture: Rebecca Ringquist
Taylor Room 306, 5p
Reception to follow