Lalla Essaydi Exhibition at Duke Hall Gallery of Fine Art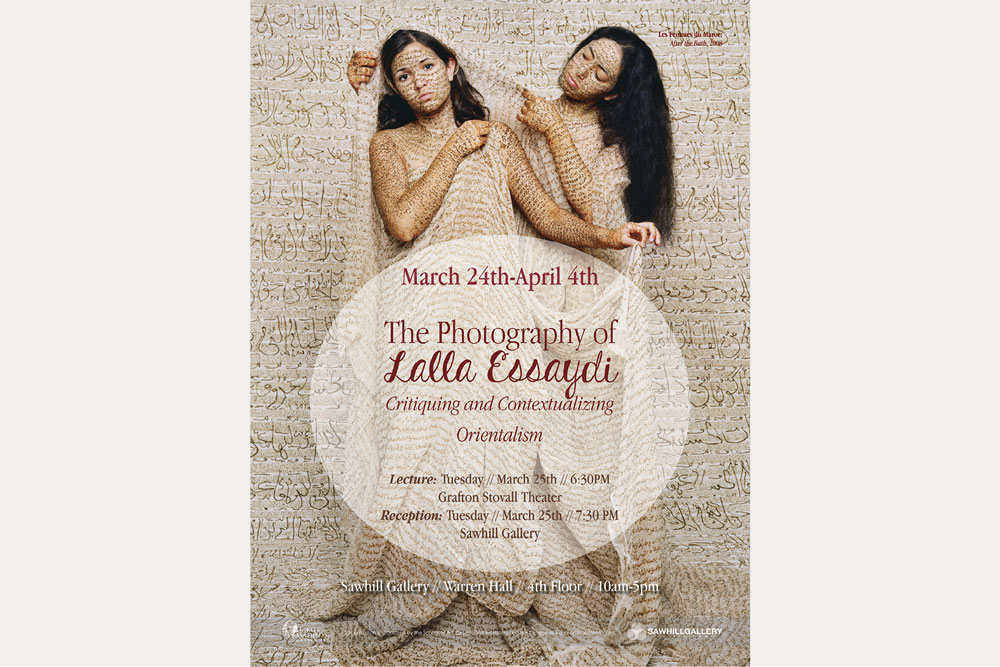 Critiquing and Contextualizing Orientalism
Lalla Essaydi
March 24 – April 04, 2014
Internationally exhibited artist Lalla Essaydi was born in 1956 in Marakkech, Morocco, in North Africa. Essaydi lived for several years in the Middle East, in Saudi Arabia, and then she traveled to Paris, France, to first formally study painting. In America she earned her Master's of Fine Arts degree in Painting and Photography, awarded in 2003, at the School of the Museum of Fine Arts, Boston. The artist now travels between studios in New York and Boston, and historic sites in Morocco to carry out her work. The experiences of Arab women are the focus of her creative practice.
Foremost, Essaydi considers the lives of Arab women in twenty-first century Morocco. The artist's second major series, "The Women of Morocco," or "Le Femmes du Maroc" (French), is represented by the large-scale eight pieces in this show, executed between 2005-2008. Throughout her work, the artist considers the real-life experiences of Moroccan women, including her own and those of the friends and family who are represented in these photographs and who participated in the series' installation.
Essaydi compares these shared experiences to stereotypical images and ideas about Arab women first developed by Europeans in the 1800's. Such Western images often present Arab, Muslim women as exotic and beautiful subjects with tantalizing nudity. The figures Essaydi depicts here challenge these traditions through the artist's presentation of her female subjects for new audiences, audiences which now include women as well as Muslim and Arab viewers. Arabic-inscribed textiles in the compositions call to mind a space centered in Islamic lands where textiles have been central to everyday life for centuries. The veiling and unveiling of the female subjects in Essaydi's photographs invite the viewer to consider the meaning and traditions of the veil, past and present. 
EVENTS
March 18, 2014: Film showing: Islamic Art, Mirror of the Invisible World (2011) by Rob Gardner Film
Court Square Theater, 7-8:30p
March 25, 2014: Cultural Connections Artist Lecture: Lalla Essaydi 
Grafton-Stovall Theater, 6:30-7:30p
March 26, 2014: Guest Lecture: Documentary Filmmaker Abraham Kasbo, "The Arab-American Experience"
Duke Hall Gallery Court, 6:30-7:30p