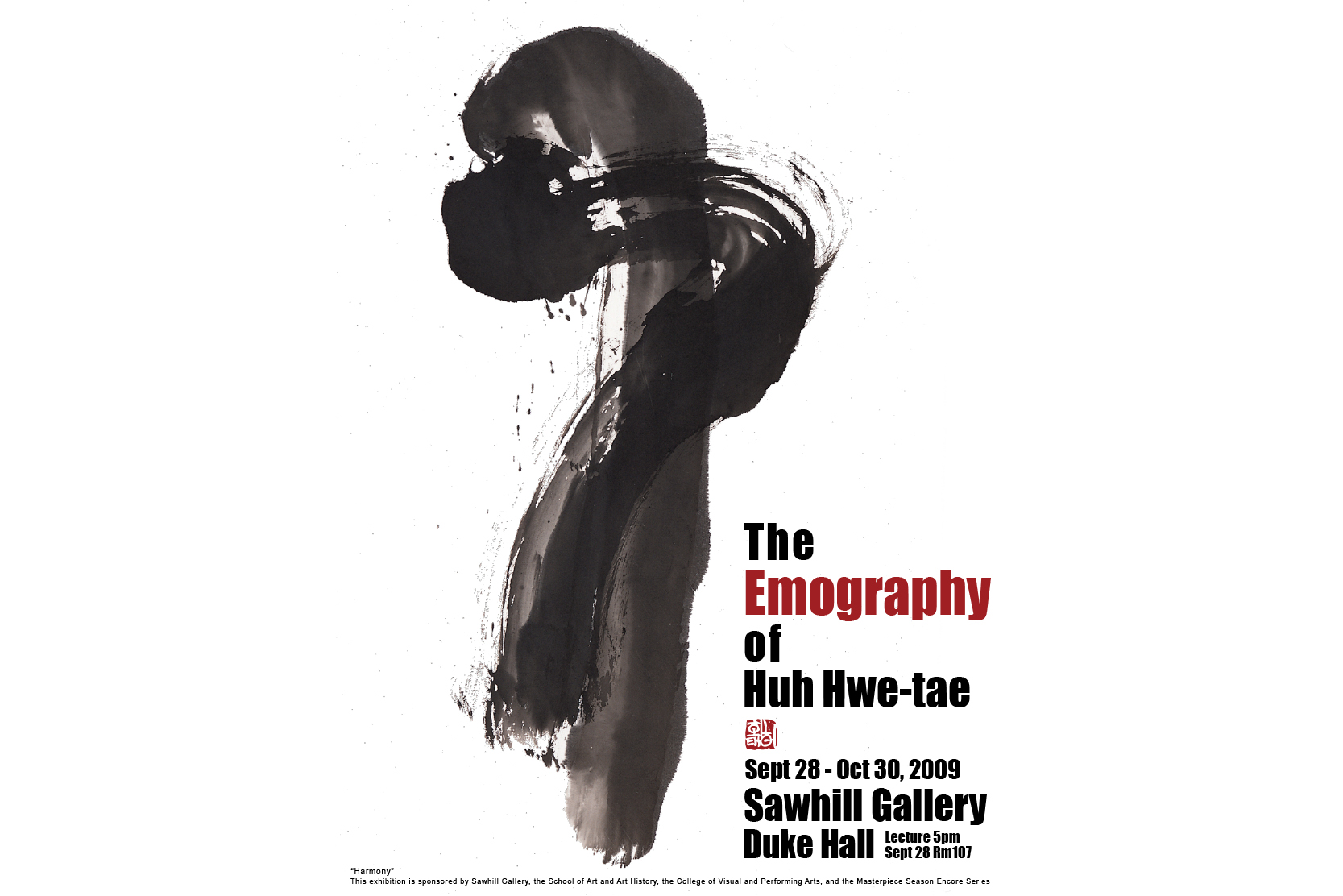 The Emography of Huh Hwe-tae 
Huh Hwe-tae
September 28 - October 30, 2009
Korean artist Huh Hwe-tae has been invited to present his first United States exhibition, Encore Series: The Emography of Huh Hwe-tae, at James Madison University. This exhibition comes on the heels of his widely acclaimed 2006 German and 2008 Korean exhibitions. At the close of this exhibition in Sawhill Gallery, this exhibition will travel to the Korean Embassy in Washington, D.C. and the New York Cultural Center. This traveling exhibition demonstrates the artist's contemporary painting known as Emography as well as elaborate seal engraving pieces.
Emography is a new art form that merges calligraphy and painting. Emography was invented in 2005 by Huh Hwe-tae, Director of the Moosan Emographic Art Institute in Seoul, Korea. He uses enormous brushes to paint images on paper, ceramics, furniture or other media. At first glance, the viewer sees simple calligraphy characters. But, when viewed in depth, the characters transform into images, and the images have a deeper meaning than their superficial appearance.
The emographist captures the symbolism of a moment in an image painted on paper, ceramics, furniture or other media. He expresses form and emotion in a few quick brushstrokes. The emographist uses painting, instead of simple words or characters, to express a commonality he shares with his viewers. The nature of the art allows the viewer to make his/her own interpretation of the artist's intention. His large-scale brush strokes transcend calligraphic style. According to Kim Bok-Young, President of the Korean Society for Science of Art and Design, Huh's work is a "…masterpiece reaffirming his desire to attain the universe in a single brushstroke." 
Mr. Huh won the Grand Prize at the 1995 National Art Exhibition, the most honorable art competition in Korea, and is one of the most renowned Korean calligraphic artists and seal engravers. With his United States tour, the artist seeks to introduce a new art genre to United States audiences and to create a unique aesthetic experience combining ancient Asian calligraphy with modern painting techniques.
EVENTS
28 SEP 2009, 5p: Artist Lecture: Huh Hwe-tae
Duke Hall Room 107
28 SEP 2009, 6-7:30p: Artist Reception
Sawhill Gallery