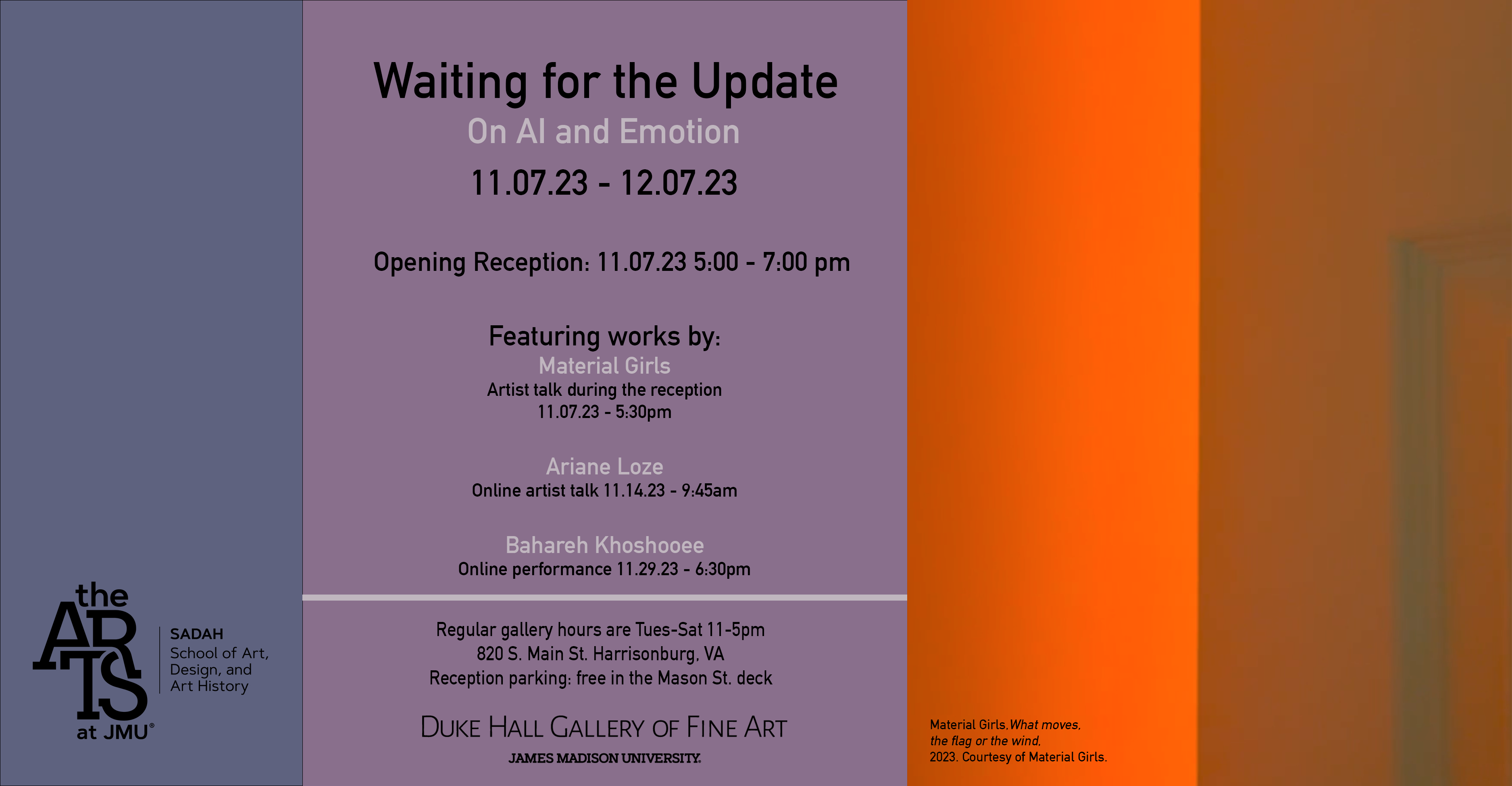 Events
Waiting for the Update Opening Reception 
Tuesday, November 7th
Duke Hall Gallery Court | 5-7:30pm
Artist Talk by Material Girls 
Tuesday, November 7th
Duke Hall Gallery Court | 5:30pm
Artist Talk by Ariane Loze
Tuesday, November 14th
Zoom (Register) | 9:45am
Artist Talk and Performance by Bahareh Khoshooee 
Wednesday, November 29th
Zoom (Register) | 6:30pm
Waiting for the Update
On AI and Emotion
November 7 - December 7, 2023
The upcoming Duke Hall Gallery of Fine Art exhibition Waiting for the Update will open on November 7th and run until December 7th, 2023. Waiting for the Update brings together multiple artists who examine artificial intelligence and emotional labor issues within our digital surveillance culture. AI has become a significant question in contemporary art as human emotions online are increasingly turned into monetized datasets sold by data brokers.
In exploring the often-debilitating impacts of new digital technologies on human emotions and relations, Material Girls, Bahareh Khoshooee, and Ariane Loze resist the hollowing out of the personal into data devoid of social bonds.  Waiting for the Update engages viewers in a consideration of the emerging relationship between AI and humans. 
Photography by Tom Cogill, 2023.
Duke Hall Gallery of Fine Art is an active contemporary art space that elevates the historical understanding of art while fostering new experimental and theoretical directions in art. It is a space where many communities come together to focus on crafting better possible futures. Art breaks barriers, and the Duke Hall Gallery is a nexus for contemporary creativity, discussion, and change.