Both Sides of the River

31 January – 17 March 2023
Curated by Dr. Beth Hinderliter
Reception: 31 January 2023, 5:30 - 7:30p, Roundtable conversation with Kosmolgym, Dr. Alan Braddock and Dr. Beth Hinderliter on art and ecology starts at 6:00pm
The Duke Hall Gallery of Fine Art at James Madison University announces the opening of its new exhibition, Both Sides of the River (1/31/2023 - 3/28/2023). Drawing on the importance of river ecologies as a dynamic site where land and water meet, Both Sides of the River pursues decolonial visions of justice and repair of the environment. Artworks by Carolina Caycedo, Sara Favriau, Marcos Ávila Forero, Kosmolgym, and Mary Mattingly address differing scales of geological time, perceptual and sensorial activation in the service of decolonial ecology, environmental racism, as well as new inter-species relations and kinship.
Both Sides of the River is supported by the Etante donnés Contemporary Art, a program of Villa Albertine and FACE Foundation, in partnership with the French Embassy of the United States, with support from the French Ministry of Culture, Institut français, Ford Foundation, Helen Frankenthaler Foundation, CHANEL, and ADAGP.
We would also like to thank Commonwealth and Council, Los Angeles, and LMNO, Brussels for their generous loans to the exhibition.

Exhibition Events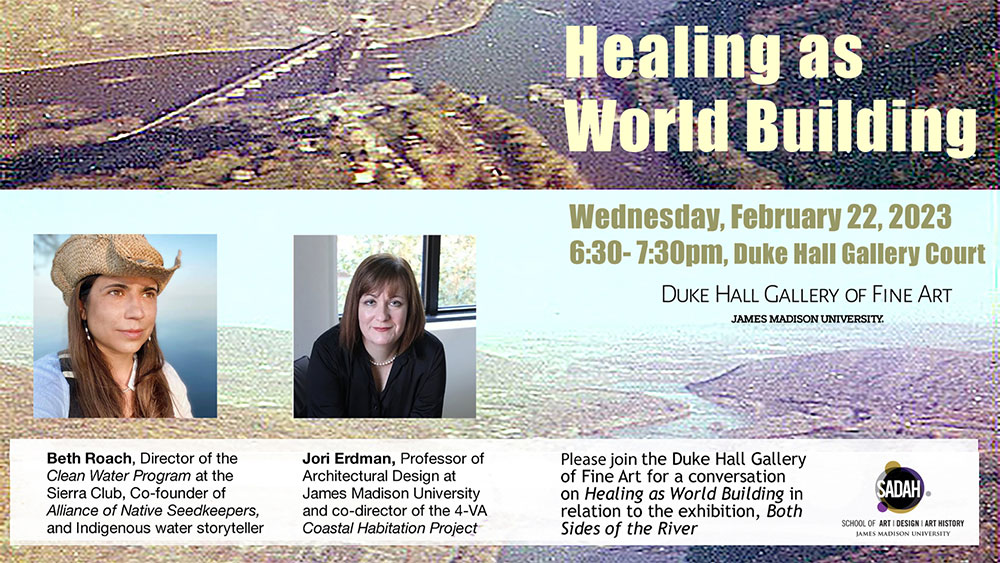 Tuesday, February 22, 6:00 - 7:00 pm
Healing as World BuildingA conversation featuring Beth Roach, Director of the Clean Water Program at the Sierra Club, Co-founder of Alliance of Native Seedkeepers, and indigenous water storyteller; Jori Erdman, Professor of Architectural Design at James Madison University, and Dr. Beth Hinderliter, curator of the exhibition.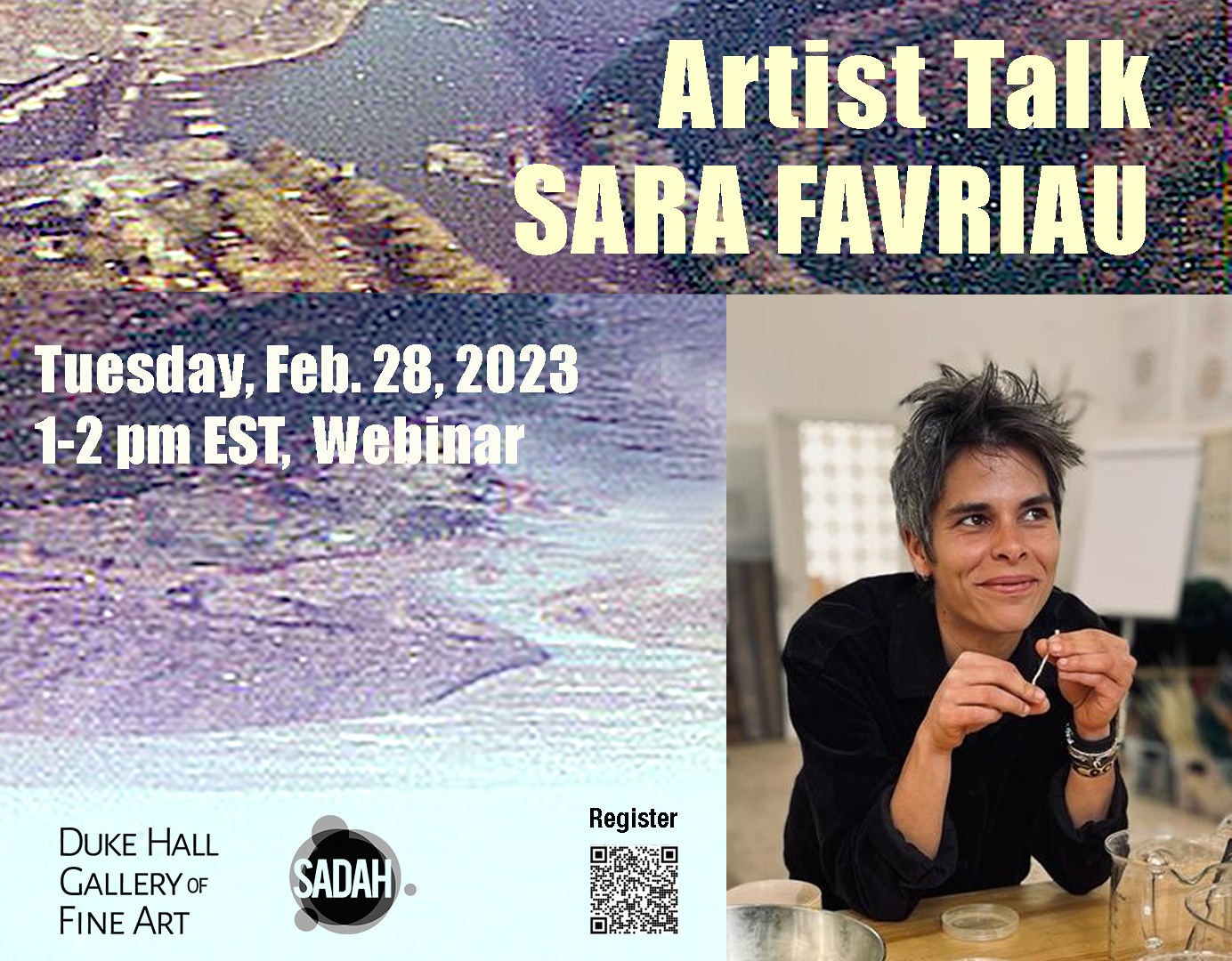 Tuesday, February 28, 1:00 - 2:00 pm.Online artist talk with Sara Favriau

Artists

Carolina Caycedo (1978) is London-born Colombian multidisciplinary artist known for her performances, video, artist's books, sculptures and installations that examine environmental and social issues. She lives and works in Los Angeles. She participates in movements of territorial resistance, solidarity economies, and housing as a human right. Her work contributes to the construction of environmental historical memory, as a fundamental element for non-repetition of violence against human and non-human entities.
Her work in Both Sides of the River, "A Gente Rio," puts in relation the Itaipu Dam, the second largest hydroelectric plant in the world, and whose process of land expropriation was a catalyst for the emergence of the Landless Workers' Movement (MST); the Belo Monte Dam on the Xingu River, whose process of environmental licensing has been marked by a series of irregularities and profound indigenous resistance; the Bento Rodrigues Dam, which collapsed, releasing hazardous waste from the mining company Samarco and causing an unprecedented environmental disaster in Brazil; and, lastly, the Vale do Ribeira, where indigenous, caiçara and quilombola communities resist against the construction of a dam. The artist highlights the accumulated knowledge of the communities, as conforming a collective body resisting the extinction imposed by development-oriented projects.
Across Caycedo's 55 foot long scroll San Gabriel River (2019), the water of this Californian river flows freely until disrupted by and collected in a man-made dam and reservoir. Part of the artist's multimedia project Be Dammed (2012 - ongoing), San Gabriel River tells a narrative of the river across the span of its "body." Exposing how the privatization of waterways affects the ability of local communities to live and work, Caycedo challenges the viewer to see nature as a web uniting all life, rather than as a resource to be consumed.
Sara Favriau (1983) lives and works in Paris. Questioning both the work of art and its ecosystem, she investigates natural forms, symbols, and processes in order to transpose them. In her sculpture, video and performative work, she creates a conceptual vocabulary that is both a dramaturgy of materials and poetic enactment of place. Bacille ou la Résurrection (2020) is made of wood collected from the ground in the forst of Fontainebleau, where recent drought has caused many trees to fall and die. This sculpture is a reminder of the urgency of our climate conditions, the disruption of our global hydrologic cycles, and the resulting droughts and floods that our planet is enduring. The title Bacille ou la Résurrection references the scientific name of a rod shaped bacterium, which is represented through the assembled branches and in the hand-carved shapes in the wood, reminiscent of the pili on the exterior of bacteria. The weathered wood conveys a hope for a renewal of life in the face of global warming and environmental devastation- that this world of carbon capitalism must perish for another to come into view.
The video Une pelouse perçante plus forte qu'un rocher (A lawn more intergral and strong than a rock) (2021) documents Favriau's poetic action of crafting a canoe and a wooden pavilion from fallen timber and then setting them to sail. The two channel piece pieces together different moments from this performance, including setting the pavillion aflame and following its course down the Garonne river in Bordeaux until it collapses. Through these processes of renewal and the questions they raise, Favriau creates a work filled with a humour and joy for the future.
Marcos Ávila Forero (b. 1983) lives and works in Paris and Bogotá. A Columbian artist, he trained at the Paris École Nationale Supérieure des Beaux-Arts under the aegis of Giuseppe Penone. In 2011, he stayed in Amazonia with members of the community Cocama to realize the work A Tarapoto - a Manati. With this work, he obtains the Multimedia Prize De Fondations De Beaux-Arts. He travels in 2012 to the Algerian-Moroccan border and collaborates with illegal migrants to make Cayuco. In 2013, after receiving the Discovery Award From Tokyo Palace, he moved to Colombia where he worked with populations displaced by the armed conflict in a slum named Suratoque. He then creates a work and an eponymous exhibition at the Palais de Tokyo. In 2014, he will receive the Loop Award. His work Atrato, made in one of the epicentres of the Colombian armed conflict, is exhibited at the 57th Venice Biennale. In 2015, he created Estenopeicas Rurales with an organization of peasants victims of political genocide. In 2016, he managed to join a FARC guerrilla camp and did the work Desde Las Montañas. After three years of interviews with more than thirty social organizations throughout the Colombian territory, in 2018 he directed La Lumière des Balles - The Darkness of Forgetfulness, a documentary on armed conflict and the construction of peace. At the same time he participates in group exhibitions - Museum of Immigration, The Abattoirs, Museo Nazionale di Torino, Museo de la Republica de Colombia - and other personalities - The Grand Café - Center for Contemporary Art, Pori Art Museum , Kyoto Art Center. In 2019 he was nominated for the Ricard Prize and became vice-president of the Citizens for Peace organization.
The projects he carries out often involve communities in Colombia, France or Morocco. The point, on a metaphoric level, is to manage to transcribe the spatio-temporality experienced both by  the community and by himself as he discovers it, dedicates himself to it, collaborates with it. This is not just a matter of transcribing an "inhabited volume" (the way in which such a community for instance organises a village, often including the positioning of ritual objects and sacred places) into an "inhabited surface", which would almost seem to appeal to the esoteric character of photography. But it is also a cogitation on the relationship  between past, present and future. As though time and space were fluids, waves, the aim being to catch their shadow, notably their political shadow.
Kosmologym is an international art and game design collective. Their games challenge players to encounter others (human and more-than-human) and place human bodies in physical relationships to global systems. Dirtball is Kosmologym's ongoing collaboration with soil lead by Greg Stewart and Walker Tufts. Dirtball began as an experimental basketball court that includes a garden, birdhouse and concrete key that is destroyed when you play on it. As the concrete is destroyed, it releases minerals into the surrounding soil and relates individual human actions to soil formation. Dirtball courts are currently installed at Franconia Sculpture Park, Shafer, MN; Governors Island, New York, NY; and Winterfield Community Garden, Charlotte, NC. Dirtball is also a collection of other dirt related performances, games and workshops.
"For Both Sides of the River", Kosmologym has turned Dirtball into Watershold, a boat inspired by the historic gundalows that moved materials down the Shenandoah River before becoming materials themselves. Watershold turns the forms used to cast Dirtball's concrete key into a gundalow. The gundalow is pulled apart by time on the Shenandoah river and washed ashore. The segments of the boat each hold fragments of Dirtball and the river.
Mary Mattingly is an interdisciplinary artist based in New York. She founded Swale, an edible landscape on a barge in New York City. Docked at public piers but following waterways common laws, Swale circumnavigates New York's public land laws, allowing anyone to pick free fresh food. Swale instigated and co-created the "foodway" in Concrete Plant Park, the Bronx in 2017. The "foodway" is the first time New York City Parks is allowing people to publicly forage in over 100 years. It's currently considered a pilot project. Mattingly recently launched Public Water with More Art and completed public artwork "Pull" with the Museo Nacional de Bellas Artes de la Habana and the Bronx Museum of the Arts, two spherical ecosystems that were pulled across Habana to Parque Central and the museum. In 2018 she received a commission from BRIC Arts Media to build "What Happens After" which involved dismantling a military vehicle (LMTV) that had been to Afghanistan and deconstructing its mineral supply chain. A group of artists including performance artists, veterans, and public space activists re-envisioned the vehicle for BRIC. In 2016, Mattingly facilitated a similar project with teens at the Museum of Modern Art.