Alex Leidholdt: Ruth D. Bridgeforth Professor of Telecommunications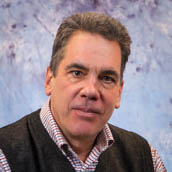 Ph.D. Old Dominion University
Ed.S. Indiana University
M.S. Clarion University
B.A. Virginia Wesleyan College
I came to JMU in 2001 after serving as an associate and an assistant professor at Purdue University, a visiting assistant professor at Indiana University (where I earlier completed a year of postdoctoral work), and an assistant professor/associate director at Old Dominion University.
Most of my research has focused on the varied responses of the southern press to racial, gender, religious, and labor issues in the first half of the twentieth century. I've written two biographies of Pulitzer prize-winning newspaper editors (Standing Before the Shouting Mob: Lenoir Chambers and Virginia's Massive Resistance to Public-School Integration, University of Alabama Press and Editor for Justice: The Life of Louis I. Jaffé, Louisiana State University Press). I've also published a biography of Nell Battle Lewis, the South's most important female journalist in the 1920s (Battling Nell: The Life of Southern Journalist Cornelia Battle Lewis, 1893-1956, Louisiana State University Press).
I recently received the William M. E. Rachal Award from the Virginia Historical Society for "Showdown on Mr. Jefferson's Lawn: Contesting Jim Crow during the University of Virginia's Protodesegregation," an article for the Virginia Magazine of History and Biography. Last summer I completed "A Bitter Row on a Backwater Newspaper Row: The Curious Case of the Moravian Falls, North Carolina, Press Phenomenon" for the North Carolina Historical Review. Right now I'm working on an article on the suppression of the press during World War I. This is a new area for me, and I'm enjoying getting up to speed on it.
Prior to becoming a professor, I worked for a dozen years as a media writer and director for an advertising agency, corporations, and educational institutions. I won a number of awards for my work, including a Gold Medal from the Council for Advancement and Support of Education and a Crystal Award from the Association for Educational Communications and Technology for the U.S.A./U.S.S.R. Youth Summit Series, three television programs focusing on the lives of Soviet and American teenagers. PBS and the Soviet Union's largest television network aired the series.
Teaching Interests: Media history and criticism of commercial media industries
Research Interests: History of the southern and Appalachian press and of the United States Post Office Department