News
Alumni Update
Homecoming, $15 million+ CoB Complex goal, open dialogue, athletics and more
---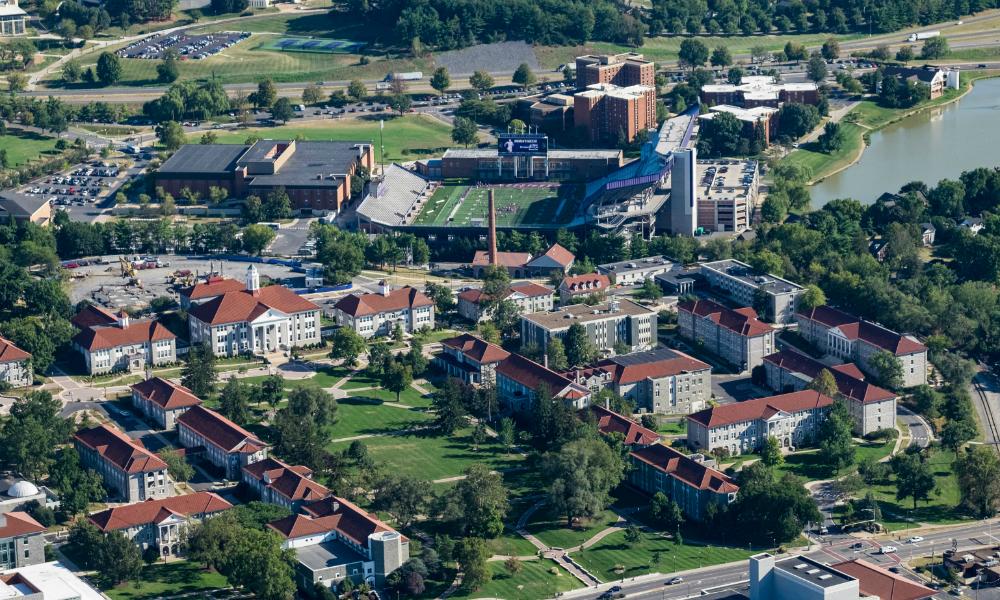 ---
Dear Alumni,
We are eager to see you this Homecoming weekend! As fall kicks into gear, I am inspired by the leadership of students, faculty and staff as they plan great events and engage with all aspects of JMU life. Check out what is happening on campus:
$15 million+ goal for CoB Learning Complex
This week JMU kicks off a public fundraising effort to raise at least $15 million toward construction of a new College of Business Learning Complex set to open in 2020.  The proposed new facility will
incorporate an updated Zane Showker Hall and brand new space that will optimize the outcomes of the JMU business-learning model. The Learning Complex will feature more than 166,000 square feet of space, twice the size of the existing Showker Hall, which opened in 1991 and was designed to house 2,400 students.  JMU's top-ranked College of Business programs now enroll 5,000 students.
Donors can sign up to be permanently recognized as a 2020 Visionary in the new Learning Complex by pledging $2,020 toward the fundraising goal.  See www.jmu.edu/cob2020 to learn more.
Record giving
This past fiscal year, we had another record-breaking year of giving with more than $18.7 million raised. In addition, a record 20,859 donors gave to the university. Thank you everyone! This will help us meet our goal of becoming the national model for the engaged university.
BOV member supports experiential learning and future Convo
We received a significant gift from Mike ('81, '83M) and Cecelia Battle for the future Convocation Center and an endowment to help student-athletes incorporate experiential learning into their Madison Experience. Mike is a member of the Board of Visitors as well as an alumnus. We appreciate all the different ways our JMU family supports us.
Professorship created to honor Joanne Gabbin
Alumnus Sean Tobin ('92) and his wife Michele made a planned gift to support the new Honors College in honor of former Honors Director Joanne Gabbin. Gabbin, an English professor, also created the renowned Furious Flower Poetry Center, the first center on an American college campus dedicated to African American poetry.
To honor Gabbin, the Tobins are creating a professorship in her name in the new Honors College. The professorship will become part of the university's Eminent Scholars Program, which for Tobin is an appropriate way to honor the woman who inspired him. "Someone like Joanne," Tobin says, "needs not only to be remembered but to be celebrated."
Opening Doors and Open Dialogue
Over the past couple of weeks, we have held conferences that reach across the world. Last week we welcomed a delegation from Kosovo for a summit on higher education.The delegation included Kosovo's Minister of Education, Science and Technology, and the leaders of most of their public universities. We discussed how we can work to help build an infrastructure of higher education in Kosovo, the world's youngest democracy. This summit was part of an ongoing relationship with this country, and we look forward to working with them in the future and creating opportunities for both JMU and Kosovar students and faculty.
We hosted a major conference of Black Women in Academia led by faculty, staff and students, honoring and empowering black women in academia.
Several other important events on campus indicate our growing diversity. We held our first-ever reception for JMU first-generation faculty, staff and students on campus. This event drew over 100 people and generated rich conversations and connections among our own campus constituents.
The Mountain Interstate Foreign Language Conference was held at JMU. This was an international conference of educators in foreign languages and cultures and featured Ambassador Alejandro Estivill, Mexico's former general consul to Canada and Deputy Chief of Mission to the U.S.
I also had the honor of speaking at the inaugural banquet of the Madison Hispanic Caucus, another important new organization on campus.
At a time when there is much social, economic, ethnic and religious strife in our nation and around the world, these events have been powerful reminders of the role that higher education can play in bringing people together and building friendships, cooperation and understanding among people with varied backgrounds and experiences. 
What's New on Campus
The Health and Behavioral Studies Building is located on Martin Luther King Jr. Way.
This semester we celebrate two new facilities. The new Health and Behavioral Studies Building is open and the renovations to the University Recreation Center are complete. We have reopened the historic main entrance of Carrier Library. We would not have been able to complete these changes without the help of our alumni!
Here is a look at a section of UREC's new addition.
In other exciting news, this summer our Honors Program became an Honors College following approval by the State Council of Higher Education for Virginia. Our newest college will benefit highly motivated students and further distinguish JMU as a university well worth considering where rich educational opportunities flourish.
We welcomed our Class of 2020 in August with speakers and the FrOG dance. Our newest members are now halfway through their first semester!
Lastly, we were cited as one of the most innovative schools in the South by U.S. News & World Report's 2017 Best Colleges rankings. 
Community Impact
Partnering with the Weldon Cooper Center for Public Service at the University of Virginia, we have finalized the most recent report of the economic impact that JMU has in the Harrisonburg community. According to the report, James Madison University contributed $480 million to the Harrisonburg and Rockingham County economies and attracted 278,430 visitors from outside the area during fiscal year 2015.
We have our first postgraduate Engagement Fellow for the Valley Scholars program, Xavia Gary, helping with the students this year.
In other community outreach, our Valley Scholars program is thriving. We welcomed our third cohort this fall and now support 104 students. This partnership with seven local school districts is an ambitious undertaking, and is already providing hope to families throughout our region. Students in the program work with JMU faculty, staff and students and are guaranteed a full-tuition scholarship if they stay on track academically and are admitted to JMU. Learn more about the Valley Scholars program.
Seasons of Success
JMU football has continued its success with a new coaching staff this fall as the Dukes currently rank No. 5 and No. 8 in the two most regarded national polls. JMU is 6-1 overall and tied atop the CAA standings at 4-0 heading into Saturday's Homecoming matchup against Rhode Island. Running back Khalid Abdullah has emerged as a national player of the year candidate amid a highly successful offense.
JMU field hockey was most recently ranked No. 17 and is winding down regular-season competition in anticipation of the CAA Championship, while ranking sixth nationally in scoring average. JMU volleyball won three straight over the weekend, including knocking off first-place Northeastern, to build momentum in the second half of the conference slate.
JMU enters this weekend's CAA Cross Country Championship at Delaware ranked in the top 15 of the region. Women's soccer grabbed the No. 3 seed in the CAA Championship and will host No. 6 College of Charleston on Sunday. Men's soccer enters the final competition of the season in the mix for a CAA spot.
Meanwhile, the tennis and golf programs have competed well in the fall, capped by men's golf winning team and individual honors last weekend at the Camden Collegiate Invite. Swimming and diving recently started its season 3-0 in dual competitions, with men's and women's basketball less than 20 days away from tipping off.
Homecoming Events
Check out and register for our Homecoming events from Thursday to Saturday. We have networking, academic, dining and tailgating fun planned for the whole weekend. The football game is at 3:30 p.m. at Bridgeforth Stadium on Saturday. I hope to see you there!
Thank you for investing your time and energy in JMU. You are an essential part of our institution and family. We hope to see you this weekend.
Go Dukes!
Jonathan Alger
President
Published: Tuesday, October 25, 2016
Last Updated: Thursday, April 5, 2018