The Global Duke & Ambassador Program
Who are the Global Dukes and Ambassadors?
The Global Dukes and Ambassadors are the student voice of JMU Study Abroad! As study abroad alum, we have all completed programs abroad are passionate about sharing global opportunites with the JMU Community! Study abroad changed our lives in significant ways, so this is a way for us to give back and encourage others to go abroad! If there is anything we can do to help you prepare to leave for study abroad or return to campus, let us know and we will be happy to help!
Presentation Request
Would you like a Study Abroad presentation for your classroom, residence hall, or organization? The Global Dukes and Ambassadors will be glad to assist you! Please complete the online presentation request form below.
What do we do?
As a team, we all represent and promote study abroad at JMU. We assist the Study Abroad staff with programs throughout the school year such as the Study Abroad Fair. In connecting with the JMU community, we assist prospective study abroad students with any questions they may have regarding selecting a program or even preparing for their departure. We also host various events, such as socials and resume workshops, that are geared towards study abroad returnees. These events create opportunities for returnees to connect and network with other study abroad participants. These events also create a space for students to reunite with their study aborad cohort! 
The Global Dukes serve as student leaders who work closely with the study abroad professional staff, assist in leading the global Ambassadors, and also hold a specific coordinator position. These coordinator positions include Social Media and Promotion, Design and Marketing, Alumni Outreach. The Global Ambassadors are student volunteers who participate on event committees and contribute to study abroad recruitment efforts.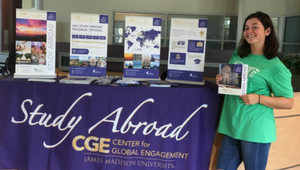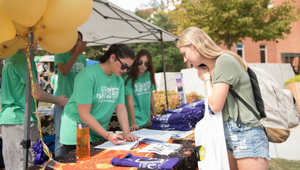 Join Our 2019-2020 Team!
Do you have a passion for study abroad and international education? Join our team! 
Applications for the 2019-2020 Global Dukes and Ambassador Program are now open! Students may apply for the program if they have completed a program abroad, are currently abroad this semester, or will go abroad this summer. 
As a Global Duke or Global Ambassador, you will have the opportunity to talk with incoming and current students about the awesomeness that is Study Abroad. You will work in a team environment to create programs, events, marketing and media plans to get JMU students just as excited as you were when you first decided to go study abroad!
If you are interested in becoming a GLOBAL DUKE or GLOBAL AMBASSADOR for the 2019-2020 academic year, please email your completed application to Pernell Whitfield at globaldukes@gmail.com by 5:00pm March 4th, 2019.  
Attend an Info Session! :)
Want to learn more about the program? Join us at an info session to meet memebers of the current team and hear their experiences of being in the program and working with the JMU Study Abroad. The info sessions will be held on the following dates:
February 13th | 5:30PM - 6:30PM
February 18th | 1:30PM - 2:30PM
February 20th | 5:30PM - 6:30PM
All info sessions will be held in the Center for Global Engagement classroom, Madison Hall 2001. Attending info sessions are not required to apply, but highly encouraged.
Please feel free to RSVP for the info session you wish to attend:

Zachary Alvarado
Semester in Salamanca | Summer, 2016
JMU Internship in Spain | Summer, 2017
"I can say with conviction that my experience studying abroad was one of immense growth and change, and a large part of my experience was influenced by both the JMU and Spanish community that I was surrounded in. My time studying abroad in Salamanca, Spain, showed me the resilience, strong will, and fortitude I have when faced in a global setting. I became more confidant in my ability to succeed, even when faced in difficult or demanding situations and I have brought this certainty into my life back home."
Email: alvaraza@dukes.jmu.edu 
---

Paige Barlow
Semster in Antwerp | Spring, 2018
"The study abroad experience has allowed me to gain more confidence and independence. Being so many miles away from home has made me grow up and live on my own. I have had to make decisions (financially, etc.) that could have easily been made by my parents, but I had to choose. I pushed myself to be more social and say "yes" to opportunities."
Email: barlowpe@dukes.jmu.edu 
---

Claudia Churchill
Summer in Ghana | Summer, 2017
South Africa Justice | Summer, 2018
"I am very passionate about my study abroad programs but also about study abroad overall. An amazing opportunity that allows you to travel and 'see the world' and do so in a safe manner whilst also contributing to your degree? I love expressing my excitement for my, and all other JMU programs. I love talking to student, parents, families (anyone) about my time abroad and all the opportunities CGE offers."
Email: churchcr@dukes.jmu.edu 
---

Carly Comito
Ireland Media | Summer, 2017
JMU in L.A. | Summer, 2018
"I did not know what to expect going into my program, but I left with an inspired feeling that I don't think I'll ever be able to shake from the unique experience that I gained abroad. Studying abroad taught me to go out of my comfort zone because it will likely lead me to the best experiences of my life."
---

Zoey Lee
Semester in London | Spring, 2016
"During my study abroad experience I learned a lot about my self while learning about different cultures. I learned that home is just a feeling and that I could become homesick for more than one place."
Email: leezj@dukes.jmu.edu

Annarose Lemba
JMU Internship in Germany | Summer 2018
Summer in Ghana | Summer, 2017
"My study abroad experience gave me a new adventure every day. By going to Ghana, it really opened up my eyes and gave me a greater appreciation for the opportunities that I have. I was able to volunteer at a school, intern at a hospital, and attend university lectures, all in just six weeks. I learned so much about the culture, in addition to making some really great friendships and memories."
Email: lembaas@dukes.jmu.edu
---

Jackie Martel 
JMU Internship in Ireland | Summer 2018
Semester in Florence | Spring, 2017
Austrailia Hospitality Program | Summer 2016
"I honestly cannot even begin to explain how much my study abroad experiences have impacted me. Each time I travel I find a new trait inside of me that I would have never learned had I not studied abroad because it forces me to go outside my safe and familiar zone. It has even affected me on a professional level as I now will consider career fields that allow opportunities for international travel."
Email: marteljm@dukes.jmu.edu
---

Dominique O'Hern
Semester in London | Fall 2017
"The second I arrived in London, I met the most amazing people that I felt have been missing from my college experience. The semester I spent abroad made me more confident in myself and the many things I can do with my life. Interning internationally taught me so much about the differences between the American and European workplaces and it is skills I have been able to take with me for applying for furutre career opportunities."
Email: oherndm@dukes.jmu.edu 
---

Keonhee Rho 
JMU Internship in Spain | Summer, 2017
Internship in Busan, Korea | Summer, 2016
"From my experience studying/interning abroad, I've not only grown as a young professional, but have matured as a citizen of this world. Living, spending time, and immersing myself into a culture that I'm not accustomed comes with a huge learning curve that has personally taught me a greater sense of responsibility and an open perspective to new ideas and traditions."
Email: rhokx@dukes.jmu.edu
---