You are in the main content
Weiwei Xu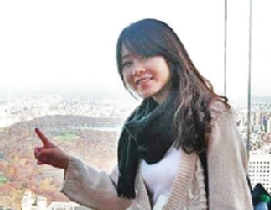 | | |
| --- | --- |
| Home Country:  | China |
| Major/Minor: | Studio art/ Human Resource Development |
| Graduation: | May 2014 |
| E-mail:  | xuwx@dukes.jmu.edu |
Why did you choose JMU?
I applied to three universities, two of them were in New York state, and the another one was JMU. I wanted to enter the school in New York City the most, but I didn't get into that one. I got into Buffalo state university and James Madison University. Due to the weather, location, tuition fee and the fact that there are lots of Chinese people already (which would make it hard for me to improve my English), I chose JMU. JMU has a nice weather with four seasons and it's close to the capital (Washington DC), besides JMU has a large number of American students and this is a great chance to practice English.  Last but not least, after I came to JMU I found there are many opportunities that I didn't have when I was in private school.
What is your favorite class? 
I love Metals/ Jewelry class! I studied Jewelry design in Singapore for one year, and JMU jewelry class is very interesting! I always wanted to be a jewelry designer or work in the fashion area.  This is a great opportunity for me to practice the jewelry making skills and prepare for my future career.
Besides studying, how do you occupy your time?   
I like to hang out with my friends to go in downtown Harrisonburg, they have some delicate shops and restaurants, it is a very nice relaxing place. During holidays, I travel to different places, such as New York, Miami, San Diego, Orlando, Boston. It is another way to see a different America.
What clubs/activities are you involved with at JMU?:
JMU has over 300 organizations and clubs that provides for students, such as the Asian Student Union, Break Dance club, Golf club and  Model Union. This is a great opportunity to meet new people and use your time meaningful. I am in different student clubs such as Asian Student Union (ASU) , Chinese Student Association (CSA) and Korean Student Association (KSA). Each year,  ASU and CSA have their own culture shows, one is for spring semester, another one takes place during the fall semester. I started performing at these different culture shows since my freshmen year, this is a great time to show different cultures to JMU campus. Besides, I am the Vice President for Chinese Student and Scholars Association, we provide lots of help for international Chinese students adapting the new environment. Last but not least, oIP (Office of International Program) has a large number of events every semester, such as snow-tubing trip, international students leadership conference and a career day. These events shares lots of useful information and its time for you to build connection with JMU international students.
What do you like the most about JMU?   
 I love JMU study abroad program. I did Florence summer program with JMU, it was my best 8 weeks in my life! We had 30 people went there, and we traveled to Venice, Rome, Siena, Pisa during the weekends. I recommend everyone to study abroad at least once in their life.  Studying abroad not only brought me different cultures but it built the way how I think and interact with others. JMU study abroad program provides opportunities to stay with local families and give you a chance to practice your language, and get into local lifestyle.  There are lots of countries to choose from South America to Europe and Asia. The most exciting thing is you can earn credits while you are enjoying studying overseas!

What advice would you give to international students who are considering studying at JMU? 
JMU is like a small community, there are some great opportunities! Firstly, JMU has a great number of source for career planning that you should definitely use. They have academic advice such as major or minor choices, internship search skills, and job interview tips. Academic and Career planning center will give you the best idea to achieve your goals.  Secondly, JMU has many great facilities, such as UREC. There you can find have a variety of group fitness classes, Racquetball courts, swimming pool and exercise machines. It is a great place to relax after one day classes! Last but not least, JMU has over 30 dining places, and the food is the second place among the nation. You can enjoy the buffet style at D-hall, Asian food at Top Dog or classy dinner at Madison Grill, it will be a great way to hang out with friends and have a nice relaxing time.