You are in the main content
Richa Tiwari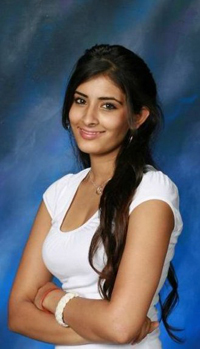 Major: Health Sciences
Home Country: U.S.A./India
Graduation: May 2013
E-mail: tiwarirx@dukes.jmu.edu
Why did you choose JMU? 
JMU was my top choice University because I was overwhelmed with the natural beauty of the campus and the quality of the people that attend the University. When I initially came to visit the campus, I realized JMU was a big enough campus where I could pursue diverse opportunities, but at the same time, it was small enough for me to become familiar with many students, faculty and staff on campus. Moreover, I chose JMU for its academic credentials and willingness to embrace diversity. JMU has over 50 majors for students to choose from ranging from Accounting to Theater and Dance so I knew I was sure to find a major that would meet my interests. In addition to the academia, JMU has an exceptional athletics department with well-known football, basketball, and soccer teams (just to name a few)! The University also ranks #3 in the nation for its dining services on campus. Choosing JMU was an easy decision for me—who can say no to a University with great academics, athletics, AND food??
Besides studying, how do you occupy your time?
James Madison University has over a hundred student organizations available on campus for students to join. Each semester, the Office of Student Involvement and Activities has a "Student Organization Night" where all students are invited to browse through and sign up for clubs they may be interested in. Currently, I am the President of the International Student Association, a social organization aimed towards promoting and fostering diversity on campus. I am also a member of the Make Your Mark on Madison leadership program, Presidential Leadership Academy, and the Pre-Physician Assistant Club. I also participate in Friends of Rachel, an organization aimed at spreading kindness and good morale on and off campus.
What do you like the most about JMU?
My favorite aspect of JMU is how beautiful the campus is. During the Spring and Fall Semesters, students gather on the Quad, a common area, and have a great time! Some students play soccer, pass the football, tan in the sun, and even do homework while lying in the grass! During the wintertime when it snows, students gather on the Quad and participate in a campus-wide snowball fight. As you can see, JMU is a very friendly and united community focused on "togetherness". On a different note, I also enjoy the logistics of the University. Transportation is simple, easy, and free! Whether you need to go from one side of the campus to the other, or if you need to go shopping for groceries at a local store, transportation is readily available seven days a week, so long as JMU is in session.
What advice would you give to international students who are considering studying at JMU?
JMU offers so many opportunities for growth—academically, socially, and personally. Everyone on campus is friendly and willing to help each other out. Don't be afraid to step out of your comfort zone because James Madison is a University which will readily embrace your unique cultural background. Enrich yourself with new experiences on campus: try the rock climbing wall at the gym, have a classy meal at the Madison grill, paint your face purple and gold for a football game! Explore the campus and if you have any questions, never hesitate to ask!