You are in the main content
Rania Sheikh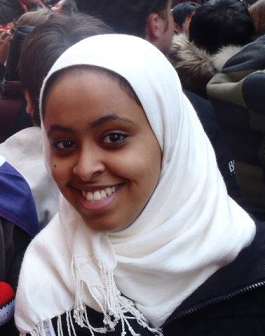 Major: Biology
Home Country: Bahrain
Graduation: May 2014
E-mail: sheikhra@dukes.jmu.edu
Why did you choose JMU?
I transferred to JMU from another institution because I kept hearing how amazing JMU's both academic and fun atmosphere is.
Besides studying, how do you occupy your time?
Making the right friends goes a long way! There is always something to do in JMU whether it is a club event or an offcampus event. I mostly find things to do with friends that have mutual interests.
What do you like the most about JMU?
The people and the atmosphere. Everyone smiles at you and opens the door for you. It is awesome! You feel welcomed and home at JMU. Especially when you find your place in the community it becomes an even more wonderful experience.
What advice would you give to international students who are considering studying at JMU?
Don't just think I want to go to a school in a cool city or university my friend went to. There's a school for everyone, and JMU has got to be one the most friendliest for international students. It has everything you can wish for. You can never be too sure of where you may want to go in the future but trust me when you get to JMU you will never be more sure that this is the place you want to be in!