You are in the main content
Nicole Jiaqi Hu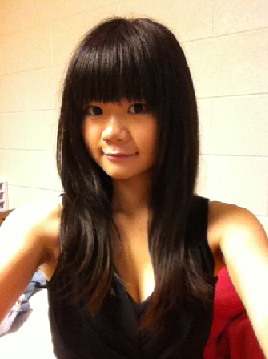 Major: Accounting & Finance
Home Country: China
Graduation: May 2014
E-mail: hujx@dukes.jmu.edu
Why did you choose JMU?
As we all know, colleges in America are all really good and they have the best education around the world. I applied to four colleges at first, Long Island University, Boston College, College of William and Mary, and JMU. I was accepted to all of these colleges except to William and Mary. After comparing each school, I finally chose JMU. It is highly ranked according to the Business Week. The accounting program is a very strong one, and is considered one of the best majors at JMU. Also, campus is really beautiful and it's only two hours away from DC. Another important reason why I fell in love with JMU is the great correspondence and connection I had with the JMU admissions center. I was nervous and my English was not that good when I was applying, however, every time I called the admission center from my hometown, they were always very patient with me. They also sent me lots of helpful information. I have never regretted coming to JMU!
Besides studying, how do you occupy your time?
I have a part time job on campus as a computer lab consultant, which has been a very meaningful and fun job. I also joined some organizations, like dancing club, etc. As an international student, I know my English is not as native as American students so I always try to talk with my American friends and join their activities. That way I also learn about American culture faster. I also want to let more Americans know Chinese Culture, so last semester, my friends and I established an organization named Chinese Student and Scholar Association and I am the secretary of that association.
What do you like the most about JMU?
People here in JMU are really nice and friendly. Professors and students are always glad to help. I also enjoy the fresh air and the beautiful campus every day! I even like the squirrels jumping everywhere!
What advice would you give to international students who are considering studying at JMU?
I realize that you may receive more than one acceptance letters from the schools you applied to. To help you with your decision, I suggest that you a do lot of research online like I did. For example, go to the school website and check the major that you want to pursue. I saw lots of beautiful photos taken at JMU posted on the website, which made fall in love with JMU. I would also urge you to contact me, as a linker, I would be glad to answer any questions or concerns you may have. Feel free to send me an email with anything you want to ask. The JMU international student connection Facebook page is a another convenient way to get information straight from JMU students!