You are in the main content
Nam Nguyen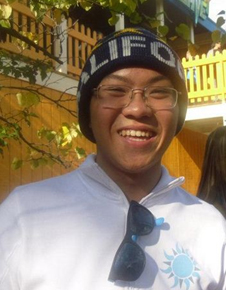 Major: Computer Information Systems
Home Country: Vietnam
Graduation: May 2014
E-mail: nguyennx@dukes.jmu.edu
Why did you choose JMU?
To be honest, I do not really know why I chose JMU. Something in me clicked when I visited the school. Perhaps it was the beautiful scenery of the campus - JMU has a breathtaking view of the Shenandoah valley. But perhaps it is the delicious meal students enjoy everyday while enjoying the warm companionship of their friends at the various dining locations on campus. Or maybe it was the sweet, hot smell of a freshly brewed cup of coffee with the faint smell of old and new books while working late at the library. Not to mention the heartwarming smiles of the professors, barely masking their sheer intellectual brilliance. Perhaps it is all of these, or maybe none. I do not know. But I do know that I chose JMU, and I'm glad I made that choice.
Besides studying, how do you occupy your time?
James Madison University offers a host of student clubs and organizations to get involved with. After academics, I am usually extremely busy with my current position as Events Coordinator for the International Student Association, as well as a member of the University Program Board. And after all that, nothing beats some nice quiet time with a book or getting the adrenaline going working out at the gym!
What do you like the most about JMU?
My favorite thing about JMU is quite strange. It is that you always have a choice. You have a choice in the classes you take, the professors you have. You have a choice of where you eat, and where you sleep. During the weekends, you can choose to go out with your friends, or you can participate in the programs that student organizations put on just for students. Nothing will ever be forced on you; you can do whatever you want. And that is, to put it simply, awesome.
What advice would you give to international students who are considering studying at JMU?
Do you know when you travel to another country and experience jet-lag due to the time difference? If you give in and let yourself sleep, you will have a much harder time adapting to the new environment. However, if you force yourself to stay awake, to do things until it is the right time to sleep, it will only be a matter of days until your sleep schedule goes back to normal. JMU is like that. If you eventually choose to attend JMU, do not just stay in your dorm room. JMU is a school full of opportunities-that was why you decide to go here. Go out and do something; anything for that matter. It might be hard, and you will probably have to force yourself to do it; however, it will ease your transition to JMU a lot. The orientation "Mappy" always have a ton of fun things to do. Take advantage of them.