You are in the main content
Moussa Ouedraogo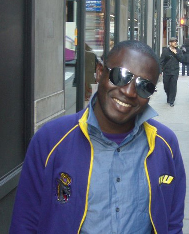 Major: International Affairs
Home Country: Ivory Coast
Graduation: May 2013
E-mail: ouedramx@dukes.jmu.edu
Why did you choose JMU?
In  Early 2010 The U.S Embassy in my home country organized the Fulbright Program in order to provide outstanding students with a chance to further their studies in prestigious academic institutions here in the States. As a Fulbright scholar, The IIE found that JMU could be the best University to my aspirations. I am more than satisfied of their choice!!!
Besides studying, how do you occupy your time?
I enjoy listening to Reggae music. Though Reggae is not such a popular musical genre in America but I have a few friends who started loving Reggae music after I suggested they listen to a couple of Reggae Beats. They also introduced me to R&B. I often attend their performance at TDU. TDU is a hall  where talented students display their skills for the amusement of the JMU community. There are tens of other such activities on campus and  all this makes JMU a place where boredom is not part of the vocabulary of students here. Physical exercice, and I am always tuned to international news!!!
What do you like the most about JMU?
I enjoy the hospitality of the JMU community. You never feel bored as long as you at JMU. There will be always something fun around the corner to attend to!!!
What advice would you give to international students who are considering studying at JMU?
Come to JMU because JMU is the University that answers all your answers as far as your education and networking are concerned. As a JMU student, I volunteer as Career Educator to my fellow students, that is I help them in their choice of major based on their ambition (future job), help them with their resume,  and assit them in networking with potential employers. Besides, I a member of African Student Organization and as such I have a platform to promote African culture with JMU community through culture shows. Furthermore, I am member of Republican Students here at JMU. Republican Students meet from time to time to share ideas and discuss on some political issues. Being a member of such a group makes you an engaged person who knows his rights and duties and acts on them. These are only a few of hundreds of organizations that you can join and make  a difference in people's lives.