You are in the main content
Marina Mezzetti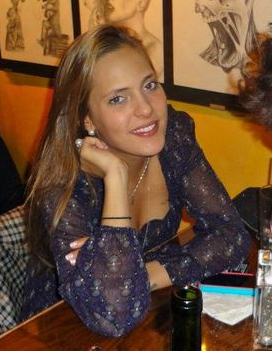 Major: Communication
Home Country: Brazil
Graduation: May 2013
E-mail: mezzetmm@dukes.jmu.edu
Why did you choose JMU?
To be honest, when I first saw the campus, it was love at first sight! I cannot emphasize enough how beautiful it is. I hadn't even visited the campus, yet when I saw the picture of the quad I was like " I found what I wanted!" For me it was just like I used to see in the American movies, but it was real life! JMU has a huge campus where a portion of the students live and enjoy an academic life. Something else that grabbed my attention at the university was the strong Greek life. We don't have that in Brazil, thus, I was so curious about how everything worked and I wanted to have as many different experiences as possible. JMU has a lot to offer, its programs, sports and involvement opportunity are really great.
Besides studying, how do you occupy your time?
We study a lot at JMU and for an international student the academic life is harder than the others. Don't' think it will be easy in the beginning and that you won't get homesick. However, you will get adapted to it within the first semester and realize how wonderful everything is. Your professors will be willing to help you, your friends and roommates will be willing to make you more comfortable, and you will be experiencing so many different opportunities! One thing I really appreciate about JMU is that there is never a dull moment. When I am not studying I am always with my friends doing something. There are so many activities to do on and off campus such as fitness classes at UREC, movies at Grafton, play pool table at Festival, breakfast at midnight, playing sports, bowling, skiing at Massanuten, hiking in the Shenandoah Valley, walking in the arboretum, etc. I love being with my friends and especially my Tri Delta Sisters!
What do you like the most about JMU?
The quad, Mrs. Green, Wampler Hall, rock climb wall at UREC, Forbes center concerts, the rock of expression at east campus, fitness classes, Mr. Chips, writing center, ECL, sorority row, E-hall, intramural soccer, homecoming, basketball games, parents weekend, movies at the swimming pool, grilled cheese on Thursdays, the Breeze, and I could easily do an endless list of everything I love at JMU. Nonetheless, what I appreciate the most is the incredible educational opportunity I am having here around such amazing people.
What advice would you give to international students who are considering studying at JMU?
I know it is hard to decide if you are going to study in another country or not. It is just so scary to think that you will be out there by yourself especially since you don't really know what to expect. As an international student the advice I would give you is: go for it! Try it! Live new experiences, meet new people, and learn about another culture. Everything is so amazing that I do not even know how to describe what you would be losing if you didn't try it! It is normal to be afraid but don't let it discourage you. If you really have the opportunity to be an international student, do it! You will live unexpected moments and form incredible friendships.  I found a home away from home at JMU!