You are in the main content
Jessie Rosati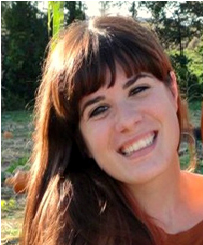 | | |
| --- | --- |
| Home Country:  | U.S.A. |
| Major:  | Justice Studies-Global Concentration |
| Graduation: | May 2014 |
| E-mail:  | rosatijj@dukes.jmu.edu |
Why did you choose JMU?
I chose JMU because I originally went on over eight college tours and this was the ONE and ONLY school in which every single student was overjoyed to be here and enthusiastic about their college experiences. Every student I encountered was extremely welcoming and friendly and had an overwhelming amount of school pride. The love for JMU they showed me was just infectious and I felt it the very first time I stepped onto campus. The close proximity to D.C. was also a great bonus because of the limitless opportunities a JMU student can pursue there. It is only a two-hour drive away and a student can go for a day trip or even an entire weekend to have fun and explore the city or look into internship and job opportunities. I absolutely love to get involved in clubs and activities anywhere I am so the fact that JMU has 300+ clubs and organizations made me very excited about the many choices I would have. The beautiful Shenandoah Valley was another factor that helped me in my decision. I love that I can see mountains from anywhere I stand on campus. One of my favorite things to do at the end of a long day is to go to the top of a building on campus and take pictures of the sunset over the mountains. Coming from a much smaller school, I can say that JMU is the perfect size school for me.  It is small enough that I see familiar faces every day and don't feel like a number, but also large enough to have a lot of cool opportunities, a wide variety of classes, and an exciting football team. The last thing that convinced me JMU was the place for me was its number three national ranking in food. There are few things that I love more than food and when I visited, I saw all of the variety and loved how it tasted. After all of this, I realized that JMU was going to be my home away from home.
What is your favorite class?  
I loved my Gender and Justice class because although it is infamous for being one of the toughest classes in my major. I felt like I learned more than in any previous class I had taken. We covered topics such as sexual terrorism, harassment, the glass ceiling, medical construction of gender, sex trafficking, medicalization of racial features, rape as a weapon of genocide, reproductive rights, gender in hate crimes, patriarchy, and socialization of gender roles. The professor who taught this course, Sue Spivey, made it even more enjoyable through her laid back and discussion based teaching style, while also demanding a lot from her students. In the future, I hope to take more of her classes! 
Besides studying, how do you occupy your time?
During the fall I play intramural indoor volleyball and in the spring I play sand volleyball. The people on my volleyball team were the first real friends I made at JMU and I still hang out with them all the time.
What clubs/activities are you involved with at JMU?
I am the public relations coordinator in Justice Studies Student Organization, which is an organization that plans events and does community service that pertain to my major. I also participate in the International Student Association, Pay It Forward, Caving Club, Sister2Sister mentoring program, and Scuba Diving Club. In the caving club, I learned how to ascend and descend vertical caves, and in the scuba diving club I tried scuba diving for the first time ever in the school's pool. On the weekends, I sometimes participate in Creative Madison's water coloring class offered on Saturdays and when I find time, I love working out at JMU's awesome recreational center.
What do you like most about JMU?
Since I can't chose one, the top three things I would say I like most about JMU are the convenient bus system, the interesting classes, and the friendly people. The bus system at JMU is great because there are a bunch of different routes that make it unnecessary to need a car while at school. The bus drivers I have met are friendly and helpful to me and other students. Out of the nine classes I have taken at JMU so far, I felt I have gained more knowledge and insight. Out of my entire high school career and freshmen year at a different college, I never felt that I learned this much. The people on this campus have a reputation of being extremely friendly and they definitely live up to this expectation - everyone that I have met here is very kind and welcoming.
What advice would you give to international students who are considering studying at JMU?
The most important thing you can do is to get involved and participate in as many things as your schedule will allow. Whether it is a sport, service project, job, club, or organization, these are going to be the places where you make the friends you will never forget. If you join things that interest you, then the people you will meet will have similar interests as you and it will be easier to become close friends with them. Making great friends and feeling like you are an important part of the JMU community will help you feel right at home. Also, participate in class; your professors will love it!