You are in the main content
Duc Tam Nguyen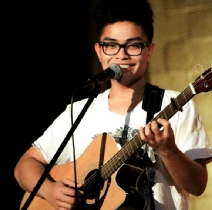 Why did you choose JMU?
As a very heart-following person, I honestly decided to choose James Madison University as the destination for my college experience based on my intuition. Of course I did certain research and found out that JMU has a solid program for business majors, which is my interest. Also, one of my close friends Phuong Tran went to JMU; and as a sophomore, she highly suggested me JMU for its positive social aspects, its beautiful campus, its good dining services, and its friendly people. Inarguably, those suggestions and research results did have noticeable impact on my so-called "intuition". And to be totally frank and honest, my intuition led me to an unexpectedly nice experience here at James Madison University.
What is your favorite class?
My favorite class so far is COB 191 – business statistics. For many students, hearing the name of this class already provokes such boring and excessively demanding stereotype about the course. But I personally enjoy doing math and solving problems, especially when they are put under business world situations. On the other hand, I thoroughly find excitements in challenging courses in which I learn very useful knowledge by overcoming several difficulties. Besides, my professor Dr. Jeffrey May brings humor and interesting perspectives into every lesson, which turned a seemingly dry course into a totally enjoyable time.
Besides studying, how do you occupy my time?
Besides studying, I spend a lot of time participating in projects within student organizations I have joined. Culture shows and musical events are epitomes for things that I occupy my time with the most. I also usually hang out with people in order to get to know them better in person. On my own, I usually work on my musical skills, or sometimes just enjoy a cup of coffee while listening to my favorite acoustic records.
What clubs/activities are you involved with at JMU?
Knowing about the International Student Office and the LINK program when I first came to JMU, I naturally got involved in the International Students Association (ISA). Within the ISA, I spend a good amount of time on many different social and "linking" activities. Among those events, I delightfully participated in the ISA's "Charity Formal" as a musical performer – together with my good friend Ray, with the aim of entertaining people by contributing our humbling passion for music. In addition, I became an active member of the Asian Students Union (ASU) as well as the Vietnamese Students Association (VSA). Similar to the "Charity Formal", I performed during the ASU's culture show representing my Vietnamese culture through a traditional song. At the moment, I am rehearsing for another culture show hosted by the VSA and in the near future I am more than excited to contribute to the ISA's culture show. Besides all of those social and musical involvements, I also joined several intramural sports events. I played in an intramural soccer team during the previous fall semester and I am currently playing for an intramural basketball team.
What do you like the most about JMU?
Opportunities. That one concrete word should be able to describe the one best thing I could think of about James Madison University. Comparison among different colleges would be unpersuasive and irrelevant because I only went to one and there is no student who travels enough so that he/she can create an objective and broad juxtaposition about opportunities between universities. James Madison University offers a great amount of majors and minors. It also has unbelievably rich and mind-blowingly supportive resources and services including academic support, tutoring, residential services, technical helpdesk, libraries, recreational activities, and many other you-name-it-JMU-has-it kinds of resources. Especially, James Madison University has one of the best groups of people among the college atmospheres. Everyone is friendly. Professors, advisors, and all faculty members are willing to lend you a hand in all sorts of problems you might encounter. It is the people who play the role of the essential glue sticking everything JMU has together. As a whole, James Madison University provides its students endless number of opportunities to experiment, to learn in-and-outside of the classrooms, to contribute, and to take risks and evolve.
What advice would you give to international students who are considering studying at JMU?
The more you put in something, the more you will get out of it. James Madison University has all the elements that make a great university: Strong academic programs including a diverse number of majors; great student body and supportive faculty members; tons of different student organizations with various interests; and so many more. But ultimately, it is you who will create your own college experience. Everything will be new and unfamiliar but you are not alone. All new incoming students will be going through similar difficulties and challenges. Just don't worry your life away. You need to step out of your comfort zone and take risks. You never know what you will get when you try to do new things. On the other hand, you know for sure that you will not receive anything if you don't try. Hence you simply need to open yourself up to the opportunities and make the most out of your time here at JMU by maximize your input in every single thing you want to do.