You are in the main content
Ashley Manalel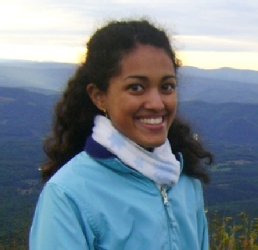 | | |
| --- | --- |
| Home Country: | USA/India |
| Major/Minor:  | Health Sciences/Medical Spanish |
| Graduation:   | May 2014 |
| E-mail:  | manaleam@dukes.jmu.edu |
Why did you choose JMU?
 When asked "Why JMU?", I always get a flashback of my JMU campus tour. Standing on the steps of the ISAT building, I got a view of the entire campus and mountains behind it. It was one of the prettiest things I had ever seen; it was like picture perfect scenery! I really wanted to be able to see it every day. After my first year at JMU however, I saw that the true beauty of the university lied not in the scenery (although it is really pretty!) but in the people- the JMU community. Everyone here is so nice and friendly. You are always greeted with a smile or a hello wherever you go, and everyone holds the door open for you! In addition to these courtesies, everyone here is willing to help you; be it teachers during office hours or other students at the Career and Academic Planning center, the Science and Math Learning Center, the Writing Center or even the University Health Center. Everyone is available to make sure that you are able to succeed in your goals. With over 300 clubs and organizations, there really is something for everyone to be a part of. No matter what occurs in this university, the people of JMU always stick together as a supportive community, which some like to call JMU Nation. All of these things really add to my experience at JMU and make me proud to call myself a JMU Duke. 
What is your favorite class?
My favorite class at JMU was GPSYC 160 (Life Span and Human Development) with Kimberly DuVall. The development that takes place between infancy and old age amazes me! There are so many environmental and biological factors affecting what happens next in one's development. With Professor D's stories and examples for the concepts learned, I found this class very applicable to my own life. If you ever have a chance to take a psychology class, I definitely recommend this course!
Besides studying, how do you occupy your time?
I spend my time hanging out with friends, baking, singing, knitting and of course, playing board games! I am also learning how to play ukulele.
What clubs/activities are you involved with at JMU?
I am an active member of JMU's International Student Association. This club seeks to spread diversity around the JMU campus through various programs and events. As the current club Secretary, I work with the executive board to plan and promote these programs and our bi-weekly meetings. Last year I was a member of Shenandoah Hall's Community Activities Board and served as Multicultural Representative to increase cultural awareness throughout the hall. I am also a part of JMU's Catholic Campus Ministry and Pre-Physician Assistant Club.
What do you like best about JMU?
One of my favorite things about JMU is that it is very service oriented. With service learning trips during Thanksgiving and Spring break, weekend volunteer opportunities and an annual one-day student run community service project called The Big Event; JMU helps cultivate enlightened individuals with a commitment to bettering their community.
What advice would you give to international students who are considering studying at JMU?
One of my favorite quotes comes from Wayne Gretzky. He said, "You miss 100% of the shots you don't take." Never be afraid to try something new, to go somewhere different or to do something out of the ordinary. It will help you grow as a person and it adds to your life experience. JMU is a place to do just this. With strong academics, an array of student organizations and endless social experiences, this university strives in helping students become enlightened global citizens. So why not take a shot and see what JMU has to offer for you!