You are in the main content
Anh Quy Nguyen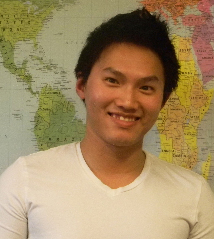 Major: Finance and CIS
Graduation: May 2014
Home Country: Vietnam
E-mail: nguye3aq@dukes.jmu.edu
Why did you choose JMU?
According to famous business magazine Bloomberg, JMU business program is ranked at 28th nationwide. Especially, JMU Computer Information System is ranked top 10 nationally. In addition, JMU is reaching out for diversity. This means that in JMU, you can find mostly very cultures in the world, from. JMU has the best environment for those who love to learn more about different traditions and cultures. Furthermore, JMU is located at the heart of Virginia- the most romantic state in the US. Here, at JMU, you can enjoy all the beauty of four seasons.
Besides studying, how do you occupy your time?
I spend most of my free time to hang out with my friends. We go out and try a wide range of traditional food around Harrisonburg. We also play football every Friday. I also join VSA (Vietnamese Student Association). We also made  trips to Washington DC, Northern Virginia. I am a member of Brazilian Jiu JItsu club.
What do you like most about JMU?
Everything here at JMU is in my most beautiful memories, however, if I have to choose one, I would  choose the people. In my opinion, JMU is the most friendly campus. Everyone here is extremely nice and helpful.
What advice would you give to international students who are considering studying at JMU?
Be prepared cause you will smile a lot. Go Dukes!!!!