You are in the main content
Ahmed Alotaibi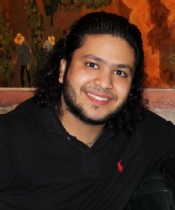 | | |
| --- | --- |
| Home Country: | Saudi Arabia |
| Major/Minor:  | Biotechnology/ pre-med |
| Graduation:       | May 2014 |
|  E-mail:        | alotaiar@dukes.jmu.edu |
Why did you choose JMU?
JMU was one of the few schools that offered biotechnology program when I applied.  Also, the program was highly recommended by my advisor through my scholarship program. I briefly researched the surroundings and immediately fell in love with the Shenandoah Valley and the Blue Ridge Mountains. The scenery is spectacular especially from campus. Besides the scenery, the opportunities of research related to Human-Health were outstanding. The ability to select a field of interest was the most incredible thing, which allowed me to select my field of interest. I believe my experience at JMU will help with my professional life in the near future.
What is your favorite class?
I have enjoyed many classes during my undergrad studies. One of the classes I like the most is Advanced Molecular Biology, in which I was able to use current technology in the process of investigating common questions asked in biology. Doing so provides me the knowledge and the experience in such a field.
Besides studying, how do you occupy your time?
I'm a big fan of soccer. I usually occupy my time doing sports, especially soccer. I play outdoor intermural soccer in the fall and sometimes indoor-soccer. I also spend time at the University Recreation Center where I can practice different kinds of sports. Besides sports, I sometimes hang out with friends and attend student-based events. 
What clubs/activities are you involved with at JMU?
I'm involved with International Student Association (ISA), where we hold events such Culture shows, Charity formals, and many more. The important role of this organization is to create an environment where local students learn about other cultures.
What do you like the most about JMU?
I like the friendly environment that JMU students have. The way students interact is incredible learning tool among cultures. The diversity of students attending JMU makes it a perfect opportunity to learn more.
What advice would you give to international students who are considering studying at JMU?
Get involve with the JMU community as well as the Harrisonburg community to maximize your experience and knowledge. Also, get to learn about the professor, as they will become your references in the future regarding your chosen career. Last but not least, enjoy every moment and learn from it as you go through journey at JMU.