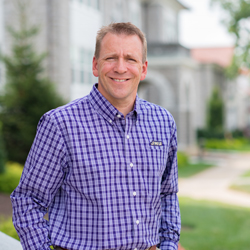 Assistant Director
Education: B.S. in Kinesiology & Education from JMU; M.Ed. in Counseling Psychology from JMU
Hometown: Luray, VA
Email: gochenjl@jmu.edu
What JMU means to me: Home is the best word to describe it.  The people on this campus, both staff and students, create an environment that allows students to grow, be challenged and feel valued. These qualities along with others are the reason that this campus is full of smiling faces.
Advice to students selecting a college: Do the research to give you all the information you need for this process, visit the colleges (it is bold for a reason-it is absolutely essential) and realize that this decision affects not only you as a student-it is also a huge piece of your early adulthood so I hope you thoroughly enjoy this journey!
Favorites:
Professor: Dr. J. Edson McKee

Class at JMU: Counseling Techniques

JMU Memory:If you attended JMU, you know great memories are far too numerous to pick just one! 
Want to join our mailing list and recieve more information? Complete our Student Inquiry Form. 
JMU Office of Admissions
Madison Hall
MSC 0101
100 E. Grace Street
Harrisonburg, Virginia 22807
Office Hours:
Mon - Fri. 8 a.m. - 5 p.m.
800 South Main Street
Harrisonburg, VA 22807
Contact Us