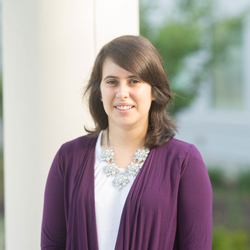 Admissions Counselor
Education: B.S. in Hospitality Management
Hometown: Chesterfield, VA
Email: darnelda@jmu.edu
Why I chose to attend JMU: From the moment I walked on campus, I knew this was the school for me. The amount of school spirit and enthusiasm from students and staff was enough to convince me to apply! Everyone was welcoming and genuinely excited for me to visit and learn all about the JMU community.  After attending CHOICES, it was obvious that JMU was the perfect fit for me! 
Favorite JMU memory: When ESPN College GameDay came to JMU!
Favorite Spot on Campus: Bridgeforth Stadium is a fun place to be during football season. The Dukes of JMU show their pride throwing streamers and singing Start Wearing Purple!
JMU Office of Admissions
Madison Hall
MSC 0101
100 E. Grace Street
Harrisonburg, Virginia 22807
Office Hours:
Mon - Fri. 8 a.m. - 5 p.m.
800 South Main Street
Harrisonburg, VA 22807
Contact Us