*Offered by the Hart School of Hospitality, Sport and Recreation Management, an independent affiliate of the College of Business. Not AACSB accredited.   **Offered by the School of Strategic Leadership Studies, an independent affiliate of the College of Business. Not AACSB accredited.    
The JMU College of Business is a learning community committed to excellence in:
preparing students to be engaged, principled business professionals and leaders;
advancing scholarship in business disciplines; and
enhancing organizational performance through our outreach activities.
 
In the College of Business, we know that nothing in the business world operates in a vacuum. That's why our curriculum focuses on preparing students to understand the interrelationships among business functions and the environment, giving them an advantage over students from schools with traditional business programs. Our results are impressive. More than 90 companies visit our campus each year. More than 600 companies recruit for full-time positions through the campus job board. Our students consistently give us a job placement grade of A or better in the annual Bloomberg Businessweek survey of undergraduate business programs. With a strong curriculum, dedicated faculty, and connected employers, it isn't surprising that our alumni are successful CEOs, senior vice presidents, business owners and entrepreneurs.
What can our business students expect?
Academic rigor, collaborative learning experiences, development of critical thinking, problem solving and interpersonal skills, a focus on learning business theory and tools with an emphasis on how to apply them in business situations and a faculty that is student-centric. The outcome? A successful future.
Highlights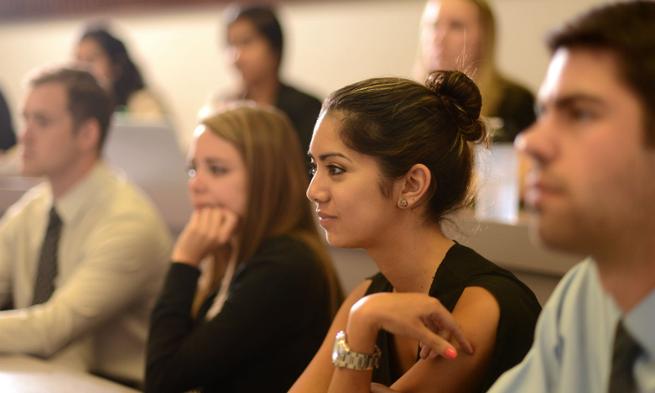 The College of Business is among the fewer than 5% of business schools in the world accredited by AACSB, the premier accrediting program for colleges of business.
The undergraduate program is consistently highly ranked by Bloomberg Businessweek.
We have a 90 percent annual job placement rate over the past decade.
JMU's Capital Markets Lab, made possible by a generous gift from Enrico S. Gaglioti ('94), prepares students for Wall Street via access to real-time financial data and information technology through the use of Bloomberg terminals.
JMU's quantitative finance program is one of the few financial engineering programs in the country available to undergraduate students.
The computer information systems program is consistently ranked in the top ten in the nation by multiple ranking sources.
Our marketing students consistently place highly or win social media competitions sponsored by Google.
All juniors take Integrated Functional Systems (COB 300), a 12-hour course that introduces students to the interrelations of the various business disciplines and engages students in a business plan competition.
'As a pharmaceutical sales representative, my sales territory is my business. COB 300 equipped me with the skills I need to analyze, strategize and ultimately sell my business, my territory, to my investors, my upper-level pharmaceutical management. The value of COB 300 is priceless.'
— Emily Shockley ('06), Pratt health care representative for Pfizer Inc.