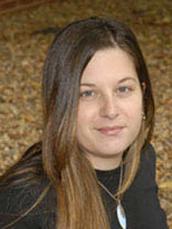 Samantha Terry ('05)
('08M) Social entrepreneur
Searching for a hands-on experience in nonprofit studies, Samantha spent her summer in the Phoenix Project's 2008 Nonprofit Leadership and Social Entrepreneurship Program. The program seeks to revitalize Virginia's economically and socially distressed communities by teaming up students to work on projects with numerous organizations, offering young leaders an unmatched breadth of experience. Commenting on her time in the program, Samantha says, "The people were amazing. It's great to see so many young people dedicated to service and having done so much in their few years on this planet." Samantha and fellow students completed projects for dozens of nonprofit and municipal organizations focused on economic development, reaching out to troubled youth and neighborhood revitalization. While she made great connections for the future during the program, Samantha was most pleased to be making a difference. "Too often we see what problems exist but refuse to take the steps to change them," she says. Her experience with Phoenix Project was a chance to put into action what her mentors had always taught her: "My grandparents and my mother have influenced me greatly. They taught me to do what you truly love and everything else will follow."
"I try to live by the ideals that I believe in as far as treating others like I would want to be treated and giving everyone a chance. I think the worst mistake we can make with one another is prejudging. It's arrogant to assume that you can never end up in someone else's shoes. Ignorance can turn around and bite you when you least expect it."