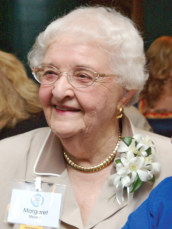 Dr. Margaret Moore ('42)
Pioneering educator
When Margaret Moore retired from the University of North Carolina at Chapel Hill, she left behind an enormous legacy of change. After becoming a physical therapist in 1943, Moore taught at the Medical College of Virginia (now VCU), the University of Colorado in Denver and the University of Wisconsin. Moore joined the staff of the newly opened North Carolina Memorial Hospital (now UNC Hospitals) in 1952 where she developed the university's first clinical physical therapy program, serving as chief of the department. She oversaw the development of the education component of UNC's physical therapy program, started the department of physical therapy at UNC medical school, and later directed the university's division of physical therapy — "a viable combination of education and service commitments to the hospital and School of Medicine," according to UNC. This self-described "professional woman" is quick to credit her alma mater for giving her the foundation on which she built such a stellar career. While a student at Madison College, Moore held a work-study job and sang in the Glee Club and played field hockey, while maintaining her studies, graduating with a degree in secondary education. During World War II, Moore was a captain in the U.S. Army's medical program. She also earned master's and doctoral degrees. Margaret Moore's long and impressive career is testimony to a talented and dedicated professional who made a difference — and created an inspiring blueprint for how to build a legacy of change.
"I would never have accomplished what I did without Madison."