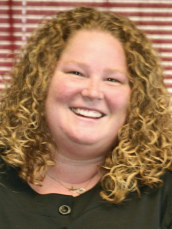 Kim Hartzler-Weakley ('00, '07M)
Helping teens
Are you who you want to be? Kim asks teens to focus on that goal when times get tough. "I want to get them to see something positive and envision something to live for, to look forward to, so they don't want to put themselves at risk," Kim says. Her passion for community-based public health is a combination of a strong family ethic to help other people and two life-changing experiences while majoring in health sciences at JMU. Kim's course work included summer trips to Honduras and Haiti where public health conditions are so poor they're "indescribable." But working in these countries made Kim certain she had found her calling as a community health educator. Strongly encouraged in her career path by her JMU adviser and mentor, Dr. Theresa Wessel, Kim served as director of Teen Pregnancy Prevention at JMU from 2003 until August 2008, when she was appointed director of the Office on Children and Youth. In 2007, Kim completed a master's in health sciences in the public health education program at JMU. Kim is that rare person who looks forward to every Monday morning. "I love what I do," says Kim. "Every day I come to work, I'm just happy. This is what I want to do. It's fantastic."
"For each teen there can be a different set of things to overcome. I want to have an impact by getting teens to avoid risky behaviors and finish high school, maybe go to college."