James Madison University is proud to be an approved academic partner of the Society for Human Resource Management (SHRM). Choose from our two SHRM courses: Essentials of Human Resources or SHRM Certification Prep
SHRM Essentials of Human Resources
This course will give you a solid overview of the key aspects of HR and provide tools you can immediately put to use in your organization. The content is newly updated with the latest HR regulations, trends and best practices. Case studies, competency connections and SHRM Body of Applied Skills and Knowledge™ (SHRM BASK™) principles are incorporated into the material to illustrate how HR helps drive overall business success.
SHRM Certification Prep
If you've been thinking about earning your SHRM certification, it's time to make your move. In fact, in a recent survey, 92% of HR executives agree that it will be important for HR professionals to be SHRM-certified in the future*. Let us help. We combine the SHRM Learning System with our expert, SHRM-certified instructors to offer you the most comprehensive and effective way to prepare for success on your exam. Our SHRM Certification Prep course is an interactive roadmap to guide your studies through the entire SHRM Body of Applied Skills and Knowledge™ (SHRM BASK™).
Questions?
Have questions about which program is right for you? Reach out to our enrollment specialist for answers!
Request More Information: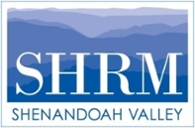 The Shenandoah Valley SHRM chapter is proud to offer the Emily Sterret Memorial Scholarship. You must be a SVSHRM chapter member to apply. Become a member today!