Honey Bees Found in Harrison Hall Prove JMU is "Bee Friendly"
News
---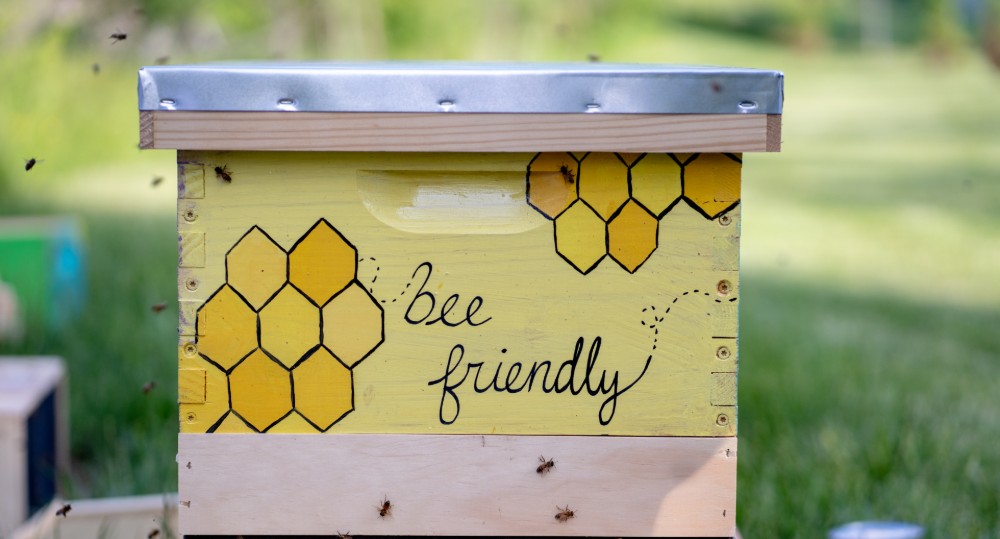 On a Monday morning in June, Elisabeth Gumnior, professor of Writing, Rhetoric and Technical Communication, entered a teaching lab in Harrison Hall and found what appeared to be dozens of dead insects on the floor, windowsills and computer stations. As her WRTC 103 students followed her into the room, they noticed a low-level hum overhead, a clear indication that not all of the insects were dead. 
Professor Gumnior's class was moved to another room down the hall and Facilities Management employee, Jason Campbell was called in to inspect the room and identify the type of insect involved. Campbell serves as the Integrated Pest Management (IPM) Supervisor for JMU, an environmentally-sensitive practice that considers the life cycle and habits of insects. As IPM Supervisor, Campbell has attended training and recertification courses where he keeps up to date on the latest pest management techniques that don't endanger pollinating insects. Campbell is also a committee member of JMU Bee Campus USA, a  program established to raise awareness of the role of pollinators in our community and to create a pollinator habitat plan for the JMU campus. According to Campbell, accurate identification of an insect is important because not all insects require control and many are beneficial. 
Once Campbell identified the insects found in the classroom as honey bees, he called in honey bee relocation specialist, Tom Knapp, to assess how to safely remove the honey bees from the roof of Harrison Hall and relocate them to a suitable habitat. Knapp is a member of the Shenandoah Valley Beekeepers Association, an organization dedicated to supporting local beekeepers and the health of the local honey bee population. Knapp inspected the roof cavity above the computer lab and found a large colony - between 25,000 and 30,000 honey bees - had recently taken up residence in the space between the rafters. They were entering the building through a small hole in the soffit above the window.
"Honey bee swarms are very common this time of year," he explained, "but they are a sign of a healthy local honey bee population. When honey bees are thriving, the colony will grow quickly." According to Knapp, a queen bee can lay 800 to 2,000 eggs per day. When the colony becomes too crowded, it will split into two, with the queen taking a portion to a new home and leaving queen larva that will be hatched and nurtured by the bees left behind. It's Knapp's job to gently move the bees to an alternative space where the colony can thrive. 
Abe Kaufman, JMU Energy Conservation and Sustainability Manager, says that JMU has a number of initiatives in place to increase the roll of pollinating insects on campus. "We pursued the Bee Campus USA program because we recognized the importance our landscape plays in supporting pollinators in the community," Kaufman states. "The University has been incorporating sustainability into our landscape practices for a number of years, so it seemed fitting to increase our efforts on managing our landscape to better support pollinators." The current Campus Pollinator Habitat Plan includes the planting of a 3.7-acre native pollinator-friendly meadow adjacent to the land bridge beside the newly constructed Paul Jennings Hall. Additionally, the student-run JMU "Bee-Friendly" Beekeepers Club recently installed two hives on campus adjacent to the East Campus Hillside. Kaufman encourages students and employees who are interested in learning more about pollinator sustainability on campus or the Bee Campus USA program to monitor the JMU Bee Campus USA website for local resources and upcoming events. Students interested in learning about beekeeping are encouraged to join the JMU Beekeepers student organization. 
Today, the honey bee colony found in Harrison Hall has a brand new home and is thriving. Since their relocation, the size of the colony has increased and the bees are busy producing honey to sustain them through the upcoming winter. Tom Knapp will continue to monitor their health, but he feels confident that they are a strong and viable colony. As a beekeeper, he appreciates that JMU not only practices sustainability in pest management and landscape design, but also protects pollinating insects that find their way on campus. This is proof that JMU is truly a "Bee-Friendly" campus!