Jamie Jones Miller ('99) leads by example
Women For Madison
---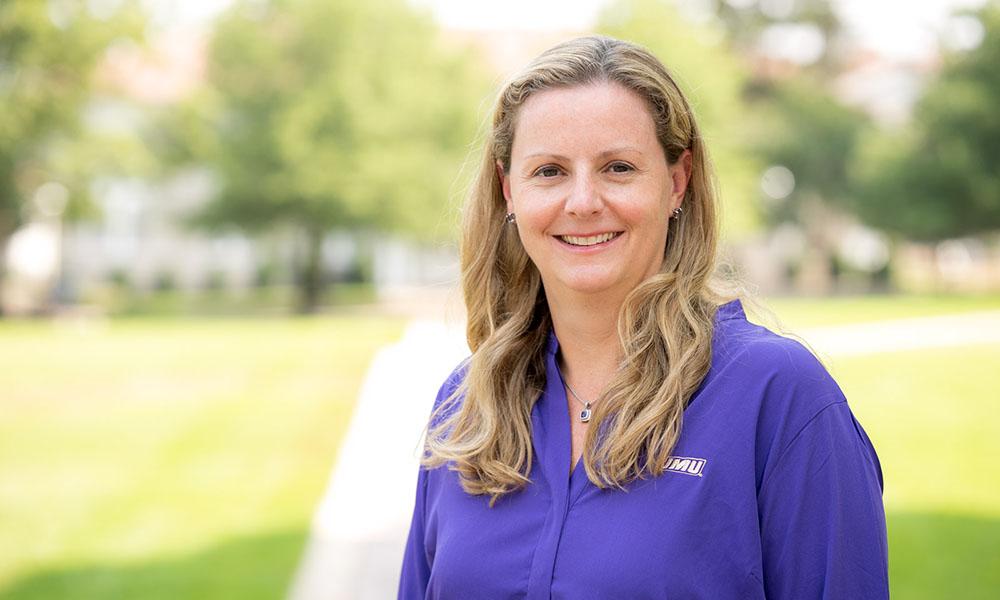 Jamie Jones Miller ('99) is a leader in the JMU Nation. "I bleed purple," she avows. "I've been a donor or volunteer for the university since the day I graduated. I can't see another way." 
"As a collective group of women, we intend to make a huge impact at the institution."
— Jamie Jones Miller ('99)
As a past president of the JMU Alumni Association and a member of the Political Science Alumni Board, Miller has been actively engaged with students across campus and alumni nationwide. She and her husband Tim ('96, '00M), who is JMU's vice president for Student Affairs, support the Duke Club and various student scholarships, with an emphasis on the department of Political Science and women's basketball. 
As one of JMU's biggest cheerleaders, she's also well positioned to see gaps. "I think we need to be more transparent about the financial needs we see in our students and prospective students," she advises. "We have a very high affinity rate; our alumni say they love their time at Madison. It just doesn't always correlate to giving."
That's why she was glad to add Women for Madison to her list of commitments: "It was an easy yes. It was an organization that I'd admired. I believe 100 percent in the mission." Now the chair of WFM's Executive Advisory Council and an Amethyst Circle Founder, she is leading the group's efforts to increase awareness and investment in student scholarships.
"As a collective group of women, we intend to make a huge impact at the institution," she explains. This process begins with conversation about modern philanthropy: "First, we educate ourselves: What are JMU's needs? What does it look like to support JMU? For me alone, I might see a $25,000 scholarship as not feasible, right? But we have a much greater impact as a group. Collectively, we can support 25 students – maybe more."
Miller's true vision stretches past one scholarship, or even 25: "We're trying to change the culture at the university. Women should see that there is a path for them to give and know that their gift matters." Under her leadership, WFM is poised to make that happen.
About Jamie Jones Miller:
Miller earned a bachelor's in International Affairs from JMU, where she played varsity basketball and was a member of Alpha Sigma Tau. 
After graduation, she began her career in government relations before spending 13 years on Capitol Hill, where she held the positions of chief of staff to Rep. Robert J. Wittman and legislative director for Rep. J. Randy Forbes. 
Miller subsequently served as deputy assistant secretary of defense for house affairs and principal deputy assistant secretary of defense for legislative affairs at the Department of Defense and was awarded the Department of Defense Medal for Distinguished Public Service in 2020. 
Also in 2020, she became a senior advisor with The Roosevelt Group, a bipartisan consulting firm providing strategic consulting, federal business development, advocacy and strategic communications services on a wide range of public policy issues. She is currently the inaugural dean and CEO of Northeastern University's Arlington campus. 
Miller is the recipient of JMU's 2020 Ronald E. Carrier Alumni Achievement Award and was featured in JMU's Being the Change calendar in 2019.
Join Women for Madison's Amethyst Circle.