Women For Madison
Meredith Hummel ('95) Inspired to Share the Madison Experience
---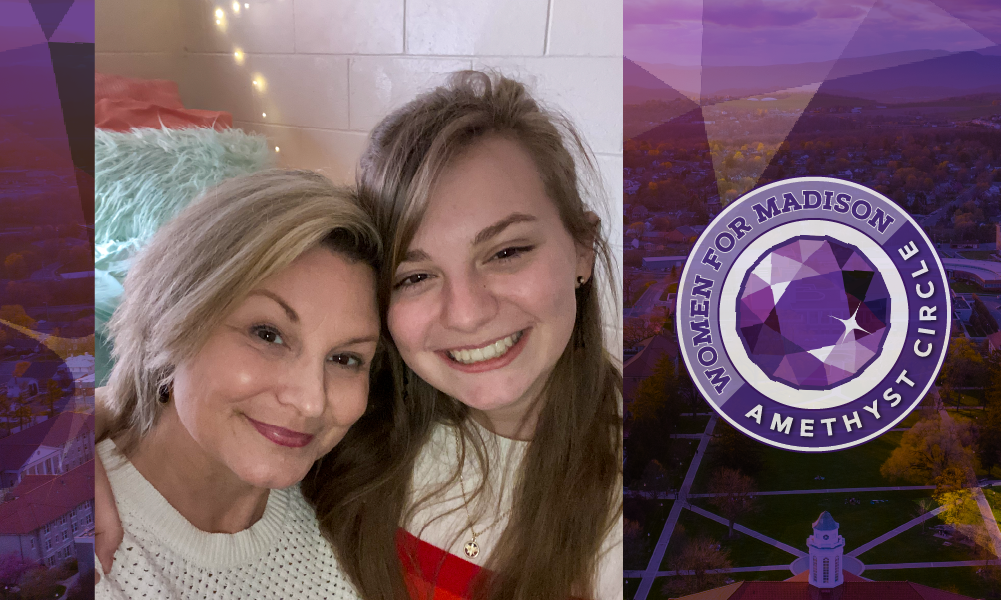 By Madi Rohm '23
"I was really excited when one of my girlfriends brought this opportunity to me. It really was a no-brainer," said Meredith Hummel ('95), an Amethyst Circle Founder. With fond memories from her own Madison experience, Hummel was inspired to make JMU more accessible to others.
The Amethyst Circle is a first-of-its-kind giving society at JMU. Together, the group is harnessing the collective power of women's philanthropy to raise $1 million every two years. As of May 2022, 132 women of the 200-women goal have pledged to donate $5,000 or more.
Hummel's Madison Experience
During her time at JMU, Hummel was a part of Alpha Chi Omega social sorority and Tau Beta Sigma business fraternity. She was also a student ambassador for two years and took a ski class.
"I really grew up in the four years I spent at JMU," said Hummel. "You see the friendships you've made along the way and you hope that you can help someone else get the Madison experience."
After graduating with a degree in history and international affairs, Hummel worked as a defense contractor before life took her in another direction. She is now an Army wife with two children living in the Yorktown area.
"I am currently a stay at home mom, full time volunteer, and entrepreneur," said Hummel. "It's a full time job but it feels good seeing my efforts impact others."
She has her own skincare business as well as volunteering with three nonprofits.
"Whether it's helping service members and their families understand military life better, or helping them get the correct benefits and help they need, it's been very rewarding."
Giving Back to JMU
JMU is still close to her heart for many reasons. Her sister is an alumna and her daughter is a current student. 
"I have been fortunate in my life to be able to give back to JMU," said Hummel. "I believe that JMU was the start of my adult life."
"I have some very strong friendships that I have made during my time at JMU and they have lasted to this day. Even though we were traveling all over the world, we stayed in touch. We were at each other's weddings and tried to make it to each other's baby showers. We have been a very strong part of each other's life," said Hummel.
Hummel donates in hopes to give others those same experiences.
Join Women for Madison's Amethyst Circle.