Women For Madison
Imagine what happens next
---
SUMMARY: One year ago, a few JMU women wondered how they could help outstanding, but financially burdened, students stay all four years at JMU. Today, the Amethyst Circle is closing in on a $1 million scholarship funded by the passion and financial contributions of 200 women. Just imagine what happens next!
---
The Amethyst Circle started as a vision: Was there a way to turn modest giving by 200 people into a $1 million philanthropic impact for JMU? Could it bridge the financial gap that keeps deserving students from coming to — and graduating from — JMU? And it all be achieved by JMU women? One year later, the answers are yes!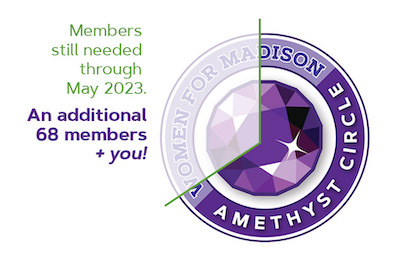 As of May 2022, 132 women of the 200-women goal have pledged to donate $5,000 by May 2023. Of these, 68 women are Amethyst Circle Founders, each giving an additional $10,000 as an initial endowment of the scholarship. If the vision has come so far so fast, just imagine what happens next. One of these history-making Founders, Dawn Smith Barnes ('90) offers a glimpse of the future.
Imagine leading by example and from personal experience
As a first-generation college student raised by a single mom, Smith Barnes found it difficult to stay at JMU even though she worked two jobs. She was able to graduate and today is Vice President, People and Culture for Rapid Finance®. Like many Amethyst Circle Founders, she has experienced the burden of financial hardship and sees that burden growing as families struggle with soaring inflation and efforts to recover financially from COVID-19. 

Smith Barnes knows JMU's current scholarship deficit is a major barrier to high-potential students and is proud of the difference — and the size of that difference — the Amethyst Circle will make. One year from now, she says "this $1 million needs-based program will be there and more students will need it. We continue to lead by example and grow our Circle."
Imagine creating the next generation of JMU stars — and donors
Every two years, 25 first-year students will receive Amethyst Circle scholarships. Those scholarships renew through senior year — yet another feature that distinguishes this mold-breaking, women-led philanthropy.
"I would like the recipients to understand and appreciate the opportunity to receive this generous gift," Smith Barnes says. "But more importantly, they have to pass it on: continue their strong ties to JMU and the community as an alum by finding ways to give other deserving students the opportunity for a JMU experience."
Imagine where you will be next May
For the women in the Amethyst Circle, this philanthropy isn't just a scholarship, it's a movement. Smith Barnes says the momentum comes from being "surrounded by like-minded women who believe with their hearts, time and financial contributions that we can make a difference."
By the end of its two-year giving cycle, the Amethyst Circle will have a major philanthropic impact on JMU's ability to compete for outstanding students. It will give 25 of these students the lifetime value of the Madison Experience. Each Circle member will be a "shareholder" in a $1 million venture driven by the passion and purpose of women coming together.
We're not there yet. But we will be when you and just 68 others join us and we reach our bold 200-women goal. Just imagine what that's going to feel like!
Ready to become part of the Amethyst Circle's history-making philanthropy?