Women For Madison
Amethyst Circle Donors Share a Sense of Urgency
---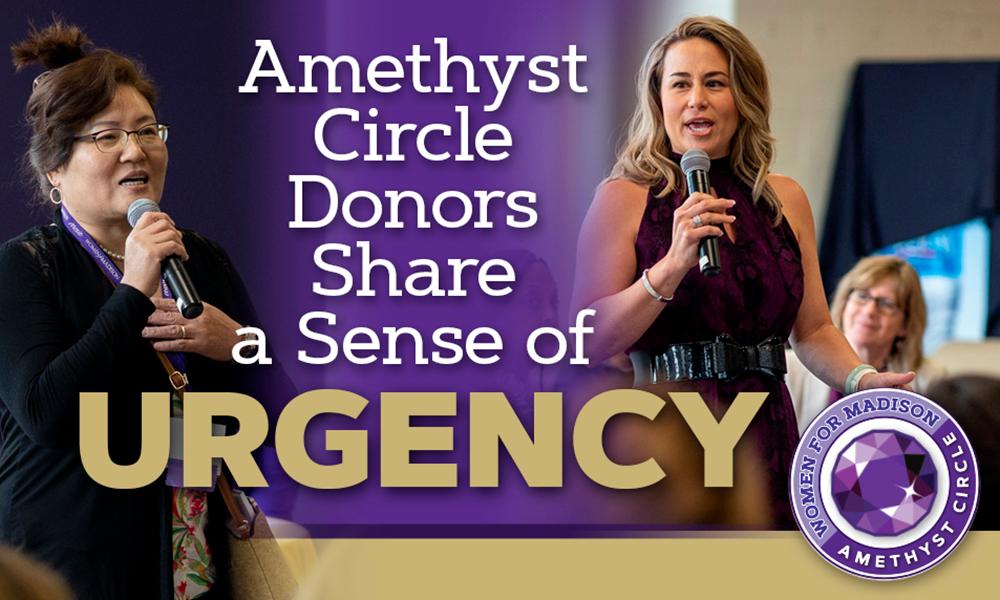 SUMMARY: As the Amethyst Circle reaches the midpoint of its two-year giving cycle, changes in higher education plus competitive pressures increase JMU's need to start awarding these scholarships to talented students ASAP. It takes just 70 more Madison women to make that possible. Will you be one of them?
---
Women for Madison's Amethyst Circle scholarship program is midway through its first two-year giving cycle. Donations have been substantial, thanks in large part to Founders who each committed $15,000 to start the program. Now, an additional 70 Madison women are needed to achieve the Amethyst Circle mission of creating a $1 million scholarship by bringing together 200 women each giving $5,000. With such strong momentum — and a year to go — why is there such urgency to meet this goal now? 
Keeping JMU competitive
Amy (Warner) Belknap ('95) sees the urgency coming from a rapidly changing educational and economic environment. "I worry that with growing economic disparity, higher education may become out of reach for many talented individuals. JMU's future depends on attracting a broad diversity of talented students regardless of their socio-economic background," she says.
Bringing as many talented students on board as quickly as possible is crucial. The Amethyst Circle is responding by awarding four-year scholarships worth $5,000 a year to 25 students every two years. For Belknap, this substantial and sustained economic support is vital "for JMU to innovate, remain competitive and meet the changing educational needs of our new and evolving world."
A new perspective on giving
Amethyst Circle members give $5,000 during each two-year giving cycle. There is one year left. By joining now, members can make a single donation or spread the full amount over the remaining months. The sooner they join, the longer they have to make installments. This makes it possible for Madison women at many income levels to participate in million-dollar philanthropy.
"For a long time after graduation," Belknap recalls, "I hesitated to donate based upon my own experience of financial insecurity growing up. Financial security was a high priority for my own family and the future of my special-needs son. However, my son taught me that we all must rely on others at some point for support. There are students experiencing financial insecurity now, and helping them with an Amethyst Circle scholarship now will build a brighter future for us all."
Women harnessing their combined power to achieve social impact
One of the reasons Belknap joined the Amethyst Circle was for community. "At JMU," she explains, "I was a member of Alpha Chi Omega sorority. I valued the emotional connection with other women and the synergy and power of women sharing their talents in a collaborative group. My female relationships from JMU have remained invaluable, and the opportunity to connect with other women for a common purpose through Women for Madison and the Amethyst Circle is exciting."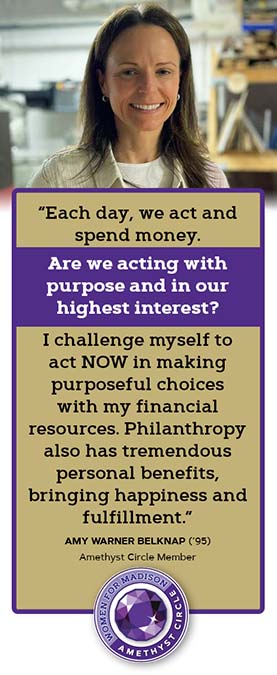 What's also exciting is the speed with which the Amethyst Circle will have an impact: If the remaining 70 memberships are filled now, the first Amethyst Circle scholarships will be awarded in less than a year, changing the lives of talented students in need of financial assistance — students ready to carry JMU forward.
Ready to become part of the Amethyst Circle's history-making philanthropy?