Women For Madison
Why JMU Scholarships Matter to Us All
---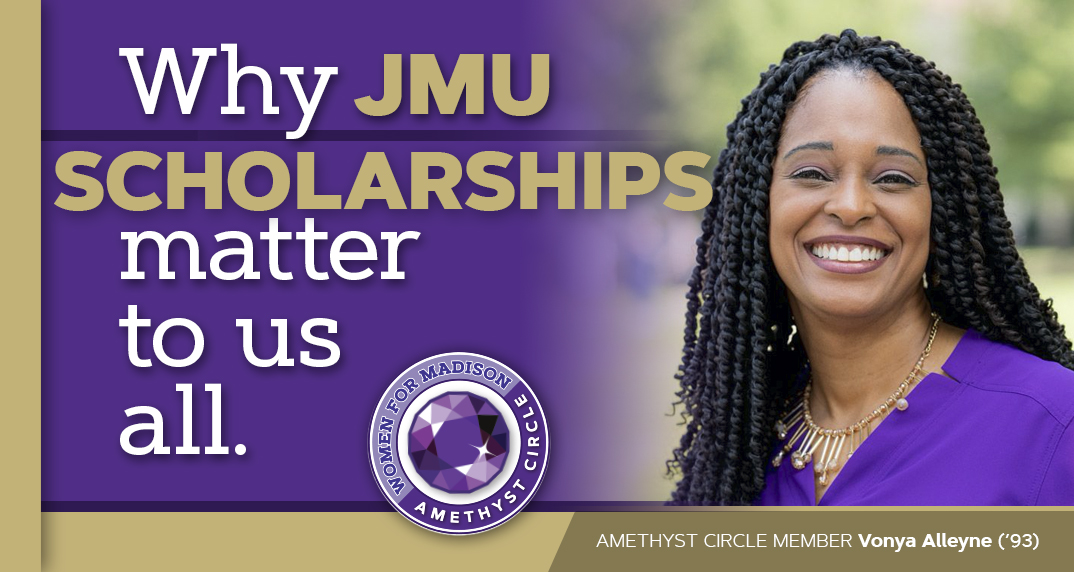 SUMMARY: Vonya Alleyne ('93) was able to come to JMU, in part, due to scholarships she received. She has gone on to make achievements that make a difference to us all. Today, she joins other Madison women as a significant philanthropic force for JMU, creating scores of scholarships through the Amethyst Circle.
---
Vonya Alleyne ('93) is a member of the Amethyst Circle and Women of Madison's Executive Advisory Council.She was able to come to JMU, in part, due to private scholarships she received. Her Madison experience helped her go on to transform business culture, leadership and the communication industry's commitment to diversity and inclusion. With her own journey in mind, Alleyne welcomed the opportunity to join the Amethyst Circle to open the Madison experience to other promising students.
"Without my scholarships, I wouldn't be part of the Amethyst Circle — because I wouldn't have been able to come to JMU. I didn't come from wealth, but with the scholarships I became the first on my mother's side of the family to graduate from college."  
Cannie Campbell ('95 and '20M), Associate Vice President for Constituent Engagement and Women for Madison, notes that "as the Amethyst Circle prepares to award its own first round of scholarships," Campbell says, Vonya Alleyne's story is a great example of why scholarships matter — not just to recipients, but to us all. 
JMU graduation is just the beginning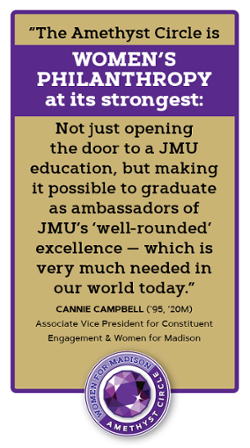 Alleyne went on to earn postgraduate degrees from Phoenix University and has graduated from numerous executive leadership programs, including:
UVA's Darden School of Business
National Association for Multi-ethnicity in Communications Executive Leadership Development Program
Women in Cable and Telecommunication's Betsy Magness Leadership Institute
Lead Virginia
She led human resources for Cox Communications, Virginia Region for over nine years, and is now Chief People Officer for Segra and its nearly 900 employees.
In 2017, she became the founding president of National Alliance for Multi-ethnicity in Communications (NAMIC) Virginia. A year later, NAMIC Virginia won three out of six NAMIC chapter awards, including the prestigious and coveted Chapter of the Year Award.
In 2019, Alleyne received WICT Touchstones of Leadership Listen award from the Washington, DC/Baltimore chapter for her ability to build lasting relationships, strengthen her cohort and help those around her grow.
Joining the Amethyst Circle is yet another opportunity for Alleyne to help others grow.  Campbell agrees. "We see such growth in students who engage in the Madison experience freshman year through graduation. That's why we structured the Amethyst Circle scholarship to provide $5,000 every year for four years." 
Awareness and appreciation
Campbell is thrilled by this possibility. "What's even more exciting is that the women of the Amethyst Circle will award scholarships to so many freshmen." In fact, within just three giving cycles the Amethyst Circle can help as many as 75 amazing students come to JMU and graduate.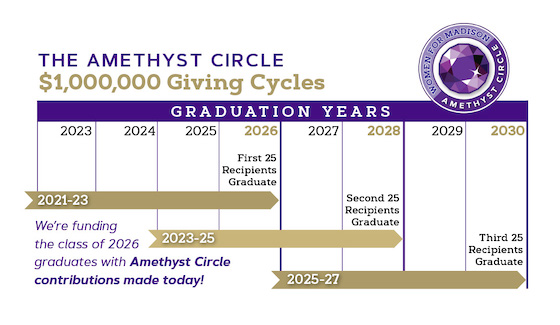 By pooling their giving, the women of the Amethyst Circle have already become a significant philanthropic force for JMU—in less than a year. "Just think," Campbell adds, "all those scholarship recipients will have a chance to prosper and become givers themselves, contributing ideas, skills, monetary gifts and help to those seeking a better life. And it will be because the women of the Amethyst Circle knew that together they were strong enough to build the future."