TimelyCare provides timely care
News
---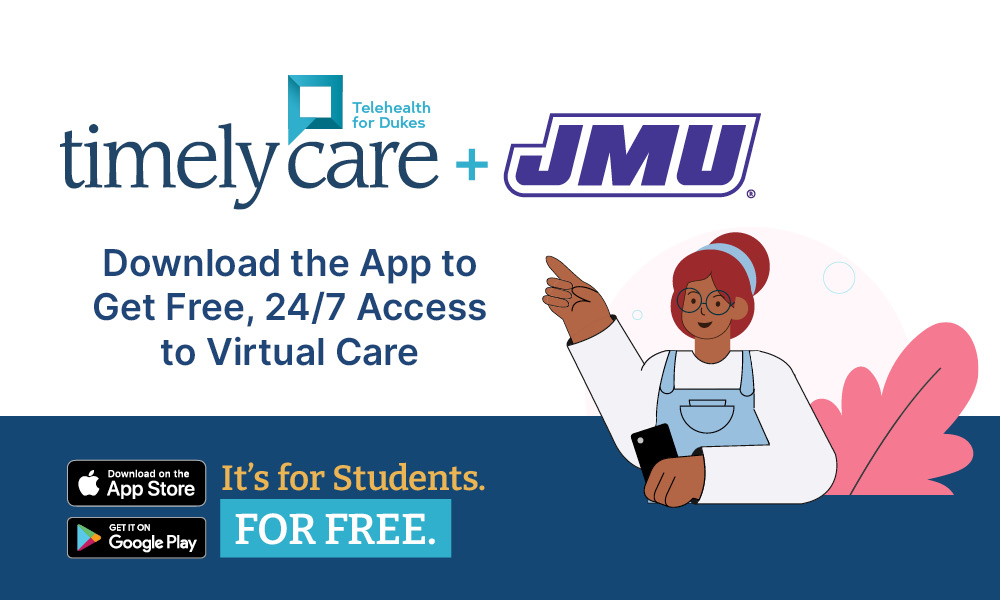 TimelyCare is a fantastic new resource provided to students for free by James Madison University. It is a virtual program designed to offer students care that can help them feel seen, happy and healthy.
The program is available at timelycare.com/jmu or as a downloadable app. All students are encouraged to download and set up an account using their JMU eID and password. Once registered, students will be asked to enter some quick background information, the same way one would at the Counseling Center or a doctor's office. These steps are fast, easy and require no face-to-face interaction.
The first step is to click the "Get Care" button. On Demand or Scheduled appointments can be made from here, and each student is allotted 12 free Scheduled Telehealth Counseling visits per year. Students seeking immediate care should use the TalkNow service, but students looking for repeated counseling or health coaching may choose to schedule one or more appointments. TimelyCare also offers meditation, yoga and discussions of mental health challenges under the Explore tab.
Who should use this service:
● Everyone!
● Students who are anxious about visiting the Counseling Center in person.
● Students who need care after-hours.
● Students who need counseling.
● Students who are interested in picking up healthy exercising or eating habits.
● Students who are looking for meditation or yoga instructional videos.
JMU hopes that students also keep in mind the myriad other self-care resources available to them, including the Counseling Center, UREC, Learning Centers, the Health Center, and Student Activities and Involvement.
For more information about TimelyCare click here or call 833-4-TIMELY.