News
Love your body through thick AND thin
---
By University Health Center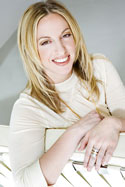 What is healthy body image? In what ways do body image problems go beyond eating disorders? How are body image issues tied to culture and other factors?
Ophira Edut discusses why body image is a multicultural health issue, sharing excerpts from her anthology Body Outlaws and presents "How to Love Your Body Through Thick AND Thin," Tuesday, Feb. 12, from 7-8:00 p.m. in Festival Ballroom A. It is sponsored by the University Health Center, Panhellenic, and the Center for Multicultural Student Services as a marquee event for Eating Disorders Awareness Month.
Edut has been widely featured in the media, including The New York Times, E!, and MTV. She has traveled the country as an advocate for women loving their bodies "through thick and thin," speaking at colleges and conferences. Her mission is to expand the body image dialogue to include race, class, and sexuality, issues that are often overlooked in the conversation.
Edut, the editor of Body Outlaws, is a writer, designer, and entrepreneur who has spent a decade creating groundbreaking media projects focused on teens, women, and multicultural issues. She founded and serves as executive advisor for adiosbarbie.com. Edut also cofounded HUES, a national, multicultural women's magazine that was published from 1992-99.
When she's not talking body-love, Edut writes astrology columns for 50 million readers a month. She and her identical twin sister Tali are known as The AstroTwins. Their horoscopes and predictions can be found on MyLifetime.com, Elle.com, SIRIUS/XM and on their website, Astrostyle.com.
For more information about Eating Disorders Awareness Month events at JMU, find JMUHealthCenter on Facebook and follow @JMUHealthCenter.
Eating Disorders Awareness Month events:
2/5 Eating Disorders Speak Out 7-9pm Grafton
2/12 Ophira Edut: How to Love Your Body Through Thick AND Thin 7-8pm Festival Ballroom A
2/14 Love Your Body 4-5pm UREC Instructional Room
2/19 Body Matters: A Panel on Eating Disorders, Prevention & Treatment 7pm ISAT 159
2/24 America the Beautiful II 6pm Grafton
2/25 Sigma Sigma Sigma Talent Show 7pm TDU
Published: Thursday, February 7, 2013
Last Updated: Monday, October 28, 2019