Student Life
Being a RA Enriches her JMU Experience
---
By Samantha Noble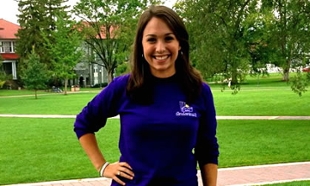 Ask junior Sara Saenz about her JMU experience, and she'll tell you about the friends she has made, the leadership skills she has learned, and the unforgettable experiences she has had- all while getting paid.
Saenz, a Resident Advisor with JMU's Office of Residence Life (ORL) since last February, says that ORL has greatly impacted her time at JMU. Saenz gushes, "When I first came to JMU, I looked for something that would fit my personality, but I couldn't seem to find my place. Then, I became really close with my RA freshman year and she encouraged me to apply as an RA. I've loved every minute of my time with ORL since then."
As an RA in Chesapeake, Saenz advises and guides the paths of 26 freshmen girls, planning dorm programs, mediating roommate conflicts, and enforcing ORL's guidelines. Luckily for Saenz, she hasn't experienced many issues with the students she advises.  She speaks about them with pride: "I love my residents! They are great, super-sweet girls. It's just such a rewarding process doing the little things for them and seeing them be so grateful, and just saying, 'Thank you.' They are all also so excited about being at JMU, and that's a really great thing to see."
Along with the positive relationships Saenz formed with her residents, she also found great relationships with fellow RAs in ORL. "I've gotten lifelong friendships and have made my best friends through ORL! Being part of a 13-member staff has helped me recognize that you have to make decisions for the benefit of all, and it's helped me consider different perspectives with a positive and open attitude."
In addition to these personal connections, Saenz has gained valuable skills for her future as an elementary school teacher. She explains, "All of the skills that I've had to learn for my RA position- mediation, learning how to develop programs, time management, organization – all of these will help me in the classroom when I'm working with children." In her remaining time at JMU, Saenz will utilize those skills as a hall director next year. Those same skills, Saenz says, will make her marketable to prospective employers when she begins applying for different jobs in two years.
Work as an RA is time-consuming, but Saenz has managed to balance her RA position with an off-campus job while still maintaining her academic work. "In a way, as an RA, you have to always prepare for the unexpected," Saenz says with a laugh. "If you are staying up late studying for a test the next day and a resident has some issue, you need to help that resident however you can. Because of this I always try to manage my time and study earlier than I normally would."
How does Saenz see her JMU experience now? "If anybody hasn't found their place at JMU yet, they should look to ORL. ORL is a place where they want you to succeed, they give you these opportunities for success, and I just love it. Maybe it's cheesy, but, ORL was that place for me, and I'm just so happy to be a part of it."
You can learn more about ORL and what it takes to be an RA at the Office of Residence Life website, www.jmu.edu/orl.