Research and Scholarship
Board of Visitors explores campus innovation space: JMU X-Labs
---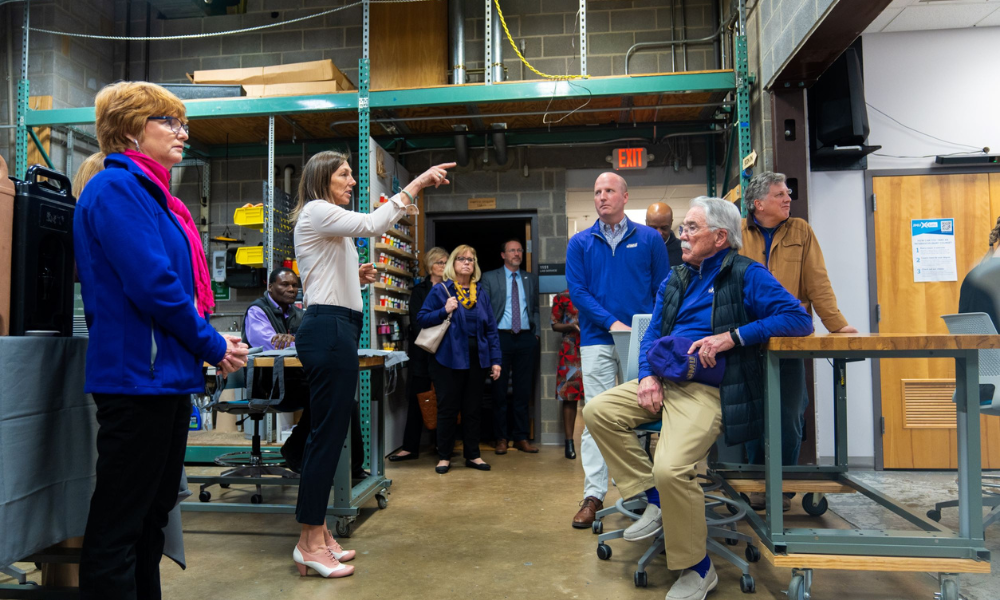 SUMMARY: After a revisioning process, the JMU X-Labs team recently shared their innovative and inclusive lab and maker spaces with members of the Board of Visitors.
---
By Ben Delp ('05, '08M), JMU Research & Scholarship
Members of the JMU Board of Visitors (BoV) toured JMU X-Labs, an innovation ecosystem intentionally designed to welcome all students to learn the process of innovation and spread a culture of creativity across campus. 

Housed within the Office of Research and Scholarship, JMU X-Labs is located in Lakeview Hall and contains a number of lab, innovation and maker spaces, enabling faculty from any academic discipline access to the latest classroom technology for teaching students how to collaborate and innovate while tackling global "wicked" problems (complex societal challenges that require diverse perspectives and cannot be solved using traditional processes). 

Having quickly gained a national reputation as a thought leader, X-Labs went through a revisioning process during the fall 2022 semester, led by Associate Vice Provost for Scholarship and Research Development Besi Muhonja, who also oversees X-Labs and Interim Director of JMU X-Labs Patrice Ludwig. This work focused on X-Labs' campus role in support of JMU's R2 Carnegie Classification and enhancing inclusive excellence through program offerings and faculty and student engagement. Many X-Labs stakeholders contributed to the process, including JMU colleges, JMU Libraries, the Provost's office, the President's office and other partners, resulting in the launch of JMU X-Labs 2.0. Major and enhanced initiatives include engaged learning experiences, integrative research and entrepreneurship, an Innovation Summit, Esports and various university events.

In addition to programmatic changes, X-Labs 2.0 also emphasized rethinking of the physical space, including the design and installation of the Gallery of Innovations that highlights student stories, faculty, partners and sponsors. The first installation, now ready for public viewing, was installed by Projects and Initiatives Manager Jamie Sackett and the 2023 X-Labs Innovation and Impact Fellows. The gallery, a display of rotating content, provides visitors with a glimpse into stories of innovation and impact happening at X-Labs and across JMU.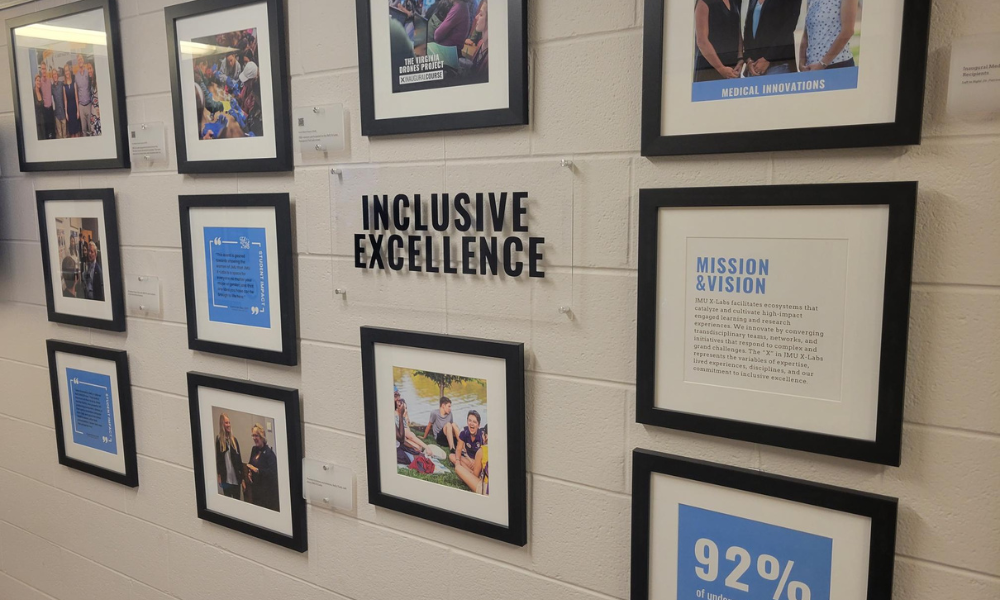 Provost Heather Coltman and interim director Patrice Ludwig kicked off the BoV visit with a history of the program and a demonstration of the advanced classroom technology. The foundation for JMU X-Labs developed out of 4-VA, a partnership between Virginia public universities and the Commonwealth of Virginia that seeks to enhance collaboration and efficiencies in higher ed through four initiatives: collaborative research, course redesign, course sharing and degree completion. Adding to the introduction, Vice Provost for Research and Scholarship Anthony Tongen provided an overview of the strategic goals for the reimagined X-Labs Unlimited/2.0.
   
The BoV asked if X-Labs programming provides students with entrepreneurial preparation. AVP Besi Muhonja shared partnerships at JMU and beyond, foregrounding especially the colleges and entrepreneurship leaders like the Gilliam Center for Entrepreneurship and the Office of Technology Innovation and Economic Development. Muhonja also highlighted other approaches and initiatives including the Innovation Summit and the Trailblazer course model.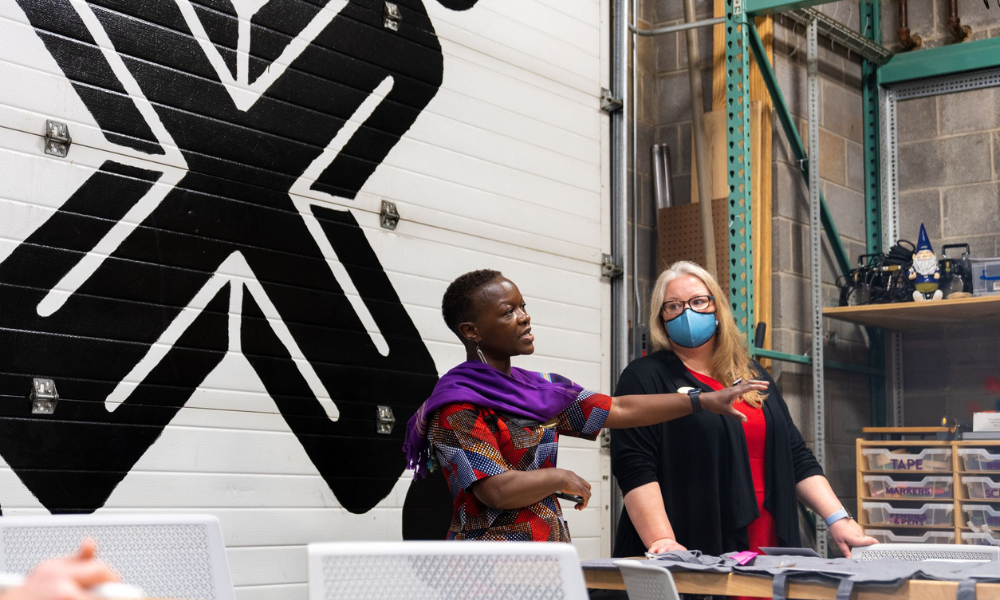 When asked for examples of the types of projects and challenges addressed by X-Labs' courses, Ludwig highlighted a range of course topics, including: medical innovations focused on the development and commercialization of medical devices, aid to Libya with a goal of identifying efficiencies for how USAID monitors and evaluates aid programs, and a restoring oyster reefs effort using drones to generate digitized oyster reef models in the Chesapeake Bay to support ecological restoration (Virginia is the largest oyster producer on the East Coast).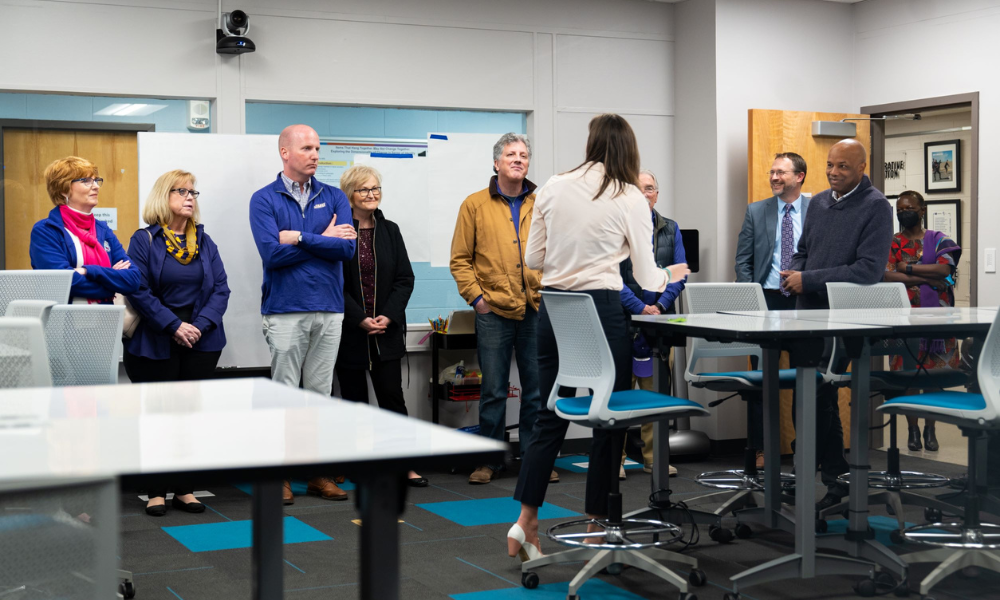 The tour concluded with a visit to JMU Esports, housed at X-Labs and described as "a strong network of alumni, students and industry partners who are passionate about the Esports experience and who work together to provide unique opportunities and meaningful, lifelong experiences for students."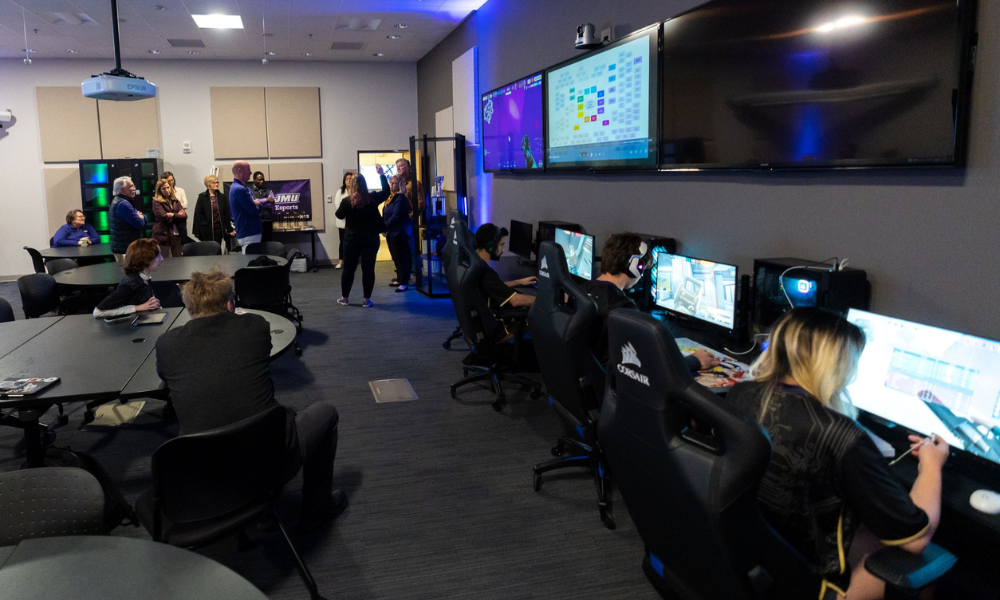 Assistant Director of Operations for X-Labs Karris Atkins shared an overview of the program in the actual Esports Arena, which had plenty of students fully engaged in competition. In just over a year since Esports arrived to campus, students representing 17 majors have already participated. With an eye toward inclusion, the gaming stations are highly adjustable, creating a welcoming atmosphere for students with different abilities. The career opportunities are endless, with position openings growing rapidly in law, intellectual property protection, content creation, music composition, and having exploded into a billion-dollar industry, just about every financial field. 

Atkins summed up the growing demand, stating, "Students get to apply their academic background, pursue their passion and fulfill an industry need." 
The BoV also heard from an Esports student assistant, who shared a personal story about how gaming provided a needed connection during the COVID-19 lockdown, allowing friendships to thrive and new relationships to emerge.  
Not wasting any time, JMU Esports has already realized success, earning the NACE Starleague Championship during a December competition in Philadelphia. Upcoming Esports activities include a summer camp for 6 through 11 graders, and an Ethical Reasoning in Esports workshop that will challenge students to consider and apply the Eight Key Questions.
---
Mission
JMU X-Labs facilitates ecosystems that catalyze and cultivate high-impact engaged learning and research experiences. We innovate by converging transdisciplinary teams, networks, and initiatives that respond to complex and grand challenges. ​The "X" in JMU X-Labs represents the variables of expertise, lived experiences, disciplines, and our commitment to inclusive excellence.
Core Values
Design Thinking
Collaborative Innovation
Systems Thinking
Inclusive Excellence
Engaged Learning
Impact Initiatives
Creative Inquiry
Community