Research and Scholarship
Humanizing the Conference Experience
A Q&A with Colleen Fowkes, EFEX Graduate Student
---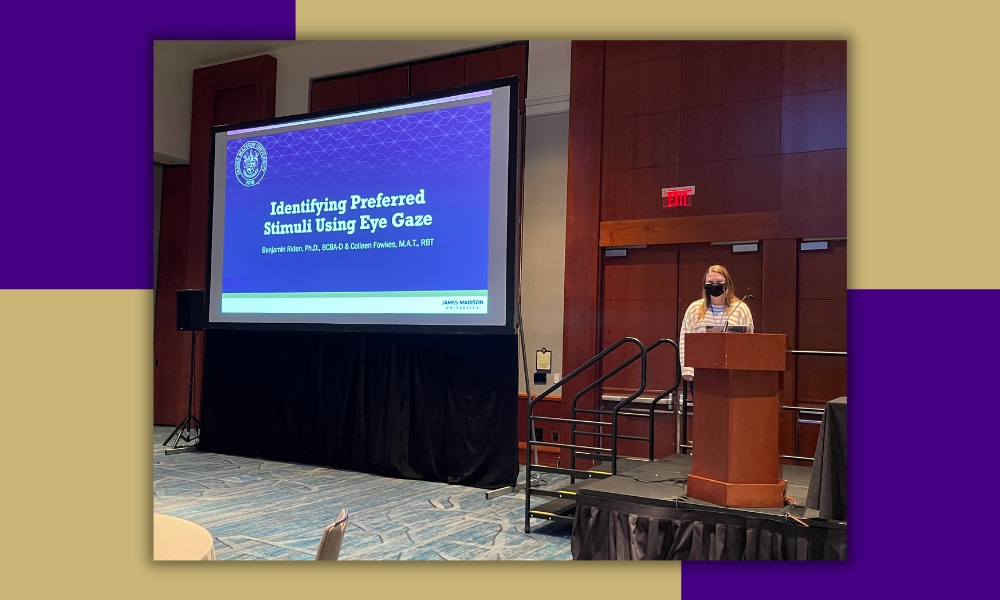 SUMMARY: Colleen Fowkes, a soon-to-be Triple Duke who is completing her Masters of Education in Applied Behavior Analysis in the College of Education, recently attended the Council for Exceptional Children Conference (CECC2022) in Orlando, Florida, to present her work. The R&S Travel Grant Program, previously managed by the Graduate School, provided support for her experience. This program offers students destination-based funding reimbursement for both in-person and virtual conferences. R&S caught up with Colleen to learn more about the connection between students' preferred stimuli and their visual behavior.
---
By Erin Phillippi ('08M), JMU Research & Scholarship
R&S: Congratulations – you're pursuing your third degree from JMU! Tell us about your academic Madison Experience. What drew you to Harrisonburg for your studies?

Fowkes: Thank you! I originally came to JMU as a freshman in 2016 to study education. I knew JMU had an amazing program for aspiring teachers, but I wasn't exactly sure if I wanted to focus on elementary education or special education. I found my sweet spot in the inclusive early childhood education program where I was able to earn my Master of Arts in Teaching with a dual licensure in both general education and special education. During my studies, I added on courses related to the adapted curriculum for special education and gained a better understanding of what more intensive special education classes could look like. This is what led me to look into the Behavior Analysis program at JMU. After talking with my advisers, Mira Williams and Sara Snyder, I decided to apply for my third degree at JMU to pursue a Master's in Education to become a Board Certified Behavior Analyst. JMU and the entire town of Harrisonburg radiates a sense of community that I have never found anywhere else, so staying two more years was a no-brainer.

R&S: How did you identify CECC2022 as a meaningful opportunity to present your work? Why were you interested in attending?

Fowkes: My supervisor, Dr. Ben Riden, described CEC to me as "the Superbowl of special education" and after attending, I definitely think that title fits. When we were submitting our paper to different journals and conferences, we thought CEC would be a long shot, because there are so many amazing individuals and topics out there to be shared with the world of special education. Once the paper was accepted to present in person at CEC, I knew it was an opportunity that I couldn't miss. I was interested in attending because I would be able to share my work, network with other professionals (e.g., special educators, behavior analysts, etc.), and attend presentations on other important topics related to special education.

R&S: What was your favorite conference experience? If students are interested in attending future professional/academic conferences, what advice would you give them?

Fowkes: It is difficult to choose one specific part of the conference that was my favorite, however, all in all, I think I enjoyed networking with other conference attendees the most. It was an environment that I had never been in before; it was fascinating to see so many people coming together from all over the world to further their understanding and research in special education. The best advice I can give to other students interested in attending future professional/academic conferences would be to dive in and push yourself out of your comfort zone; the best way to grow at these events is by asking questions and actively learning from those around you. As someone who was attending CEC for the first time, it was a little overwhelming, as you are trying to cram so many experiences into three short days. However, if you are willing to jump in right away, you really will be able to make the most out of the experience.   

R&S: You co-presented "Identifying Preferred Stimuli Using Eye Gaze" with Dr. Ben Riden from the College of Education. Tell us more about your research. How did the two of you connect to work on this project?

Fowkes: Dr. Riden and I met through my work in the behavior analysis concentration. Ben has worked as my professor and also as one of my fieldwork supervisors. As one of my supervisors, we would have weekly meetings to discuss my studies and work in applied settings. In my first semester, fall 2020, we were discussing preference assessments, which is a process used to identify preferred items that may be used as reinforcers, and their use in applied settings. I began asking questions about preference assessments for individuals with limited verbal and mobile ability and the use of eye gaze to determine preference. These questions spiraled into both Ben and I looking into the literature to see what was out there. From here, Ben presented the idea of writing a literature review on preference assessment and eye gaze to attempt to capture all the literature out there on the topic. We got faculty member, Sara Snyder, and graduate student, Stacey Yuschak, onboard and began the process. The goal of the review was to identify the application of eye gaze stimuli preference assessments as well as the various characteristics of those assessments in the research literature. Through our research we were able to find 18 studies that used eye gaze to identify preferred stimuli; we looked at the characteristics of these studies to inform us on the processes for using eye gaze preference assessments and the outcomes.

R&S: How has conducting this research and presenting at a significant disciplinary conference changed your understanding of your profession?

Fowkes: I believe that conducting this research and attending/presenting at CEC has given the profession a more human aspect. I think as a graduate student, it is easy to focus on the workload and get caught up in the process without thinking about bigger-picture implications. It was so amazing to attend CEC and meet so many professionals all striving to better the field of special education to improve student outcomes. There are so many different areas that you are able to specialize in and it is so wonderful to meet so many people with different passions, all within special education.

R&S: Your graduation is this year – what's next?

Fowkes: I will take a little breather! I plan to teach special education for two to three years to gain a foundational understanding of what it is like in the classroom, before pursuing a Ph.D. program in behavior analysis. I cannot thank JMU and the professors/mentors enough for all their support and encouragement throughout this process! I wouldn't be here today if it weren't for them.