Biology Graduate Student Wins Three Minute Thesis (3MT) Competition
Research and Scholarship
---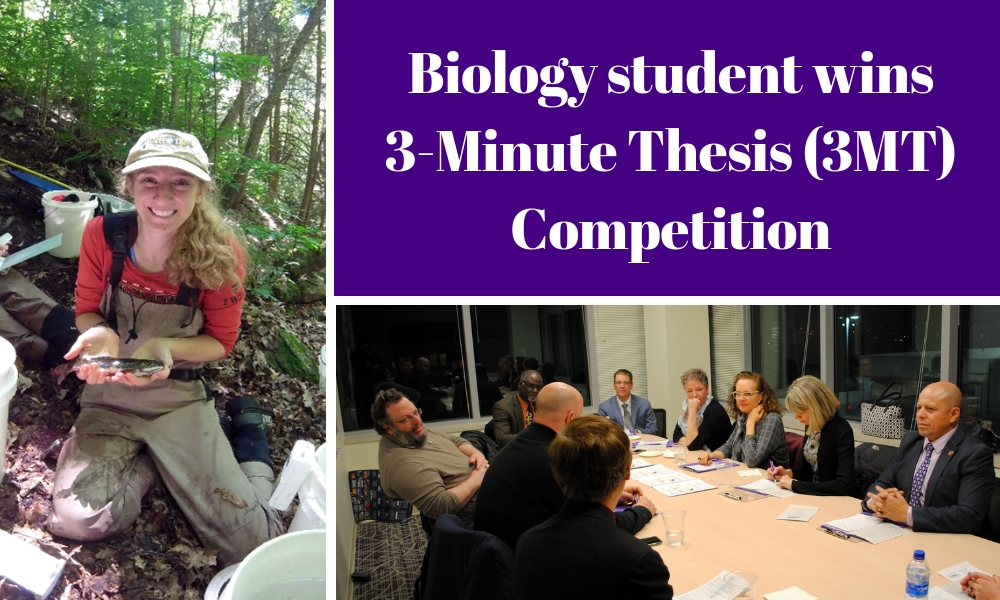 By Peace Ningabire ('20) and Ben Delp ('05), JMU Research & Scholarship
Biology graduate student Hannah Eisemann took first place during James Madison University's Three Minute Thesis (3MT) competition for her presentation Assessing Brook Trout Populations Above and Below Waterfalls in Virginia.  The 3MT competition originated at the University of Queensland in Australia with the purpose of providing students a venue to "develop and present their research in a compelling and concise narrative aimed at engaging a general audience."  
Hosted by The Graduate School, the JMU 3MT includes cash prizes and an opportunity for the winner to participate in a regional 3MT competition.  The 2019 event included 10 students equipped with a single presentation slide each and a well-rehearsed, 180-second talk.  Winners were determined by a panel of eight judges, representing both JMU faculty and the Harrisonburg community.  Read More: 2019 JMU 3MT competition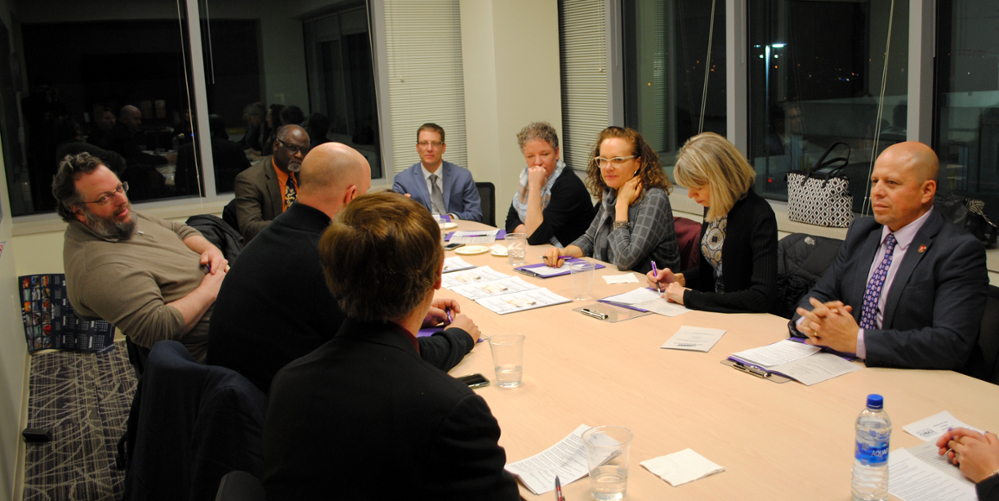 The 2019 3MT judges – Melissa Aleman (Communication Studies), Jenny Burden (Arts Council of the Valley), Keith Holland (Research & Scholarship), Michael Klein (Writing, Rhetoric and Technical Communication), Sarah MacDonald (Outreach and Engagement), Tim Miller (Student Affairs), David Owusu-Ansah (History), and Sal Romero (Harrisonburg City Council)
Hannah Eisemann's winning presentation introduced the audience to her graduate research focus -- examining ecosystems above and below waterfalls where brook trout live, and comparing the populations found above to those found below waterfalls.  Brook trout are the only salmonid fish (e.g., trout, charr, salmon) that are native to the Appalachian Mountains of Virginia, where they help to maintain the balance of the ecosystem.  Stream acidification, the effects of climate change, urbanization, and agricultural activities have put a severe strain on the stream habitats where brook trout thrive.
This passion for aquatic systems developed while Hannah was an undergraduate student at Allegheny College in northwestern Pennsylvania.  Majoring in Environmental Science, she had plenty of opportunities to engage in outdoor research projects.  "I've always loved being outside.  My undergraduate program introduced me to the study of streams and I fell in love with it," said Hannah.
With regard to 3MT, Hannah felt that the competition was a great learning experience, as condensing a one-hundred-page thesis down to three minutes is a challenging task.  With the aid of mentors in the Biology Department and The Graduate School, Hannah identified and organized the core concepts of her research, simplified certain terms, and practiced her delivery.  She made sure to fully explain scientific processes and avoided assuming those in the audience possessed prior knowledge on the subject.  "I think sometimes we [scientists] forget that other people and even scientists in other fields don't understand or have experience with our individual research focus," Hannah explained.
In addition, Hannah expressed her gratitude for the departmental support provided to graduate students studying biology, "From the field equipment to the advice and guidance of faculty who are always willing to work with you, I don't know how else I would have gotten it done!"
Hannah's advisor, professor of biology Christine May, shared a faculty perspective, "It has been a pleasure to mentor Hannah.  She has a keen sense of curiosity and a bright intellect, which are key attributes of those who make meaningful scientific discoveries and can communicate them well to the public.  Hannah and I worked closely on developing her study, which began with novel observations from our research team.  She quickly 'took it from there' and developed a study that will have lasting implications for conservation of our native brook trout."
Hannah graduates this May and plans to pursue a career that will put her research and conservation field skills to use, preferably in the Mid-Atlantic Region.