News
2019 Three-Minute Thesis Competition engages graduate students
---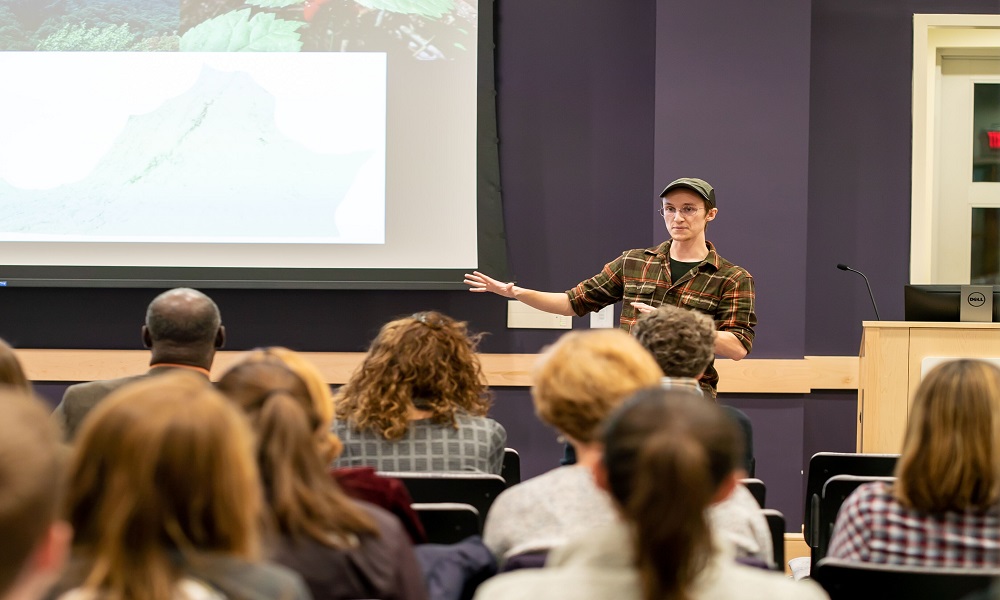 SUMMARY: Graduate students took months of research and reduce it to a three minute presentation to share with general public in recent competition.
---
By Brooke Z. Graham, Strategic Leadership doctoral student
When your parents or grandparents ask—why are you spending so much time focusing on your research project—how do you answer?  How do graduate students explain their complicated and highly technical research to family and friends who know very little about their area of study?  Why is their research so important?  Every graduate student has to deal with these questions and the Three Minute Thesis Competition is a great way to help students answer these questions.
This year, James Madison University Graduate School held its second annual Three Minute Thesis Competition known as 3MT on January 25th. The 3MT competition, originally developed by The University of Queensland, provides students the opportunity to present their research in a captivating and concise narrative aimed at engaging a general audience. In The Three Minute Thesis competition, graduate students are challenged to synthesize the core concepts of their projects/research and to make meaningful connections to real-world issues. They are allowed one slide, no props, and they have to present their research in a concise and compelling way before an audience and panel of guest judges.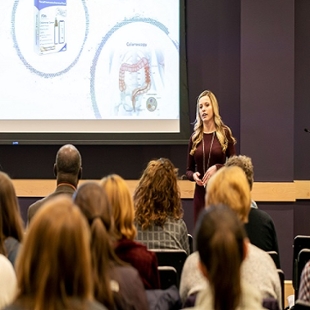 The participating students shared their research in a high impact 3-minute presentation and competed for cash prizes and a chance to participate in the regional competition. The first place winner will be sponsored by The JMU Graduate School to attend the regional competition at the Conference of Southern Graduate Schools in Knoxville, Tennessee. In addition, the audience voted to select the winner of the People's Choice Award, sponsored by the Graduate Student Association.
Students participating in the competition shared that while the presentation experience was nerve-racking, it was a great opportunity. To be able to convey something technical and scientific in a way that is understandable by the general public and translating science into practice was a great experience. It was challenging to boil down years of work/research to three minutes, but it was an amazing practice to share it with people who are not familiar with it.
From the judge's perspective, some of the important qualities in students presenting included the ability to distill information from one hundred and some pages of thesis down to its essence while preserving the main steps of the process and methodologies involved. The ability to present and communicate the information to a general audience is a vital skill to have that will serve the students well in the long run. Additionally, the ability to communicate beyond writing what students believe in and the chance to lead in the world by being able to speak their mind is crucial. 
Guest Judges included: Melissa Aleman - Graduate Faculty in Communication Studies, Jenny Burden - Executive Director, Arts Council of the Valley, Keith Holland - Interim Vice Provost for Research and Scholarship, Michael Klein - Graduate Faculty in Writing, Rhetoric and Technical Communication, Director of the Cohen Center, Sarah MacDonald - Assistant Dean, Outreach and Engagement, Tim Miller - Senior Vice President for Student Affairs, David Owusu-Ansah - Graduate Faculty in History, and Executive Director of Faculty Access and Inclusion, Sal Romero - Vice-Mayor, City of Harrisonburg.
For a list of winners, please visit the Three-Minute Thesis webpage.