University Recreation
Accessing UREC During Driver Drive Closure
Driver Drive will be closed through Summer 2019 for construction. Here's how to access adventure rentals and handicap parking!
---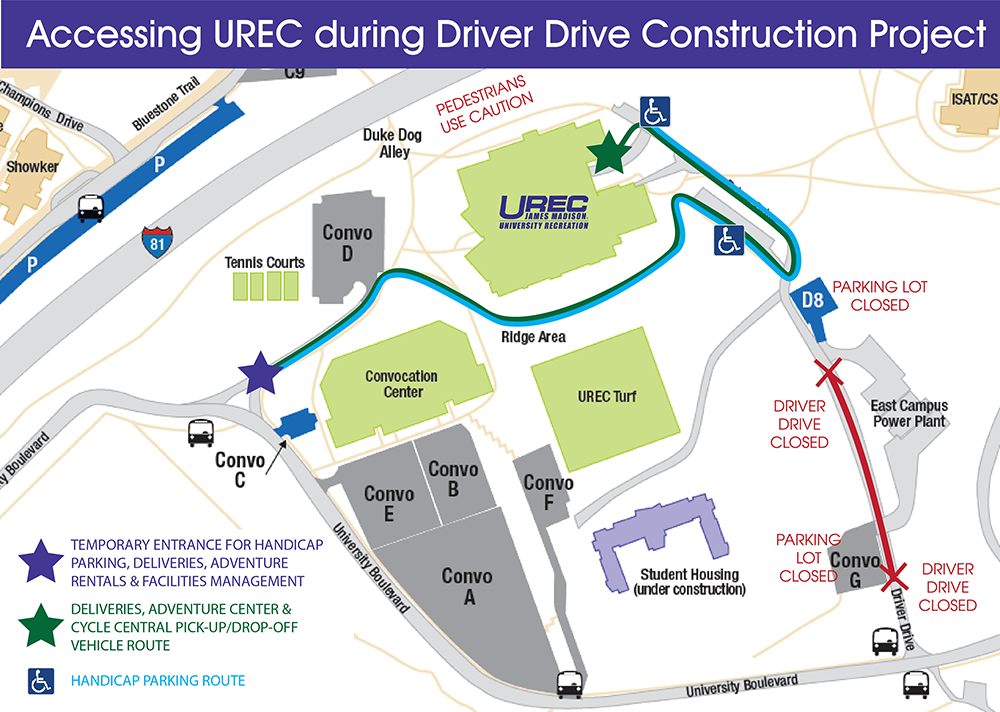 Due to campus construction causing temporary closure on Driver Drive expected through Summer 2019, the following changes have been made to accessing UREC for the project's duration: 
The pathway in front of UREC is a route for pedestrians.
The pathway behind UREC is a route for vehicles, deliveries, and handicap parking.
A gate has been installed in order to reduce vehicular traffic in efforts to keep pedestrians safe, but the gate will not limit access to Handicap Parking and the Adventure Center Rentals Pick-Up/Drop-Off Vestibule.

The number of available spots and routes from the handicap spots to the building will be unaffected.
Any member of the university community who possesses a current, valid handicap permit is eligible to obtain a gate permit. For more information on obtaining a gate pass, please contact JMU Parking.

The D8 and Convo G parking lots will be closed for the duration of the project. Please visit JMU Parking's website for additional parking availability. 
The drop-off and pick-up location for UREC Youth Programs (Camp UREC, Adventure Camps, and Kids' Night Out) will take place outside exterior Door N (see aerial map).
Additionally, here are tips to access the Adventure Center Rentals Pick-Up/Drop-Off Vestibule: 
Approach UREC from University Boulevard Convo D Lot.  Proceed to the University Gate at the top of the sidewalk leading to Duke Dog Alley. Use the phone located on the gate to call the Adventure Center, who will be able to raise the gate for you for pick up or drop off
Drive slowly and carefully behind UREC to the Adventure Center, using caution for pedestrians and utilize the 15 minute parking space while renting. Information will be provided via the Adventure Staff regarding the exit route.
During this period of time, unfortunately there will be no access to the Adventure Center via vehicle on JMU home football game Saturdays. If you wish to rent an item on a football Saturday, you may pick it up on Friday and return it Sunday for the daily rate.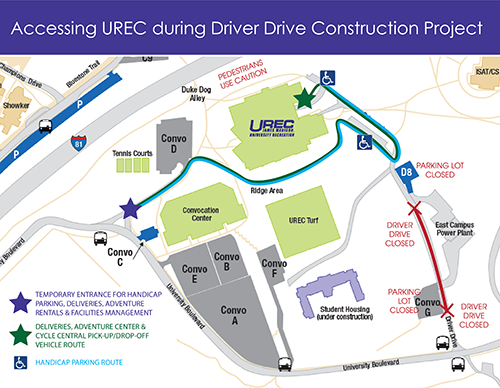 Published: Monday, May 6, 2019
Last Updated: Monday, May 6, 2019