News
New eVA News March 2021
---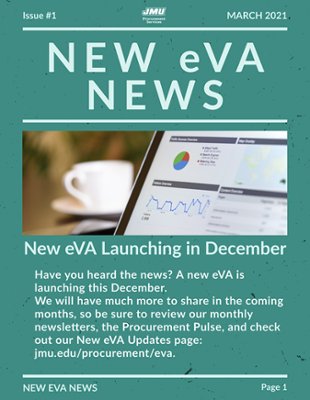 Have you heard the news? A new eVA is launching this December. 
We have included some updates about the new eVA launch in our recent Procurement Pulse newsletters, but we wanted to bring special attention to this upcoming change.
In December 2021, the state will be launching a brand new eVA system, at which time JMU and all other agencies across Virginia will move to the new eVA. The eVA team in Richmond along with their contractor are currently working through the design phase. We will share visuals of the new system as we receive them (likely this summer).
We will have lots of updates as we get closer to the fall semester, so be sure to review our monthly newsletters, the Procurement Pulse, and check out our New eVA Updates page: jmu.edu/procurement/eva.