News
2012 Fall Semester Review Email
---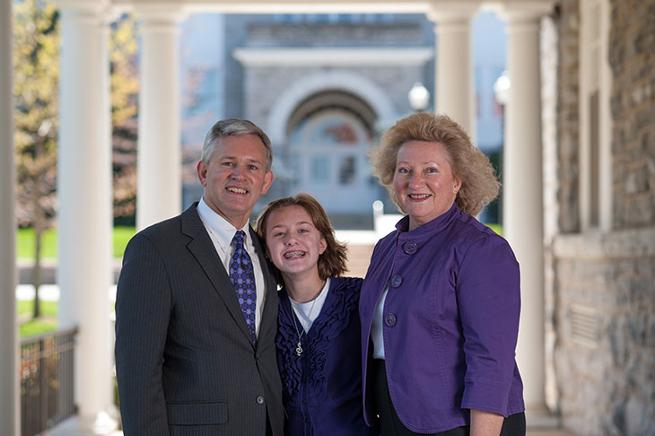 Fall 2012 Semester Review Email
To Faculty and Staff
Friday, December 07, 2012
Thank you for a wonderful first semester. We spent our time together productively, and in this message I include a brief summary of some of the highlights.
First, I want to express my great appreciation for all of the efforts of our faculty and staff, James Madison University's most important resource. As we are in the season for giving thanks, please know that I am deeply grateful for your talents and commitment.
On a personal note, my entire family appreciates the warm and gracious welcome and hospitality of JMU and the community. We've been getting to know people both on and off campus and your reputation for friendliness is well earned.
While a multitude of activities occurring on and off campus represent real advances for JMU, I want to review nine specific items that I believe are among the most noteworthy from our first semester together:     
1.New Board of Visitor members
We welcomed six new members to our BOV this year:
Mr. Michael M. Battle of Clarksville, Md., is president of Battle Resource Management, Inc. He is a 1981 and 1983 (MBA) graduate of James Madison University.

Ms. Carly Fiorina of Lorton, Va., is chairman of Carly Fiorina Enterprises and former chairman and CEO of Hewlett-Packard.

Mr. David A. Rexrode of Stafford, Va., is a 2001 graduate of JMU and executive director of RPV.

Mr. Michael M. Thomas of Reston, Va., is senior vice president of Booz Allen Hamilton. He is a 1976 and 1977 (MBA) graduate of James Madison University.

Mr. Jacob Mosser a junior from Woodbridge, Va., is the non-voting student member of the board. 

Dr. David McGraw is the speaker of the JMU Faculty Senate and serves as the non-voting faculty representative to the board.
Also, Joe Funkhouser of Harrisonburg, Va., was reappointed to another term on the board, and now serves as Rector. Mr. Funkhouser is president of Funkhouser Real Estate Group. 
As I am sure you are aware, our Board plays a central role in guiding the future of James Madison University, and I look forward to working closely with them as we go forward. For a full listing of our Board of Visitors, visit http://www.jmu.edu/visitors/.
2. "Why Madison?" Listening Tour
Since late summer, 33 listening tour events have been held on and off campus. Every one has been an opportunity for us to come together and reflect collectively on our hopes, dreams and aspirations for JMU. We have discussed our strengths and points of distinction and identified ways we can build upon that foundation to take our institution to an even higher level.
The listening tour also has provided a venue at which to develop ideas and priorities for consideration in the ongoing strategic planning process and also for a next comprehensive fundraising campaign.
While we face many challenges, there has been an overriding spirit of hope and optimism. Thanks to all of you who have participated so far. Please visit https://www.jmu.edu/whymadison/submit.shtml if you would like to offer your answer to the question "Why Madison?" For extensive coverage on the "Why Madison?" Listening Tour, please visit the "Why Madison?" site
3. Madison Future Commission
As I mentioned in an e-mail to you earlier this week, a group of more than 150 faculty and staff members, students, former faculty members, alumni, former Board of Visitors members, and community members are actively working to develop the university's new strategic plan for 2014-2020. Their assignment is to create a bold working strategic plan that will:
Directly further our mission and vision

Represent a spirit of fearless innovation

Be the work of true community

Align all university planning
Committees are appointed, and their work is well under way. The process must be as inclusive as possible, and the committees are working to create several venues at which to gather input. Please visit the Madison Future site to find out more about the process—you can even provide your input directly using the website. Finally, an overview of the strategic planning process will be presented at the Board of Visitors meeting in January.
4.Building on our legacy as James Madison University
The towering achievements of the man for whom we are named are as relevant today as ever. Central to my administration will be an ongoing celebration of James Madison and the role of the citizen in today's society.
Early in November a delegation of faculty and administrators traveled to Montpelier and had a wonderful conversation with the leadership there about exploring new ways to collaborate. Building on our ties to James Madison will be central to Madison Week 2013. For updates please visit http://www.jmu.edu/inauguration/
5. Budget
While the economy continues its long and slow recovery, James Madison University and all of higher education face unprecedented fiscal challenges. In a mix of good news and potential difficulties, the highlights from my perspective are:
We were delighted to award an extra percent of bonus (beyond the 3 percent already announced) before the holiday season, reflecting careful budgeting.

The Compensation Task Force has been appointed and asked to provide a broad range of ideas and suggestions for consideration, reflecting on the short, medium and long term. We are striving to collaborate effectively, share information, innovate and think broadly as we plan for the future of JMU.

We are watching with care the ongoing federal budget negotiations, as they could have an impact on our own institutional budgets according to the governor's office.

In fact, to prepare for any eventuality the governor requested in November that all Virginia higher education institutions prepare a budget reallocation plan of 1.5 percent in the current year FY13 and 5 percent in FY14. If approved the reallocations will be reassigned permanently to priorities identified in our six-year plan, including growth in Nursing, expanded STEM programs, Decreased Time to Degree Completion efforts, online course development and assessment, and student learning outcome assessment of academic programs.
6. Diversity
I am appointing a task force and charging it with taking a comprehensive look at our current diversity efforts and making suggestions for the future. The task force will comprise two subgroups, one focusing on diversity among the student body and the other among our faculty and staff. 
7. New Facilities
We proudly cut ribbons on two new state-of-the-art facilities: the stunning BioSciences Building and the expansive University Park. For more information on campus construction, please visit the new campus construction page.
8. Accomplishments of this semester
Every day I marvel at the accomplishments of our faculty and staff. While there are far too many to mention in this newsletter, please take a look at the most recent academic accomplishments report at Madison Scholar.
9. Looking forward to next semester
Our second semester together promises to be as productive as the first, with several important activities, including:
The Southern Association of Colleges and Schools Commission on Colleges (SACSCOC) will be on campus during the spring for their reaffirmation of accreditation visit. As most of you know, James Madison University must reaffirm its accreditation every ten years with SACSCOC, and accreditation is essential for our continued operation. This is an important time, but I am confident. To find out more about the process, please visit http://www.jmu.edu/sacscoc/

Our finished Quality Enhancement Plan will be presented to SACSCOC in the spring as well. The QEP steering committee has been working diligently and will present The Madison Collaborative: Ethical Reasoning In Action to SACSCOC. The plan looks very promising and ultimately has the potential of becoming a signature university program. For more on our QEP, please visit http://www.jmu.edu/QEP/
In closing, I want to wish you a very joyous holiday season. Good luck with the end of the semester, and I hope to see you at our Commencement exercises at 10 a.m. Dec. 15 in the Convocation Center. Join me in wishing our graduates well and in welcoming our commencement speaker Justin Constantine ('92), a true hero.
With best wishes for the holiday season,
Jonathan R. Alger
President
James Madison University
Published: Friday, December 7, 2012
Last Updated: Wednesday, June 8, 2016