School of Professional & Continuing Education (SPCE)
Faculty Spotlight: Greg Corder
---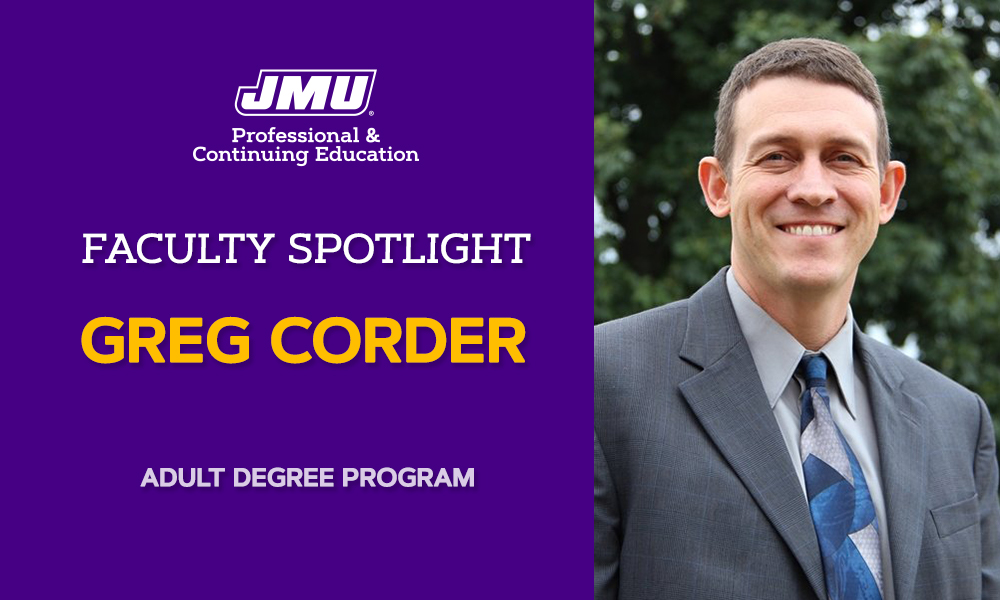 What is your Favorite Aspect of Teaching in the Adult Degree Program?
If I had to pick a "favorite" aspect of teaching in the Adult Degree Program, it is the learning opportunity available for non-traditional learners. Due to numerous obstacles, my own path through higher-education didn't fit the mold of the traditional student. I can remember how challenging it was pursuing a college degree. Whether Program participants are a little more mature than peers, located out of the area, caring for family, or working to earn a needed paycheck, this program offers an opportunity that the brick-and-mortar (or Bluestone) part of JMU cannot offer as effectively.

What piece of advice would you give to new adult students entering the program:

One important piece of advice that applies to everyone in ADP is "ask" when you don't know something or if you are unsure. The Program's administrators, advisers, and instructors want to help you, but we cannot anticipate every single question. Whether it involves details on a class assignment, seeking financial aid, or verifying your degree progress, be proactive and ask.

Although this really only applies to a small number of students, I also want to share a second piece of advice for new students: please don't "ghost" your course instructors. Ghosting is when a class participant stops responding to email and Canvas participation, and this happens on occasion. If you encounter obstacles outside of coursework, instructors want to work with you and we especially want you to succeed. Outside of JMU email and Canvas, instructors generally do not have other ways to reach students and we rely on you to maintain communication.
What are some of your hobbies outside of the office?:
Outside of work, I enjoy short hikes and biking with my family. My twin boys are 11 and right now, spending time with them is very important. I also enjoy playing music. Although the pandemic has put a major hold on most performances, I still occasionally play with my small brass ensemble at socially distanced events. Plus, my boys started trumpet and French horn last fall, so I give them a lesson twice a week.