//www.jmu.edu/news/parents/2021/_images/july-cover.jpg
Madison Family Newsletter: July 2021
Madison Family Newsletter: July 2021
Brought to you by the JMU Office of Parent Relations
News
---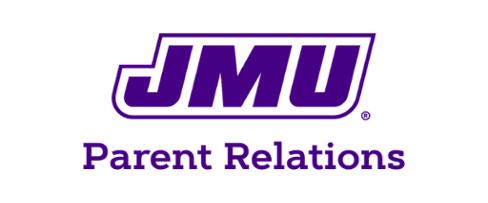 The Madison Family Newsletter is created each month by the Office of Parent Relations in partnership with many members of the JMU community. For more family resources, visit our website.

Join us for Family Weekend!
Join us for Family Weekend, October 8-10, 2021! Check out traditional dining events, such as the Family Weekend Picnic on Hanson Field and E-Hall's Fantastic Feast. Drop-in to the Study Abroad Reception on Sunday morning or tour the College of Business Learning Complex (Hartman Hall) on Friday evening. There are also event offerings from the Duke Club, UREC, X-Labs and more! See the full schedule of events (more will be added as they come available) and explore all campus has to offer.
A Letter from Dr. Tim Miller
Hello JMU Families,
Campus is coming alive again with orientation, tours by future Dukes and their families and current students and alumni returning home to visit. I can't describe how encouraging this is, knowing that soon the quad, residence halls and classrooms will be buzzing with excitement. I am so optimistic about this upcoming school year and can hardly wait to get it started.
It's been great meeting so many parents and students during Summer Springboard. I hope you are getting all of your questions answered and we are helping you all prepare for this significant transition in all of your lives. As a reminder, immunization forms (including the COVID-19 vaccine) and the online TB screening were due July 8. If your student missed this deadline, they need to complete it as soon as possible. More instructions can be found on the Health Center's Incoming Students page and on the Stop the Spread FAQ page.
Students who do not submit this information (Immunization form and TB screening for incoming students, COVID-19 record for all students) will have a hold placed on their student account on Aug. 12 which means they will not be able to make changes to their class schedule and will not be able to register for future classes. A $50 fine will be placed on Sept. 9.  Please take care of this before your student returns to campus to avoid these consequences.  They should be looking at their email where they will receive a message to look at MyJMUChart for the status of their record.
I'm incredibly excited about our plans for welcoming the class of 2025 and re-welcoming the class of 2024. Our Weeks of Welcome will include many opportunities to get involved, explore campus and experience all JMU has to offer. Please encourage your student to check their email regularly since that is the best way to find out what we will be doing to welcome them this Fall.  Students will have an incredible number of opportunities to connect to other students, get to know the campus and surrounding communities and join any number of organizations and activities.
We are also finalizing plans to celebrate the Class of 2020 and more information to RSVP is coming in the next few days.  We will also share information on social media and in messaging to parents and families.  The Class of 2020 in-person Commencement Ceremonies will be held the weekend of Sept. 3. It's going to be a great weekend of events honoring this class that is so deserving and I am happy to be a part of it.
I hope you all enjoy the rest of the summer, August is right around the corner!
Go Dukes!

Dr. Tim Miller
Vice President of Student Affairs
---
Don't Delay-Join us TODAY!
Submitted by: Community Service-Learning

Community Service-Learning (CS-L) provides opportunities for students to be involved in efforts that lead to more just and sustainable communities. CS-L programs connect students to peers, help students gain clarity about their career, and learn more about themselves and others. Two ways your student can get involved even before fall classes begin are our community engaged Federal Work Study (FWS) team and our Alternative Break for New Dukes (ANB).
If your student's financial aid package includes Federal Work Study and they're looking for an opportunity to learn and grow through a transformational job, encourage them to apply for our off-campus FWS positions on JMU Joblink. Reviews began Tuesday, July 6 and jobs fill quickly, so your student should not wait until they arrive on campus to apply. With more than 100 community partners serving Harrisonburg's diverse population, many within walking distance of campus, a unique experience awaits. Our FWS student team provides key support to non-profit organizations or serves as tutors at local schools for approximately 8-10 hours weekly. Our FWS students are part of a cohort that meets regularly and has the support of dedicated CS-L staff along with a supervisor in the community.
Highlights from some former FWS students:
"I enjoyed going to my position. The hours were manageable and... Having a position in the community is much more interesting and fulfilling you know that the work you do matters to someone."
"It has been a great experience learning more about myself and my community partner. I believe I grew to love my community partner and serving vulnerable populations. I also like how flexible CEFWS is with hours and how they make school the priority."
"I had a great time during my experience. It shaped part of my college experience and was valuable for my resume. I became more connected with the community."
As part of their Weeks of Welcome experience, incoming first-year and new transfer students can participate in a once-in-a-lifetime Alternative Break from September 10-12! Your student will meet fellow "Breakers," connect with peer leaders, and embark on an impactful service experience. What an incredible way to start their JMU career!
Alternative Breaks are one of JMU's most popular national service programs. Each Break is facilitated by two trained student leaders. A faculty/staff Learning Partner also participates to enhance student learning and growth.
Highlights from some former ANB participants:
"This break was a truly life changing experience and has made me more eager to search out more service opportunities. I made friends I know will last a lifetime and I would gladly participate in future alternative breaks."
"I had such a good time and it was an eye opening experience. I learned so much about these issues and I made amazing friends in the process."
Encourage your NEW DUKE to sign-up for their ANB through our online registration ASAP (registration closes Sunday, August 1). Find more break details here.
Students can visit our website, email us at csl@jmu.edu or call us at 540.568.6366 with questions.
Submitted by: Nora Sutton, Coordinator, Campus & Parent Philanthropy, Office of Annual Giving

It's time to feature the best views of JMU in every season. Submit your favorite JMU photo(s) for a chance for your photo to be featured in a 2022 JMU Calendar! The funds raised with this calendar will benefit the Madison Vision Fund. All entries must be received by midnight on August 10, 2021 to be considered.
It's not too late to submit your vaccine information.
Submitted by: Angela Ritchie, Associate Director of Communications and Marketing, Student Affairs

July 8 was the due date for all students to submit their COVID-19 vaccine information and for first year students to submit their immunization form and complete the TB assessment and health history. For everyone who has completed this, thank you! Your student will receive confirmation through MyJMUChart but it could take up to 3 weeks since we have thousands to process. Please remind them to keep checking their messages and to be sure to respond if they receive a message that more information is needed.
If they haven't sent their information yet, it's not too late. We are continuing to process forms so we will issue holds on Aug. 12 which means they will not be able to make changes to their class schedule and will not be able to register for future classes until the information is provided. A $50 fine will be placed on Sept. 9 for any that are still incomplete at that time.
Students who have received one COVID -19 vaccine but still need a second one or who are not receiving the vaccine at this time should complete and submit the Assumption of Risk form. When they complete the vaccine they should then upload the completed COVID vaccination record, which will replace the Assumption of Risk form.
If your student is having trouble uploading the information, detailed instructions are on the MyJMUChart page on the health center website or you can email us at healthctr@jmu.edu. We are receiving a high volume of emails at this time so it may take a little time for a reply but we will respond as quickly as possible.
We realize that vaccines are something that students typically have not done on their own so we appreciate anything you can do to help your student complete these very important steps.
15 Fun Things to Do with Your Duke in JMU Libraries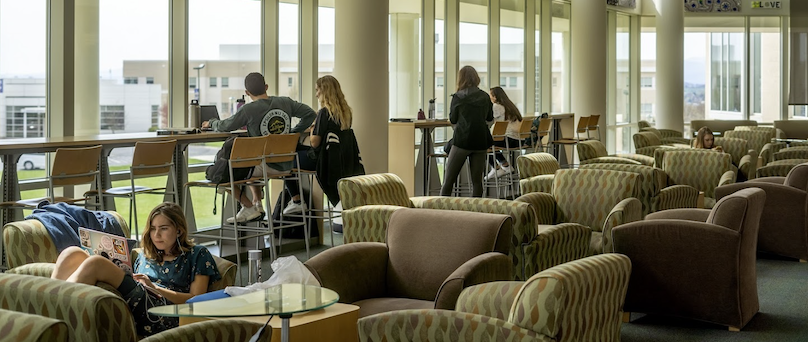 Submitted by: Emily Blake, Communications & Marketing Coordinator, Libraries
If you're looking to soak up a little more time with your Duke during move-in, Family Weekend, or a weekend visit this fall, swing by JMU Libraries to get to know one of the most popular destinations on campus for students. Here are 15 fun things you can do with your Duke in JMU Libraries:
Carrier Library
Choose seeds to plant from the JMU Community Seed Library (1st floor)
Browse our extensive DVD collection (1st floor)
Take a photo with the Joan of Arc statue (1st floor)
Climb up the double-decker carrels for studying (3rd floor)
Carrier or Rose Libraries
Get drinks or food from Starbucks (1st floor)
Peruse the book displays (1st floor)
Ask literally any question at an Ask the Library desk! (1st floor)
Take a peek at our 3D printers, sewing machines, laser cutters, and more in The Makery (our two makerspaces in Carrier and Rose) to see all the ways your Duke can tinker, create, and play in the Libraries with the support of our knowledgeable staff (basement in Carrier, 1st floor in Rose)
Explore JMU's past by looking through JMU yearbooks from yonder year (as for the location at an Ask the Library desk)
Rose Library
Music Library
Check out the art in the Little Gallery Underground
Browse the cd collection in the Music Library
We look forward to seeing you!
Do you remember your first time?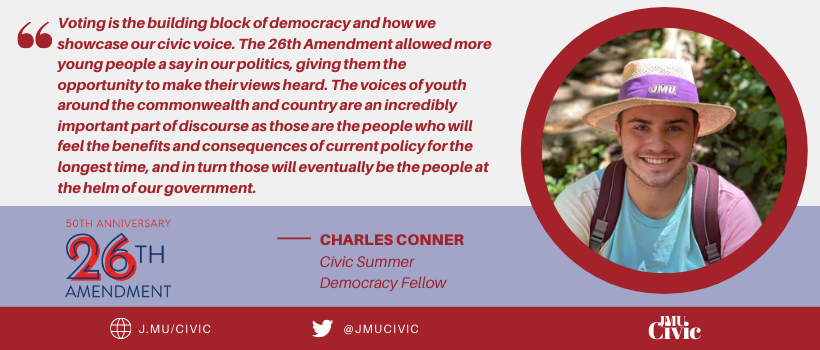 Submitted by: Dr. Carah Ong Whaley, Associate Director, JMU Civic

For Constitution Day this year, JMU Civic and Dukes Vote are celebrating the 50th anniversary of the 26th Amendment, which gave 18-20-year-olds the right to vote. Throughout the year, we're highlighting what the right to vote means to individuals, and especially to young people voting for the first time. You and your students can send us your thoughts to be featured on social media leading up to Constitution Day on September 17 at civic@jmu.edu. And please remember to remind your students about the Virginia state elections this year. If your student is a Virginia resident, they can register to vote and check or update their voter registration here.
---
Join 4,700+ fellow JMU parents and guardians in the official Facebook group! This group was created by the Office of Parent Relations in an effort to provide a safe online environment for parents to engage with one another. Request to join the group here »
---