News
Dukes in space!
JMU team test launches Hi-SAT One, its high-altitude balloon
---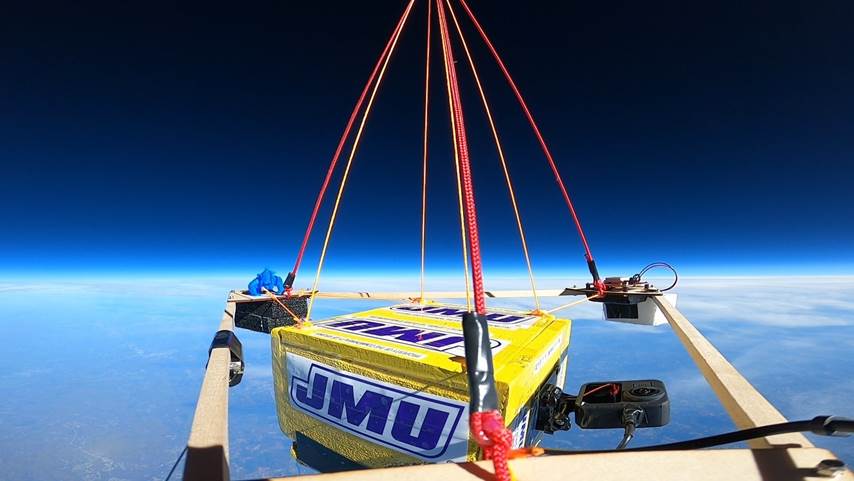 SUMMARY: The team of past and present JMU students, faculty advisers and local ham radio operators sent a high-altitude balloon into near space as a first test toward proof of concept.
---
Nov. 7, 2021 (VINTON, Va.) — The JMU DukeSAT team took its first steps toward space on Sunday with the launch of a high-altitude balloon test. "Hi-SAT One" lifted off from William Byrd High School in Vinton, Virginia at 12:02 p.m., landing approximately three hours later near Gladstone, Virginia after reaching an altitude of over 60,000 feet. 
The goal of the MESHSat project is to develop and test a mesh network (wireless internet) in space utilizing small satellites. This flight was the first step in proving the team's ability to launch, track, document and recover a payload. The next stage will involve three to five serially launched balloons with networking hardware. 
The team includes past and present JMU students; faculty members Jonathan Spindel, Ph.D. and Bryan Cage, Ph.D; and members of Staunton and Harrisonburg ham radio operator clubs.  
This project was made possible with support from Madison Trust, a University Advancement program that funds faculty and staff innovations through contributions from philanthropic investors. The next Madison Trust funding event takes place on March 11, 2022.
To make your gift to support the DukeSAT team, please contribute through DukesFunder.
Photos courtesy of the JMU DukeSAT team
---
Madison Trust is an initiative of University Advancement managed by the office of Corporate & Foundation Relations in collaboration with colleagues across the JMU campus.