Independent Scholars
Environmental, Social, and Governance Communications
---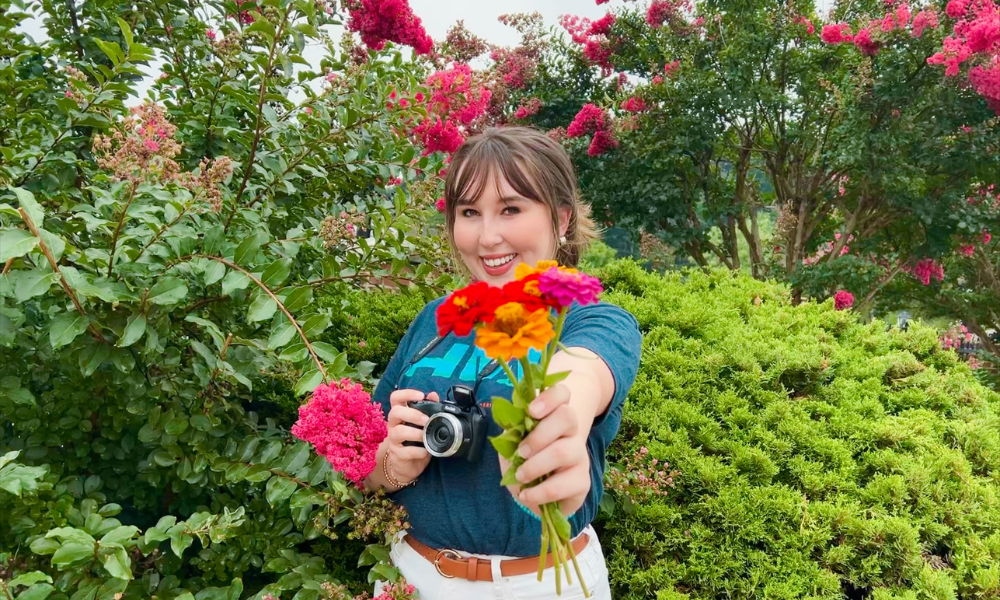 SUMMARY: Morgan Rhudy ('24) helps organizations and brands find their voices
---
Morgan Rhudy has always loved learning. She excels at academic pursuits. She enjoys deep conversations about the mysteries of the cosmos. She's a big reader. In high school, though, her interests grew to encompass real-world situations and hands-on learning. Morgan developed interests in public speaking and sisterhood and female empowerment. In 2015, she started and served as executive director of Girl Power Grants, a nonprofit formed around a small group of philanthropic teenage girls in Richmond. Over the past seven years, Girl Power Grants has awarded more than $70,000 to organizations serving youth in the state. Working collaboratively and towards a larger mission appealed to her. "I soon became attracted to the Miss America organization," she says. "It's the largest scholarship and professional development program for women and teens in the world." Morgan became Miss Virginia Teen 2019-2020.
Mentorship is also important to Morgan. She tutored English as a Second Language students in high school history classes, and now is a Communications tutor in the Learning Centers of the JMU Student Success Center. Morgan admires enthusiasm and passion. "Anyone can be a mentor in my mind," she says, "and there's so much to learn from everyone you interact with in life. Everyone has something interesting to bring to the table. The most important qualities are a willingness to understand others and learn from personal challenges." COVID-19, for instance, showed people's true colors, Morgan says, including something about their empathy and resilience. In the throes of the pandemic, there were days where she got frustrated, like the day they announced that high school commencement was canceled. "Now that we're a few years into this, I'm realizing that in a crisis of this proportion the only correct reaction is to take care of yourself, protect others, and express gratitude as much as possible." Things that worried her in the past, hardly faze her anymore. "I guess that's part of growing up."
Morgan admits that making the college choice is kind of a blur to her now. "I knew I wanted to stay in Virginia. The proximity to my family was the biggest driving factor for me. The beauty and the mountains were appealing, but I didn't have one of those earth-shattering reactions people talk about. It seemed like a good fit and I could visualize myself at JMU." Sometimes, she says, parents put too much pressure on their kids to see college as the 'best four years of your life.' She encourages prospective students to open their minds to possibility and grow wherever they're transplanted after high school. "I've had a great experience here," Morgan adds.
Morgan started college in the fall of 2020. This was the freshman class that started in Harrisonburg, but because of the ongoing pandemic halted campus course attendance after two weeks. "I attended a sum total of two classes before the transition to virtual instruction," she recalls. "It was hard to be positive and stay engaged. I did my first university finals week from my childhood bedroom. When we came back to campus, so many of us felt inadequate and helpless because the typical college experience had been taken from us." There were many other things happening in the world causing anxiety as well, she remembers.
"My start to the college experience helped me see that life won't be perfect, but it's always important to find out more. For me this meant finding some contentment in my major choice." Morgan discovered Independent Scholars through a lecture Dr. Philip Frana recorded on interdisciplinarity for the Honors First-Year Experience class. It was really motivating, she says, and helped her see how to expand her interests and contemplate something challenging as JMU moved out of the phase of unpredictability. "I knew I could make something of this major and that it would be exciting."
Today Morgan is double majoring in Communications Studies and Independent Scholars, with a minor in Honors Interdisciplinary Studies. Morgan recalls that she had exposure to communication studies-related classes and exercises and activities in her high school experience, and wanted leadership studies and international relations and public relations to be part of her college education. "Environmental, Social, and Governance Communications" is the title she gives to her Independent Scholars major. Companies are facing scrutiny for their contributions to climate change, lack of diversity and equity, and transparency and accountability. Corporate social responsibility requires a renewed focus on social and environmental citizenship.
Morgan is very interested in how different cultures communicate and interact. "The classes in my Independent Scholars major are exposing me to ideas about entrepreneurship, business, and written communication," she says. "I'm also taking some sociology and anthropology courses that complement my understanding of communications studies." This semester she took a class with Dr. Ken Rutherford where she got the chance to study public relations in sub-Saharan Africa. Rutherford, director of JMU's Center for International Stabilization and Recovery (CISR), is personally knowledgeable about how climate change is connected to conflict in the Sahel region of Africa, and specifically Mauritania. Next semester Morgan is pairing courses on environmental communication and the sociology of climate change denial. "I think those are important topics that contain crucial issues of importance to my generation. Taking these classes will help me understand how people respond to information about climate change, how ideologies form, and how I as a communicator can contribute to helping address such an overwhelmingly complex problem."
Morgan also wants to help organizations and brands find their voices within communities, and shape influential conversations surrounding social issues and philanthropic causes. To that end, she currently holds a social media, marketing, and branding internship at Harrisonburg Downtown Renaissance (HDR). Downtown Renaissance is devoted to the cultural revitalization of downtown Harrisonburg as a destination. The nonprofit assists local businesses and agencies with annual events, promotions, grants, and other forms of support. Harrisonburg has a long history and is home to Virginia's first official Culinary District. For this year's Restaurant Month, Morgan interviewed downtown chefs and restauranteurs in order to gather together the remarkable origin stories of their downtown businesses. Those inspiring tales are now available online. "I just love the work HDR does, and I love their mission," she says. "Plus, it's super convenient for me to reach the downtown Harrisonburg office in the Ice House Building. It's just a short walk from campus."
Morgan helps plan the content calendar and create marketing material for Harrisonburg Downtown Renaissance that supports local businesses and organizations. She also designs graphics for social media and works on longer blog post features like 'Friendly Faces of the Friendly City.' "We're always looking for cool stories to tell about the people who make downtown go," she says. "We help promote special events, and sometimes volunteer at them. I can't tell you how many times we've driven to every restaurant in downtown Harrisonburg to deliver fliers and other supplies." Morgan accesses the Harrisonburg Downtown Renaissance's Instagram, Facebook, and TikTok feeds to feature local people and organizations. In a single afternoon, for example, she might take pictures of all the flowers downtown for a social media post on how 'spring has sprung.'
"I've developed an eye for featuring the little things that matter so much to the life and ambience of downtown communities," she says. "I've also learned a lot about pitching ideas and engaging with lots of different people and perspectives on a daily basis." Morgan has mastered WordPress, Meta Business Suite, Canva, PhotoShop, and Trello during her internship. She says that the big story of downtown over the past two years has been one of persistence in the face of incredible headwinds caused by the pandemic. "In many ways, my personal story of perseverance over the past couple of years has become intertwined with the story of the perseverance of all those who struggled to keep their businesses going in 2020 and 2021."
Morgan's capstone project will be an e-portfolio that documents a number of her professional projects. She is passionate about her on-campus role as a Communication Center tutor as part of JMU's Learning Centers. Throughout the Spring 2022 semester, Morgan advocated for a more interactive tutoring model to better engage first-year students in the information literacy general education requirement—the Madison Research Essentials Skills Test (MREST)—administered through intro-level communication courses. As an Honors Ambassador, she has brainstormed unique branding ideas and strategies to improve the Honors College web and social media presence. This work has largely been rooted in experiences gathered from giving tours and speaking to prospective students during CHOICES campus visits as a JMU Student Ambassador.
Morgan worked at her hometown Dunkin' Donuts this past summer. In 2022–2023 Morgan aims to facilitate a partnership between the School of Communication's public relations concentrations, Media Arts & Design, and HDR's Bricks and Clicks small business assistance program. This project is inspired by Morgan's work assisting local clients as a Madison Community Consultant in the Center for Community Development helmed by Dr. Nick Schwartz. The Madison Center is a mini-consulting group located within the JMU School of Professional & Continuing Education.