Applied Public History and Archaeology
Independent Scholars
---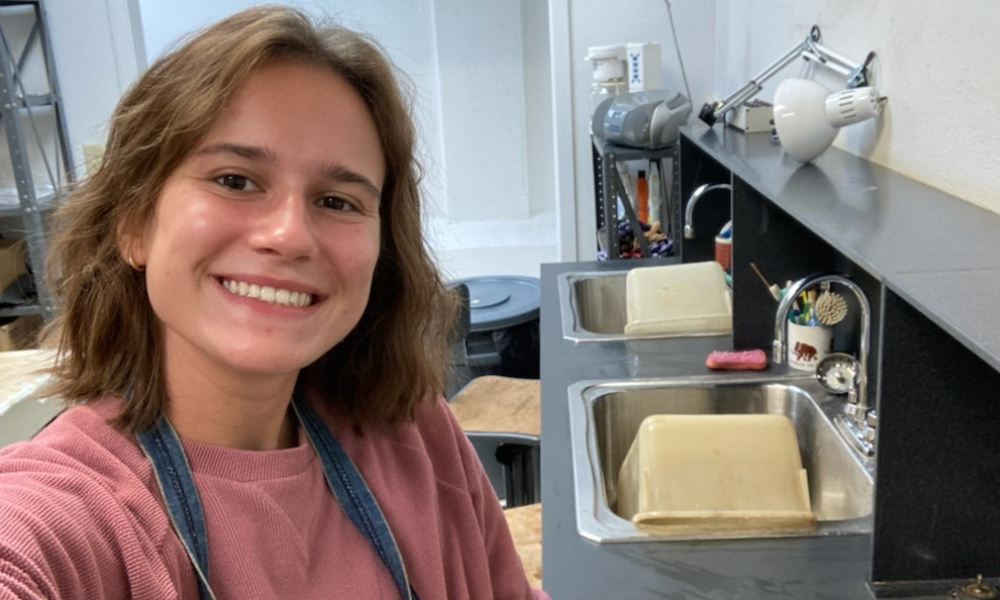 SUMMARY: Grace Gordon ('22) develops passion and skills for historic preservation and cultural resource management
---
Grace Gordon is from Alexandria, Virginia, a city brimming with historic sites and museums on the Potomac River waterfront. Still, she largely took the city's history for granted until enrolling in a World History course taught by Maritza Mullervy at Bishop Ireton High School. Mullervy's class changed Gordon's perspective on history: transforming it from a litany of names and dates into a fascinating story of human development and the movement of cultures. "Choosing not to learn and understand the history that came before us is like opening a book in the middle. You can't just read from there and expect to make sense of it. You need to know what happened before in order to make sense of the world that exists now."
Gordon's interests in history were further piqued by participation in the National Institute of American History & Democracy (NIAHD), a pre-college summer program in American History offered by The College of William & Mary. NIAHD is dedicated to the study and preservation of American history, material culture, architectural history, archaeology, and public history. It teaches students how to analyze written documents, material objects, buildings, landscapes, and oral histories. At NIAHD Grace visited a number of local history sites that played an important role in the growth of the American nation.
Gordon recently completed a History and Independent Scholars double major at James Madison University, with a minor in Honors Interdisciplinary Studies. She loves learning about the many epochs of human history, from ancient civilizations all the way up to the present. "I am a generalist, honestly," she says. "I like to learn as much as I can so I can paint the fullest picture possible."
Curiosity about ancient times led Grace to take a class in Archaeology and learn more about material culture. "You can learn a lot from artifacts," she explains. "Objects are not writing, but they can be studied and interpreted nonetheless." Through the class, Gordon met JMU Anthropology professor Dennis Blanton. Grace studied slave dwellings and the material culture of enslaved peoples on the grounds of James Madison's Montpelier in Orange County, Virginia. "It's so important to look for and find evidence of the slaves on the Montpelier plantation," she says. "We know about the everyday lives of slaves because of material culture revealed by archaeologists. It's really the only way to uncover their stories, which would otherwise be lost to history."
Last summer, Gordon participated in the JMU Summer Archaeology Field School with Dr. Blanton in rural south-west Georgia. The Field School is an immersion experience in which a half dozen undergraduates, local volunteers, and specialists with ground-penetrating radar and metal detecting equipment worked on a Native American site that may have seen an encounter between Native peoples and Hernando de Soto's expedition during his exploration of what is now the southeastern United States. After the field school, Gordon created an inventory for all of the metal artifacts found in many of Dr. Blanton's archeological excavations in Georgia. "I took measurements and described each artifact with Dr. Blanton's help. Every artifact that he thought was not modern we photographed in the lab and included in the inventory."
In Fall 2021, Grace served as a teaching assistant for Dr. Blanton. This time around, members of the class conducted a dig at Fort Harrison in Dayton, Virginia. Fort Harrison is a bluestone house constructed by Daniel Harrison in 1748. Because the house was made of rock-solid materials, it became a defensive fort against raids by Native Americans in the years before the French & Indian War. According to accounts, Harrison's farmstead included a stockade protecting the house, a natural spring for water, and—according to local legend—an underground tunnel for shelter. At Fort Harrison, Blanton and Gordon instructed students on how to dig standard units, wash artifacts, and catalogue them. "The nonprofit that runs Fort Harrison originally wanted to know if there actually had been a tunnel," says Gordon. "Dr. Blanton and JMU students have not had any luck in the past with locating a tunnel, but we have found evidence of a previously unknown structure on the site." Archaeology there will continue in order to determine the size, function, and use of this structure. The class did find ceramics, animal bones, glass, nails, buttons, and other metal artifacts at Fort Harrison.
Gordon's Independent Scholars major is currently entitled "Applied Public History and Archaeology." It combines archaeology, public history, applied skills, technical writing, and geographic information systems. "My Independent Scholars major is focused mainly on four areas: historical research, historical archaeology, historic preservation, and public history, as well as the technical and practical skills needed to succeed in those disciplines." Grace heard about the possibilities available through Independent Scholars in her junior year. "I wanted to keep bringing together seemingly disparate interests. I believe in the importance of interdisciplinary study, and understand that in the end there shouldn't be strict boundaries between disciplines."
She enjoys the research process, and recently added a Public History concentration to her History major. During the COVID-19 pandemic, Grace conducted research on a historic neighborhood called Plunkettsville for the Historic Staunton Foundation. Plunkettsville contains a number of commercial buildings and historic homes, including kit homes and mail order catalog houses from Sears and Roebuck and other suppliers. The purpose of this research was to make visible the neighborhood's potential for architectural revitalization, rehabilitation, and adaptive reuse.
The Historic Staunton Foundation has said of her efforts: "Grace Gordon has done an incredible job creating the Plunkettsville StoryMap. We believe this digital map will be a fun and engaging resource—especially for residents of the West End." Gordon completed her work with Mary Bishop Carter Internship funding.
In her last semester at JMU, Grace interned for the Madison Art Collection (MAC), an on-campus museum. She sought out the internship because she felt she lacked museum experience. "My goal has been to get as much hands-on experience in as many aspects of public history as I could during my undergrad career," she says. At the MAC, Gordon conducted research on artifacts from all over the world and all different periods, photographed them, assisted in cataloging the collection, scanned and filed records, and handled fragile and expensive works of art.
For her senior honors thesis in the Department of History under the advisement of Dr. Skip Hyser, Grace examined state-sanctioned compulsory sterilization prior to and after Buck v. Bell in early twentieth-century Virginia. The eugenics movement had a profound impact in the state, but much remains unknown about this period of history. Gordon's thesis, "For the Best Interest of the Patient and of Society": Sterilization in Virginia's Mental Institutions in the 20th Century," analyzed the reaction and involvement of Virginia's state mental institutions in eugenic sterilization. Gordon also examined discrepancies in the number of sterilizations reported in previous scholarship. For her thesis, Gordon won the Phi Beta Kappa Best Thesis Award.
Gordon has taken two history classes with Dr. Hyser and worked closely with him for multiple semesters to complete her thesis. "Dr. Hyser taught me how to do thorough historical research and how to stay sane in the process. I would not have been able to complete my thesis if not for his patience and words of wisdom." Of Gordon, Hyser remarks, "She has a quiet personality that belies a fiery curiosity about the historical past. She genuinely wants to know how people came to hold certain views that influenced their actions, so she researches carefully and reads the sources closely, hoping to glean understanding. Grace is that rare student who asks difficult questions and then works diligently to answer them."
Gordon is a member of the national service fraternity Alpha Phi Omega and president of the campus chapter of Phi Alpha Theta, the history honors fraternity. After graduation, Gordon seeks a position in cultural resource management (CRM) doing the sort of "everyday archaeology" required under local, state, and federal law to protect cultural heritage assets—the buildings, places, and objects that are important to understanding, appreciating, and preserving the past.