Honors College
Honors student Deaquan Nichols conducted summer research with Chemistry professor Oleksandr Kokhan
---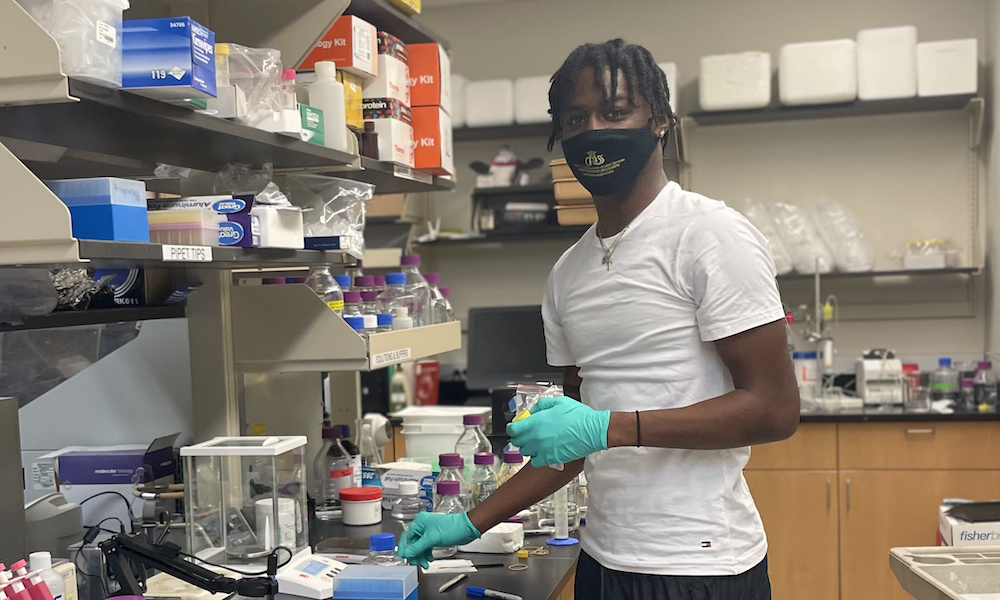 Deaquan Nichols is the recipient of the 2021 Witherspoon Scholarship. This award, offered for the first time this year, supports a first- or second-year Honors College student in an immersive summer research experience with a faculty mentor.
A first year Biophysical Chemistry major, Deaquan's research this summer focused on the proteins involved in photosynthesis. His experiments tested the speed of electron transfer between photosynthetic proteins and their photosynthesizers, which leads to photosynthesis. He attempted to accelerate this electron transfer by placing aromatic amino acids along the expected electron transfer pathways. This work has the potential to significantly advance future efforts to develop reliable processes for artificial photosynthesis. 
Under the close guidance of Dr. Oleksandr Kokhan in the Chemistry Department, Deaquan performed a number of promising experiments in this area during the spring semester. This summer, he operated more independently in the lab, utilizing the experimental and computational skills he already acquired and troubleshooting on his own when problems arose. He plans to present his research at the national meeting of the American Chemical Society in August. This has been a unique opportunity for Deaquan to come into his own as a scientist at an early stage in his academic career. 
Deaquan grew up in Roanoke, VA and attended William Fleming High School, where he was class president, president of the African American Scholastic Bowl, and captain on the varsity football team. JMU came onto his radar when he attended the Summer Honors Institute after his sophomore year. This experience cemented his interest in JMU and the Honors College, and he plans to serve as a student counselor at the institute this summer.
In addition to research and coursework, Deaquan is very active in the campus community. He is founder and president of the JMU chapter of the National Organization for the Professional Advancement of Black Chemists and Chemical Engineers (NOBCChE), treasurer for the campus chapter of the NAACP, an Honors College Ambassador, member of the Diversity, Equity, and Inclusion committee, and a student-athlete on the football team. He has a powerful commitment to equity and justice and is especially interested in efforts to support and encourage underrepresented minorities in STEM fields. 
Deaquan was recently profiled on the Honors College website. 
The Witherspoon Scholarship is made possible by the generous donation of Margaret E. and Douglas F. Witherspoon, whose daughters Laura ('12) and Catherine ('17) were members of the JMU Honors College.