Honors College
Math and Physics for a New Economy
Math and Quantitative Finance major Bradley Mason ('17) is refining problems that bedevil Wall St.
---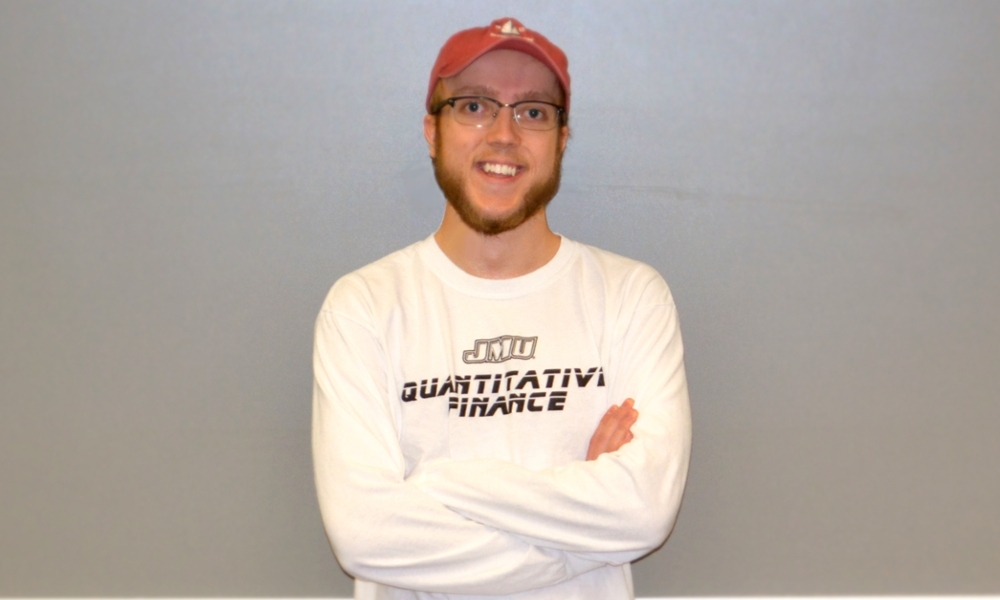 SUMMARY: Honors student Bradley Mason's love of math led him to explore "the physics of Wall St." and the complicated alchemy of quantitative finance.
---
The number of freewheeling brokers and traders, a stereotype taken to filmic excess in Leonardo DiCaprio's Wolves of Wall Street, is actually in steady decline. They're being replaced by a new breed of alchemist: "quants" who use science and computer analysis to search out the new philosopher's stone of finance – and in the process change the whole culture of markets. JMU student Bradley Mason, a junior double major in Quantitative Finance and Mathematics, is about to shake things up as one of these new alchemists.
"Excellence is my standard. That's my motto," he says. "There's always room to go beyond excellent, but that's the standard."
Bradley was exposed to business and troubleshooting problems early and often. His father is a turnaround specialist, which meant that the family was always on the move. His mother has a master's degree in social work and is very community volunteer-oriented. Bradley was active in a variety of sports in high school – soccer, boxing, taekwondo, jiu jitsu, and mixed martial arts. He also threw javelin for four years and anchored a Quiz Bowl team that placed in the top 75 nationally. After time spent in schools in Maryland, Kansas, and California, he graduated from Manheim Township High School outside Lancaster, Pennsylvania.
Bradley enjoys athletics, but he loves math. "In elementary school one of the high school teachers came to my classroom to talk about numbers. I remember him explaining that zero is a whole number but not a natural number. I argued with the teacher, telling him that zero seems like the most natural number. I realize now that it's really just a definitional thing, and not something that you argue about or really need to defend. But at the time I took it as an affront to logic."
In high school Bradley became inspired by the Numberphile videos on YouTube. The channel exposed him to higher level ideas in mathematics. "People tend to think that calculus is the be all and end all of mathematics," he says. "But it's really just a procedure for implementing rather rigid rules. Math is an imaginative combination of different things. It's axiomatic, yes. But how you go about proving things requires a lot of creativity."
It seemed to Bradley that everyone from Lancaster wanted to spend their college years at Penn State, Pitt, or Temple. But he'd been raised a little go-as-you-please and wanted to go to school out of state. "Because of moving around a lot, I didn't feel tied down to one particular place. I loved physics but didn't want to be a physicist. I also wanted to do something that involved a lot of math. My exposure to business and finance came through my father."
Bradley didn't know that double majoring in Mathematics and Quantitative Finance was a possibility until he visited JMU. "It's perfect for me. Math Professor Edwin O'Shea calls math a combination of the law and the arts, and he's now my honors thesis advisor. What we're doing is kind of like the physics of Wall Street. It's about modeling and predicting things in markets rather than in nature. I'm learning about stocks, financial derivatives, corporate valuations, capital budgeting, and principles of investments. I know how to price stocks and bonds and determine the value of contracts. Quantitative Finance borrows ideas like Brownian motion from particle theory, but also random walk algorithms from computer science."
Quantitative Finance has only really been a profession since the 1960s, says Bradley, but all the banks, the hedge funds, the financial firms have 'quants' on their staffs today. It's really helpful in arbitrage and high volume trading. "Normally QFin is reserved as a master's degree program. But JMU was one of the first to bring this down to undergraduates, which gives me a great edge."
"One of the things I love about JMU is that there are easily accessible research opportunities in the STEM fields, Economics, and so forth," he says. "Being able to do research as an undergraduate is really unique. In my honors options and senior project I've been able to form personal relationships with professors."
In his honors senior project Bradley is looking at ways to optimize the results of product mix auctions by borrowing techniques from combinatorial optimization and the so-called tropical approach in mathematics. It's called the tropical approach, he says, because some French mathematicians wanted to honor a pioneering Brazilian colleague.
"Let's say a guy has a fruit stand and he has a certain number of apples, bananas, and watermelons," explains Bradley. "People are submitting bids on groups of these things. Each of them say the number of each fruit they would like. And they can't cut them in half. That means we need integer solutions. It's about natural numbers. Each person when they submit their bid for a group of fruit says how much they'd be willing to pay for that group of fruit. And they can submit multiple bids for multiple groups of fruit. The seller needs to maximize everyone's utility as a whole."
"It's a very hard problem to solve," he says, "especially when the number of fruits, buyers, and bids increases." There are some very approachable problems in math that are very hard, that are called NP-complete problems. "It turns out that if you give me a solution to one of these problems I can check it easily. But I can't come up with a solution for very large numbers of things myself using supercomputers in the amount of time that you'd want me to."
According to Dr. O'Shea, "Bradley is not only a wonderfully creative and hard working student but he is a fine young person who brings other people along. He has really flourished by being part of a hard working group of students and makes everyone around him better too, myself included. Agreeing to supervise his honors thesis was a very easy decision."
Bradley also studied Florentine arts, politics, and culture on an Honors Study Abroad at JMU. "The fact that they guarantee you a spot in one of the honors study abroad programs was a great benefit. It was once in a lifetime – really incredible."
Interdisciplinary learning develops real-world, multifaceted knowledge, something Bradley is genuinely interested in pursuing. "Just because you are in a STEM field doesn't mean you can't study other things. I didn't have a lot of electives given dual majors, so this was an opportunity to get exposed to something I was interested in but didn't directly relate. It's really helped me become a well-rounded person."
"I'm curious and hardworking but also do my best to be sociable and spend time volunteering. Honors students don't want to be one-dimensional. We want to do well in multiple areas. Everyone at JMU has something to offer. It's fun to listen to what people in other majors have to say. It's important to entertain other perspectives. They can often get you closer to the truth."
Bradley's fraternity fields an intramural indoor soccer team and he also plays racquetball at UREC. "It's not good to be holed up in my room all day," Bradley admits. "There's a balance that you need to strike. I've found that staying busy and staying in shape is good for my productivity as a student. JMU has so many ways for people to get involved, and it's important to the experience that here. It's not about just having an 'extracurricular' – it's about having something that you really want to do."
Bradley joined Alpha Kappa Psi, a co-ed professional business fraternity and one of the oldest and largest on campus. He helps manage the investment fund for the group. And he's a co-chair for Relay for Life.
Bradley also works for Student Athlete Services as a tutor in basic accounting, math, micro and macroeconomics, and calculus. "It's fun to tutor because it makes me a better teacher and gives me tremendous insight into mathematics. There's a lot in the calculus, for instance, and it was invented by some bright people. We are really standing on the shoulders of giants. By teaching it to others we get to see all over the inside of that really brilliant machine."
For about a year now Bradley's been listening to Supreme Court oral arguments, which he says sharpens his ability to see the logic in things. "It's entertaining hearing these brilliant lawyers ask and answer questions. Some arguments are more accessible than others, but they are always very intricate. That's why I like math too," he says. "Math forces you to cut through and see the heart of things. Being able to follow Supreme Court arguments and think about the problems for myself – it helps me analyze the logic behind making an argument, which is universal." He adds, "I don't know that I can prove this, but it certainly hasn't hurt me."
Bradley still considers himself a bit footloose. One of his goals is to work and do a graduate program somewhere abroad. "Do I want to go to New York City? Do I want to live in the DC area? Do I want to move to California to work for a tech startup? Why not try everything?"
He's let go in other ways as well. "One of the things I realize now, and still struggle with, is that some things don't have an equation. For example: there's no equation for picking the best college. It's not a problem that you can really set up and solve. There's also no problem that you can solve that helps determine what you should do after college. What you choose may not be optimal, but it's what you choose. You only have so much information. It doesn't define you; it's just a choice you make."
Bradley asserts that he didn't really have one of those 'epiphany' moments during his college search. "That never happened to me. I visited colleges and at the end of the day, I was won over by the people in Honors Hillcrest House and in the various academic departments. JMU has a beautiful campus, a brilliant faculty, and I wanted to be a part of this organization. I realized the Honors Program is in good hands. Those were all important factors."
Bradley advises new JMU students to "try something that you aren't instantly passionate about. You have everything you need to be successful here. If you don't have a passion yet, you'll find something. You just need to be open and engaged."